How to get a job in Malabar Company?

Did you know, M.P Ahammed, the founder of Malabar Gold and Diamonds, started his entrepreneurial journey with an ice-making factory. The venture failed. In 1981, he started trading spice and copra. In 1993, with his hard-earned money of Rs 50 Lakhs, he opened the first Malabar Gold and Diamonds showroom at Calicut. From then on, there was no turning back for Mr M.P Ahammed. He marched to lead the bling industry. In this article, let us learn about Malabar Gold and Diamonds company, how it started, and how to get a job in Malabar company.
Story of Malabar Gold and Diamonds Company 
Malabar Gold and Diamonds, one of the top 5 jewelry retailers globally, is the flagship company of Malabar Group. It was founded in 1993 in Kozhikode, Kerala of India. With a vision to add appreciating value to each life they touch, Malabar Gold and Diamonds has carved a niche of its own in jewellery retail, wholesale and manufacturing.
Malabar Gold and Diamonds has a strong retail network of over 250+ outlets globally and 10 wholesale units in addition to offices, design centres, and factories across India, Middle East, and far east.
Malabar Gold and Diamonds is also vertically integrated comprising of bullion desk, design centres, manufacturing, distribution, retail and after-sale services. This helps in providing unmatched value and quality to the customers. 
Workplace of Malabar Group
Here is how Malabar Group explains their workplace in their website . 
Malabar Group fosters an inspiring workplace by offering excellent employment opportunities and a conducive working environment. The exposure at Malabar Group enables the team members to unlock their true potential and become globally competent. Our work culture promotes equal opportunities. Team members at Malabar Group gain a great deal through: 
All are considered as management team members. 

Highly trained, motivated, and talented team led by a visionary leadership. 

A safe, secure, and non-discriminatory working environment. 

Career that span across functions, business sectors, and geographies.

Opportunity to invest in the company and become business and function heads. 

M - Connect mobile application for internal interface. 

Excellent training and development programmes to learn, develop, and grow as professionals.

Performance management system enables sharper goal setting with open performance conversations and a transparent feedback mechanism. 

Monetary and non-monetary benefits.

Profit Link Incentive System. 

Succession Planning is a process for identifying and developing internal talent with the potential to fill critical positions. 

Employee welfare measures like Medical Insurance, Life Insurance, etc. 

Bonus and festival allowances.

Employee state insurance/Medical allowances

Provident Fund/Pension schemes.

Free food and accommodation facilities. 

And, many more benefits. 
With such a supportive workplace environment, it is obvious to think about how to get a job in Malabar Gold and Diamonds company. We have an answer for that too. 
How to get a Job in Malabar Gold and Diamonds Company?
The process of getting a job in Malabar Gold and Diamonds begins when you find the jobs suitable for your skills, and start applying for the job openings. It will be followed by interviews, background checks and then, onboarding. 
In this section, we will discuss about how to find the job vacancies of Malabar Gold and Diamonds Company.
Job Search at Malabar Group Website
Malabar Group has a dedicated page for the jobs available in the Malabar Group. You can choose the careers based on business or based on functions. If "Malabar Gold and Diamonds" is chosen under "Career by Business" tab, the job openings at Malabar Gold and Diamonds will be listed. 
For applying to the job, you should register yourself in the website by providing your name, contact details and creating your profile.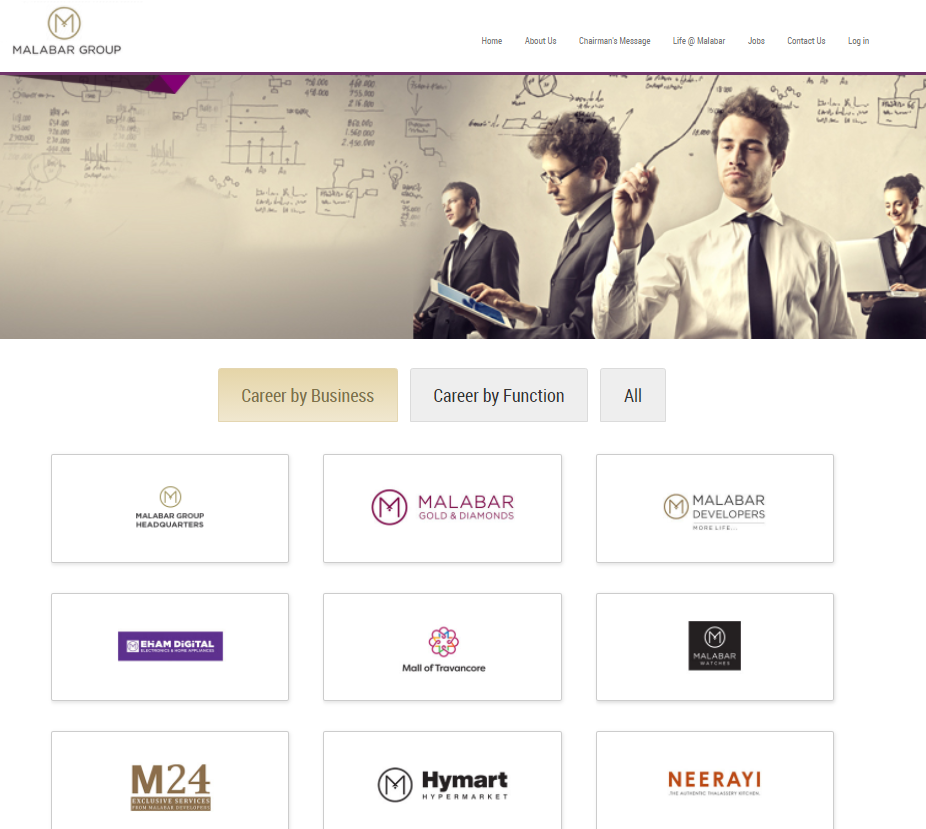 In present days, job websites are the modern equivalent of classified ads. They compile and list the available job openings in various companies and brands.  
Job search websites such as Naukri , Monster , Indeed , and other websites help you find the job openings in top Jewelry companies. However, the problem with these websites could be that they display a limited number of job openings. When you specifically search for jobs in Malabar Gold and Diamonds, you may not find many options.  
Dedicated Job Board for Jewelry Professionals - Mintly
Mintly , a dedicated job board for jewellery professionals, has an exhaustive list of job openings in the top jewellery companies.
If you are keen to find a job in Malabar Gold and Diamonds and wish to build a career, Mintly can help you out. Create your profile, submit your resume, browse and apply for jobs. 
Mintly increases your visibility among the top jewelry companies and helps you find the right job for your skill sets. You will also receive the interview calls proactively from Jewelry recruiters. 
Reviews from Malabar Gold and Diamonds Employees
We have curated a few of employee reviews of Malabar Gold and Diamonds from various review sites. Here is what the employees say about the company and the workplace. 
Sales Executive from Bangalore
I worked in Malabar Gold and Diamonds as a sales executive. I am proud to be working as a Diamond sales Executive, got excellent experience, knowledge, and support from the team.
Sales Executive from Sharjah
I have completed 2 years in Malabar Gold and Diamonds. I am proud to be a member of this big company. I highly appreciate the growth opportunities we have at Malabar. 
Customer Relationship Manager from Bangalore
Productive and fun workplace. I learnt how to deal with customers, gained product knowledge, and multitasking. Management is highly supportive and provides friendly environment. 
Marketing Manager from Bangalore
I worked at Malabar Group of Companies full-time for less than a year. Pros is one of the best jewellery brand in the world and I had great experience working here.
Customer Care Executive from Hyderabad
I have been working as a full-time employee at Malabar Group of Companies. The workplace provides a good atmosphere and offers new things to learn.
Malabar Gold and Diamonds is leading the bling industry by creating value to the customers and by providing a happy and healthy work environment to the employees. Would you like to be a part of such work environment and start working with Malabar Gold and Diamonds? Sign up with Mintly and submit your resume . We will find the right job opportunity for you at Malabar Gold and Diamonds.