Retail Industry is going through digital disruption. Many don't know that   there are some jobs that offer high pay and great benefits in this sector . In this article, we will explore the top 20 highest paying retail jobs that are available near you. From store managers to cashier positions, we'll look at the highest paying jobs in all areas of retail. We'll also discuss what qualifications and experience is required for each job position, as well as how to apply and find the best retail job vacancies.
Retail Store Manager jobs are among the most sought after in the industry. Store managers are responsible for driving sales, developing teams and providing exceptional customer service – all while meeting operational and financial objectives. This position requires a unique blend of business acumen, people management skills and dedication to delivering an excellent shopping experience.
Today's retail store manager is the face of their business — they bring energy, expertise and enthusiasm to the team every day. They use data-driven insights to develop strategies that drive success across all areas of operations; from marketing promotions to inventory control, customer relations and even financial performance. Strong communication skills are essential for building relationships with customers, vendors, staff and other stakeholders in order to achieve success — both short-term goals as well as long-term objectives.
There are  minimum education and work  requirements to become a Retail Manager. If you have prior experience in Retail Sales, you can become a Retail Manager. Some leading Retailers such as Target, Walmarts, IKEA expect the managerial candidates to attend certification programs to gain the hours to become a Retail Manager. The Starting salary can be in $70K depending on the country you live in (adjustable according to local market rate)
Many Job Boards list the Retail Store Manager Jobs frequently. You can also check the career page of the retailers to apply directly.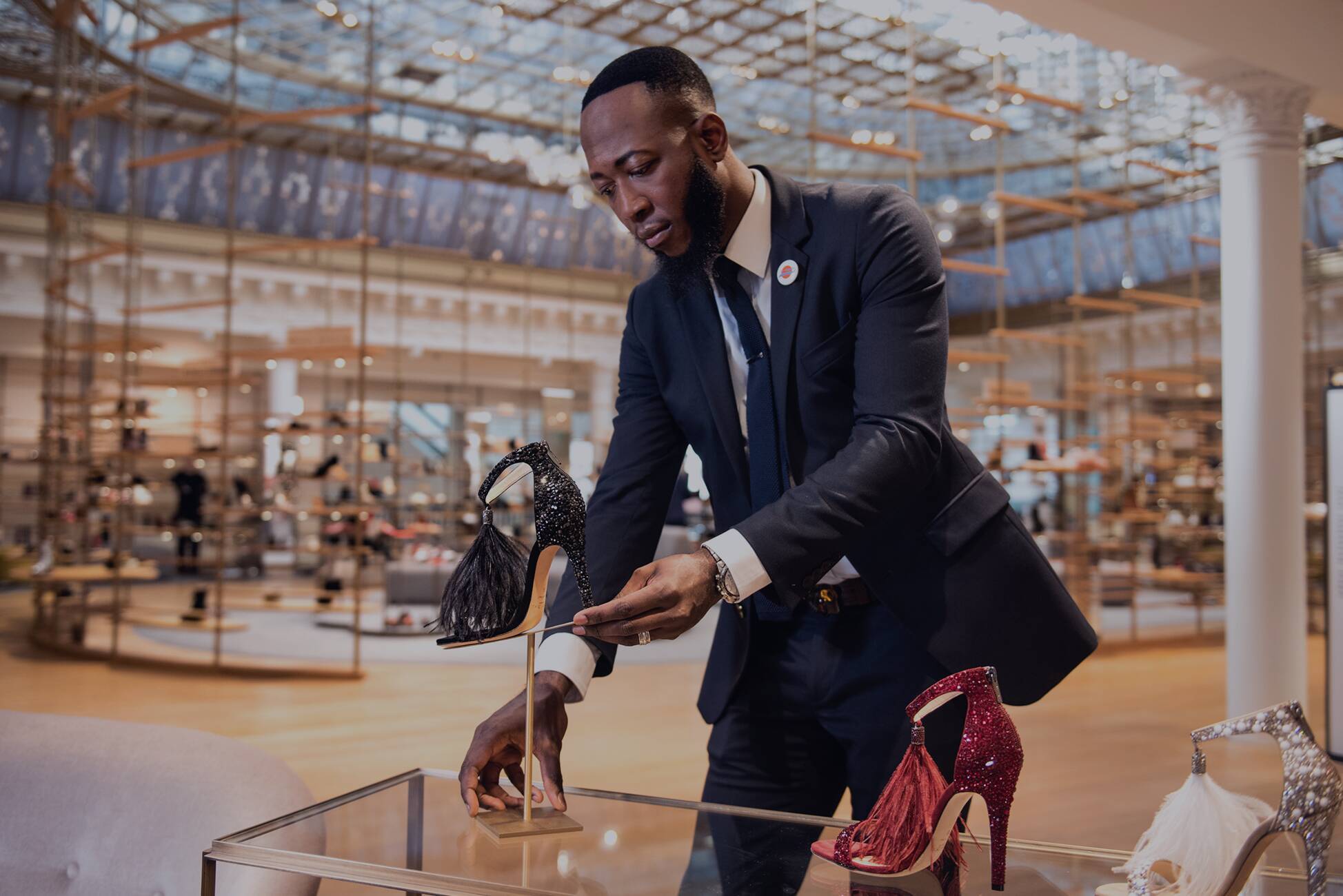 Visual Merchandisers are highly sought after professionals in the retail industry. They play a key role in creating engaging and memorable shopping experiences, helping retailers to stand out from their competition and increase sales.
This exciting profession offers a variety of responsibilities including designing product displays, arranging merchandise, selecting lighting and colors and ensuring that each store looks its best for consumers. Visual Merchandisers must also be well-versed in the latest trends, as they need to create displays that reflect this. The salary for visual merchandiser jobs varies depending on experience but is typically quite generous. 
A career as a Visual Merchandiser is both creative and challenging, requiring strong organizational skills plus an eye for detail. It's no surprise then that many people find this job extremely rewarding — they get to bring the brand alive with their work!
Visual merchandisers  salary depending on the retailers and experience level varies from state to state in the US.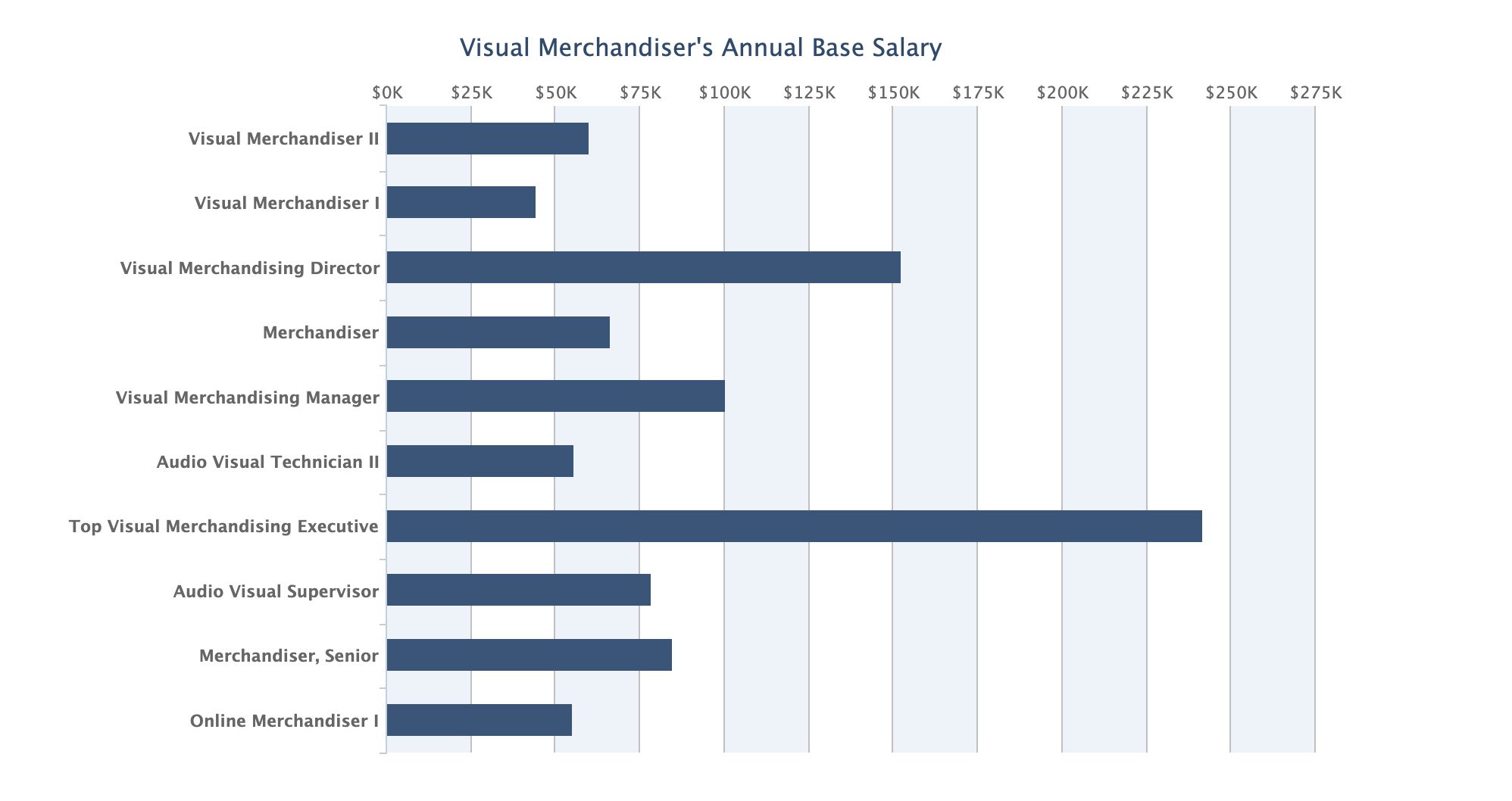 Do you have an upcoming interview for this role?  Click here to check the frequently asked interview questions for this role.
Working as a store supervisor can be both rewarding and challenging. It's the perfect job for someone who loves working with people, multitasking and problem solving.
As a store supervisor, you'll be responsible for managing the daily operations of a retail store, ensuring excellent customer service and creating a pleasant shopping experience. You'll manage staff schedules, handle customer inquiries, monitor inventory levels and arrange product displays. Additionally, you'll work closely with the store manager to ensure that all tasks are completed on time and according to company policy. 
Retailers across the world who are into Brick and Mortar or omni channel presence, always in need of Store Supervisor to supervise the daily operations.
To succeed in this role, you must have strong organizational skills and the ability to stay calm under pressure. You must also have excellent interpersonal skills so that you can effectively communicate your ideas and lead by example. If you think this is the right job for you, apply today!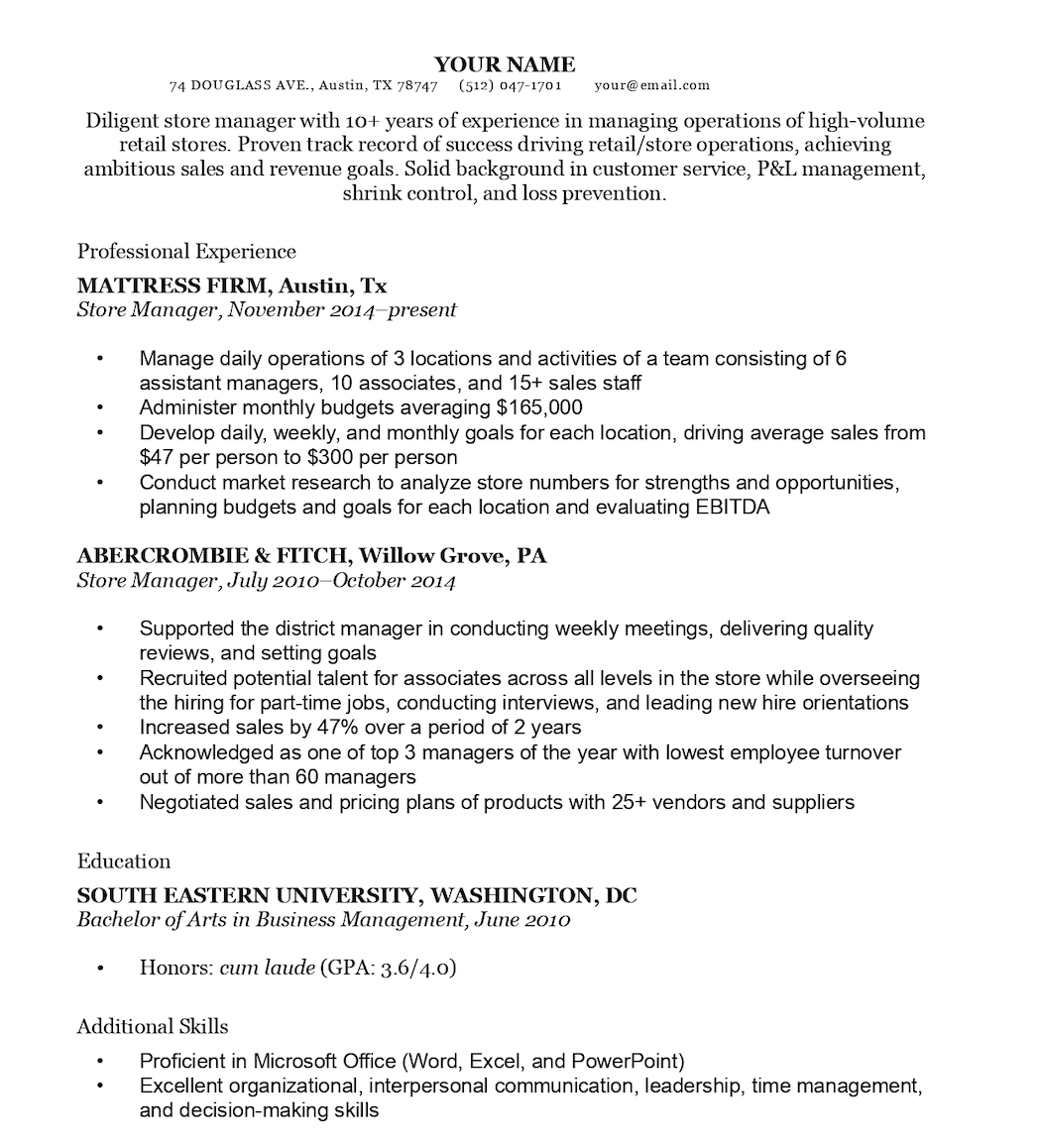 You can find sample resume templates to create professional one for Retail Industry here.
Loss prevention specialists are a necessary part of any successful business. The primary role of these professionals is to protect their employer's assets, both tangible and intangible, from theft and other forms of loss. It takes an individual with the right skills and commitment to ensure that the company's internal systems are secure and its customers' expectations are met. 
From conducting security audits to monitoring security cameras, loss prevention specialists have a variety of responsibilities. In addition to protecting company resources, they also strive for service excellence by providing friendly customer service and making sure products are handled properly. The salary for this position varies based on experience level and industry; however, most positions typically offer competitive wages with potential for advancement over time.
The average Loss Prevention Officer salary in the United States is $32,690 as of November 23, 2022.  Some retailers such as Walmart pays higher pay depending on the roles and responsibilities. Amazon pays on an average $55,482 for Loss Prevention Officers.
Stylists allows you to express your creativity and fashion sense. Becoming a retail stylist may be the perfect fit for you if this interests you. A retail stylist is responsible for selecting clothing, accessories and other items of merchandise for customers looking to enhance their personal style. 
This position requires an eye for detail and an ability to understand customer needs in order to create a successful look. In addition, the job description includes advising customers on trends, creating attractive displays of clothing or merchandise, and providing excellent customer service in order to complete sales transactions. 
Retail stylists are often employed at high-end boutiques or department stores where they can utilize their knowledge of current fashion trends while providing personalized assistance with styling customers' looks. With the help of retail stylists, shoppers can find something unique that suits their taste while having an enjoyable shopping experience.
Luxury Brands require Stylist to create best in store experience for the customers. Stylists work with Interior Designers, 3D Architectural teams to bring the ideas to fruition.

For store managers looking to take the next step in their retail career, becoming a Regional Manager is a great way to expand their skills and responsibilities. As a Regional Manager, you will work with teams of store managers and sales associates across multiple locations in order to manage day-to-day operations and increase profitability.
The job description for this role is varied yet rewarding; you may find yourself overseeing hiring processes, training new employees, creating strategic plans and schedules, conducting audits of stores within your region, developing marketing strategies, managing budgets and assisting with problem resolution. You must be able to motivate store teams while balancing the bottom line. Your communication skills will be put to use as you collaborate with other departments within your organization as well as customers.
Typical Regional Managers would have prior experience in Retail Sales, Area Managerial role before moving to Regional Leadership positions. Average experience with 10+ years in Retail Sales is right fit for this role.
Working as a retail buyer is an exciting job opportunity in the fashion industry, allowing individuals to explore the world of fashion and build relationships with trendy brands and clothing stores.
Retail buyers are responsible for purchasing stock for clothing stores, department stores, or any other kind of business that sells merchandise. They must have an eye for detail and understand what their customers want in order to create successful collections. This job requires excellent interpersonal skills, patience, and knowledge about current trends — making it perfect for those passionate about fashion. 
Buyers work with Vendors and Suppliers to build the inventories that are necessary for production. They source new and review existing goods to ensure their products remain competitive. Brands look for buyers with similar product knowledge and experience when hiring Retail Buyers. Retail buyers make $52,720 per year on average in the United States. In Asian markets like India, Retail buyers are paid in the range of ₹ 2.8 Lakhs to ₹ 13.0 Lakhs with an average annual salary of ₹ 6.0 Lakhs.
Many Retail Associations and Universities offer Management Programs in Buying and Pricing. Top B Schools also offer 1 Year MS or 2 Year MBA program in Retail Management
To become a retail buyer, one should obtain a degree or diploma in visual merchandising, marketing or business management. It also helps to gain experience by working at clothing stores or taking up internships with major retailers.
#8: Retail Planner
The world of retail planning is always on the move and so are the jobs! If you're looking for an exciting and ever-changing career, then become a retail planner. As a retail planner, you'll be in charge of devising strategies to maximize sales and profits, as well as analyzing customer trends in order to make informed decisions. 
You won't just be crunching numbers – this job requires creative problem solving skills, establishing relationships with key decision makers and great communication abilities. Retail planners must also stay up-to-date with market changes and effectively use technology to optimize performance. You will have the ultimate responsibility for ensuring that your business meets its objectives in terms of product mix, pricing strategy and store layout.
The average Retail Planner salary in the US is $74,420 as of November 23, 2022, but the salary range typically falls between $57,186 and $84,463. In India,  brands such as Vaibhav Global, Ather Energy, Pattern, Malabar Gold And Diamonds, TARGET are hiring Retail Planners.
Many Retail brands are hiring for Area Sales Managers. Amazon and Aldis are hiring for North America regions to manage the Retail areas.  Both companies offer excellent salaries and the opportunity to work in an exciting environment. 
At Amazon, their Area Managers have a median salary of $49,000 with potential earning up to $75,000 per year. They are responsible for providing leadership and direction to associates while also monitoring operational processes and procedures, managing inventory levels, and resolving customer service issues. In addition, they must ensure safety standards within the facility and maintain a positive team spirit among staff members. 
At Aldi, their Area Managers earn competitive pay that is based on experience. They lead teams of store personnel to ensure efficient operations that include proper merchandising techniques as well as accurate tracking of inventory levels and stock rotation processes.
Area Sales Managers (ASM) focus on covering specific areas/regions. It is purely Field level Sales covering work while Sales Managers is corporate level position. As an Area Sales Manager, you will be responsible for developing sales programs that maximize sales from the assigned accounts to the target accounts. This role involves overseeing and conducting market research to develop and implement sales initiative across the regions.
#10: Retail Sales Manager
Retail Showrooms are looking to expand their foot prints in untapped markets. There is always need for Retail Sales Managers RSM and Retail Sales Officers RSOs, Retail Sales Executives. In these positions, you will be responsible for driving sales targets in order to maximize profit. As a Retail Sales Executive, you will be the face of the company; engaging customers, maintaining relationships with suppliers and ensuring that their retail establishment is running smoothly. It is a challenging job, but if you are up to it – it can be highly rewarding too! 
A successful Retail Sales Executive needs to have excellent people skills as well as strong organizational skills. You must have a passion for customer service and be able to think on your feet in order to make quick decisions while anticipating customer needs.
Retail Sales Manages manage the Store Performances and drive more sales to the stores. Any Retail Sales executive with experience in the domain/product move to next career as Sales Managers. This role comes up with Base Salary plus incentives. During the peak seasons, retailers continue to hire Retail Sales Executives while opening new stores or expanding the team at the existing stores.  The Attrition rate for this role is very high. Professionals who are not passionate about Sales will move out of this role sooner than others.
Typical Job Description looks like below.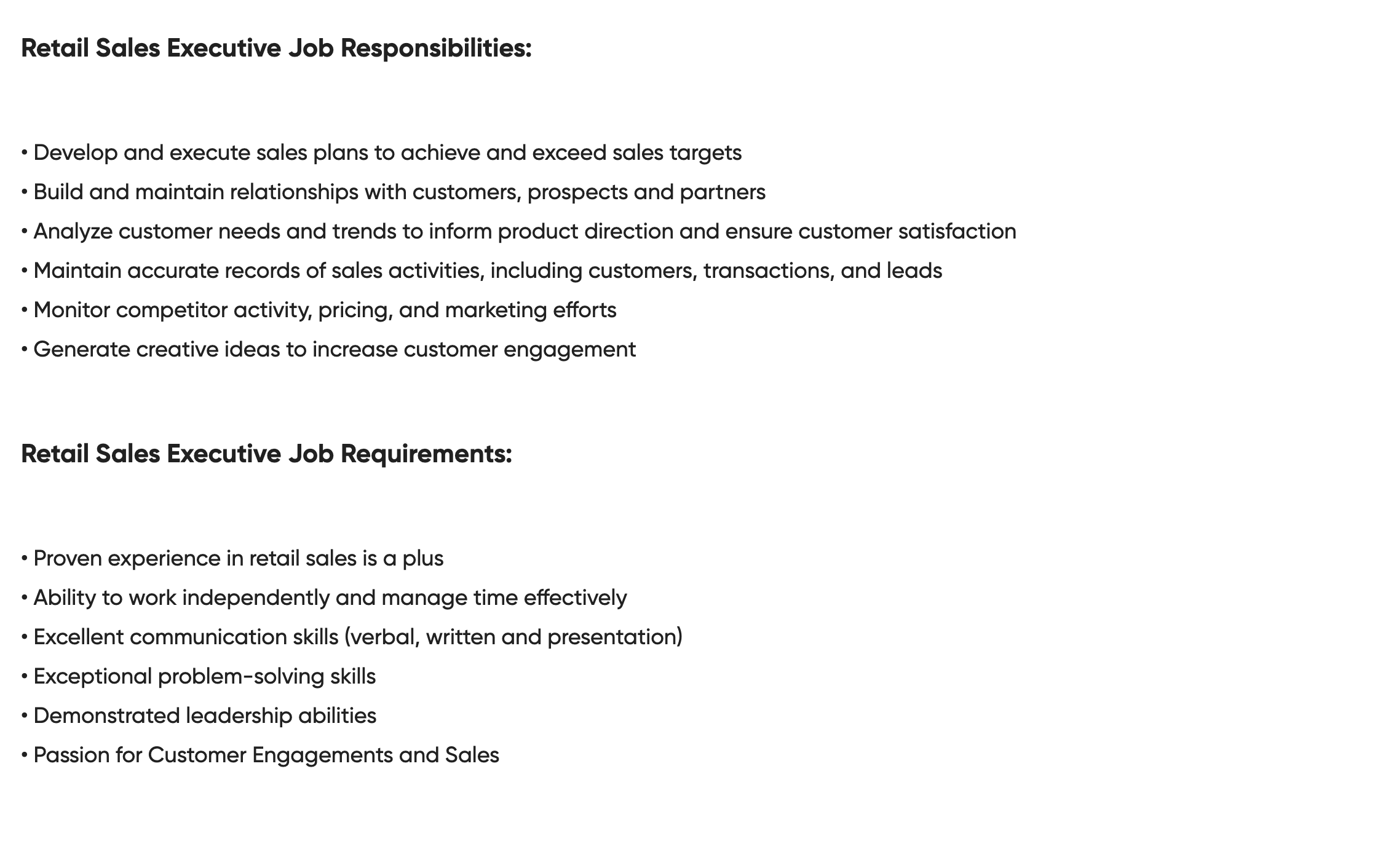 Every Retail Sales Manager is expected to know the following metrics
Sales per square foot
Gross margins return on investment
Average transaction value
Customer retention
Conversion rate
Foot traffic and digital traffic
Inventory turnover
Are you a designer with an eye for detail, style and organization? Have you always envisioned yourself creating beautiful retail spaces for customers to explore? If so, a career as a store designer could be the perfect fit. Join the many retailers who are looking for Store Designers with Creative abilities.
As a store designer, your job will be to create stunning and inviting environments in retail stores. You'll need to have an understanding of floor plans and layouts, while staying up-to-date on the latest trends and technologies that can bring their vision into reality. Your other responsibilities will include selecting materials, furniture and décor pieces; strategizing how best to display merchandise; designing signage; developing color schemes; coordinating with suppliers for product delivery; overseeing construction work in the store space; and more! 
No two days as a store designer are ever the same – it's truly an exciting role!
#12: Corporate Trainers
Becoming a corporate trainer might be the perfect fit for you. Corporate trainers play an important role in helping businesses reach their goals by training employees on how to effectively use the tools and skills available to them. 
Not only does this job offer great long-term career prospects, but it also comes with numerous benefits. For example, a corporate trainer can expect to receive competitive salaries and the opportunity to take courses or attend seminars related to leadership development and teaching methods. Plus, you will have the chance to use your knowledge of business processes, operations and communication systems–all while helping businesses succeed! 
The possibilities are endless when it comes to becoming a corporate trainer – now is the time to explore what is out there and find your perfect fit!
As a Customer Service Manager, you are the face of your company and the first point of contact for customers. You will be responsible for responding to customer inquiries, resolving customer complaints, and providing exceptional customer service.
Your role as a Customer Service Manager will involve managing all aspects of customer service. You'll need to build strong relationships with customers, answer questions accurately and promptly, escalate issues when appropriate, provide guidance on products or services offered by the company and work closely with other departments to ensure that customers are receiving the best possible service.
You'll also be responsible for analyzing customer feedback data in order to identify areas where improvement can be made within the organization's processes. Additionally, you'll work on developing strategies to increase customer satisfaction by creating engaging experiences across all channels – from online chatbots to email communication.
#14: Quality Control Specialists
Though retail businesses come in all shapes and sizes, one key factor that many share is the need for quality control. Quality control executives are a major part of any successful operation, ensuring that customers are receiving a consistent level of service and product that meets their expectations.
By taking on a role as a quality control executive, retail professionals can make it their mission to deliver excellence each and every day. They will be responsible for monitoring various aspects of the business, such as employee performance, customer feedback, and store operations. Not only will they have to ensure standards are being met but they will also need to identify areas where improvements can be made in order to provide an even higher level of satisfaction to customers. By leveraging data-driven insights coupled with excellent communication skills, quality control executives can become integral members of any retail team and help the business reach its highest potential.
Being a cashier is a great job and can be very rewarding. It requires knowledge, skill and dedication to perform the many responsibilities required of them. Responsibilities include operating a cash register, counting change accurately, providing customers with helpful information and assisting them in finding items in the store. Cashiers must also possess a strong sense of customer service and be able to handle different types of customers on an ongoing basis. Additionally, they must maintain an organized work area at all times and keep up with daily tasks such as restocking shelves or cleaning countertops.
Cashiers have a lot of important responsibilities but it can also be fun! They get to interact with customers from all walks of life who come in for various reasons – whether it's for some groceries or simply to browse around the store. Cashiers must stay professional while engaging in friendly conversations that make the customer feel welcome.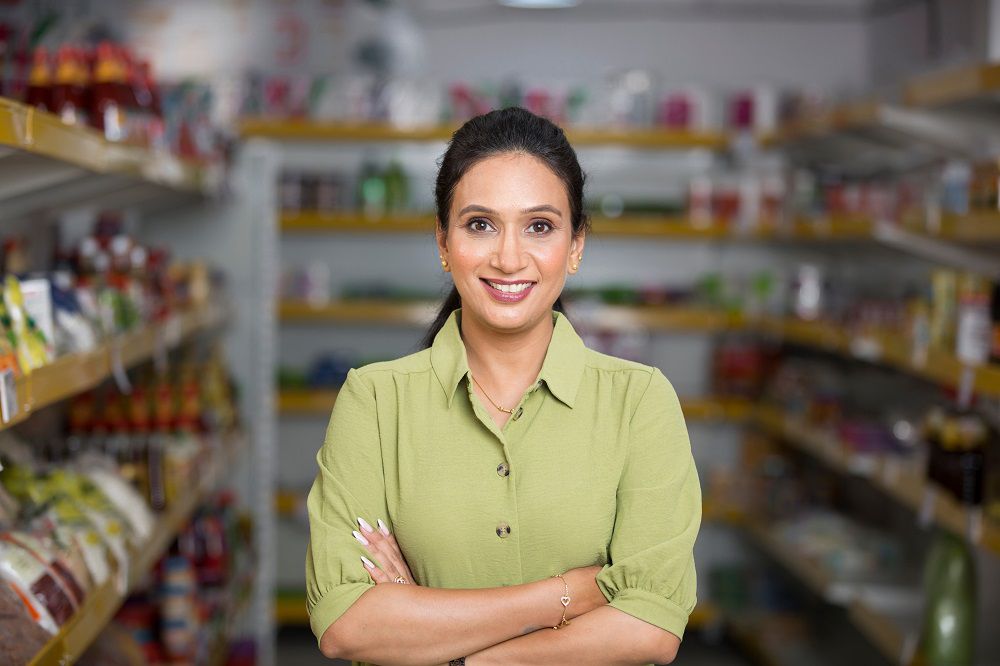 #16: Retail Stock Manager
A stock associate is a great option for those with a passion for customer service and organization. Stock associates are responsible for maintaining inventory levels, stocking shelves, and overseeing the floor of their respective store. 
Stock associates provide excellent customer service to shoppers as they help them find items in the store or answer questions about products. They also ensure that shelves are properly stocked with merchandise and that displays are clean and tidy. Additionally, stock associates may be responsible for returning overstocked items back to warehouse facilities or taking inventory of goods received from suppliers. It's important that they can accurately record details such as item numbers and pricing information so that stores remain organized at all times. 
Overall, stock associates play an important role in ensuring businesses run smoothly by providing exceptional customer service while managing store inventory levels efficiently.
Working as an inventory associate involves managing large volumes of goods and products, making sure that stock levels are maintained and reported accurately.  Inventory Manager  professionals are hired by Retail Brands to manage the inventory operations. With a team of Inventory executives, this role will be monitoring the inventory counts and track the performance of each store.
Inventory associates are responsible for receiving deliveries, verifying quantities and quality of goods received, stocking shelves with new items, counting existing stock on hand, monitoring product expiry dates, ensuring proper storage conditions in accordance with company standards and generating reports on sales or supply levels. It also requires tracking cycle counts to ensure accuracy in inventory records. Inventory associates must possess strong organizational skills and the ability to work quickly while coordinating multiple tasks at once. 
Candidates interested in this line of work should have excellent attention to detail as well as knowledge of various software programs used to track inventory levels.
Merchandising is an important part of the retail industry, and it can be a rewarding career for those who are passionate about fashion. A merchandiser is someone who works in the merchandising industry to create attractive displays of goods in stores and other outlets, as well as create promotional campaigns. 
Retail Merchandiser works with Marketing and Production Departments to facilitate what the customers or buyers asking. Merchandisers play an important role in analyzing customer behavior, trends in the market and competitor products. They are responsible for directing and overseeing the product line from start to finish.
Average salary for Retail Merchandiser is 3.3 Lakhs per year. In the US, Merchandisers are paid in the range between $55,707 and $76,450 per year as the base salary.
A successful merchandiser will have a keen eye for detail, an understanding of retail trends and an ability to forecast future trends. As a merchandiser you'll need to have excellent communication skills too, because you'll often work with designers, buyers and other people involved in product development. It's also essential that you understand customer needs so that your displays look great on the shop floor. 
The job of a merchandiser requires creative problem-solving abilities as well as organizational skills.
The operations executive role is an exciting one for those interested in retail. An operations executive job description includes a wide range of tasks and responsibilities, from planning and executing store strategies to coordinating staff members. As part of the management team at a retail store, the operations executive ensures that everything runs smoothly and efficiently. 
The main aim of an operations executive is to optimize operational performance, profitability and customer satisfaction. This role involves researching market trends, managing inventory levels and creating budgeting plans. As well as this, they are responsible for developing new marketing campaigns and overseeing employee training programs.
This position offers great career development opportunities for those looking to make their mark in retail. An individual with strong leadership skills as well as sound analytical abilities will thrive in this role. It requires a strategic thinker who can lead a team effectively while staying ahead of the competition.
Back office executive is a term used to describe the professionals who work behind the scenes of an organization. The back office is responsible for executing business operations, such as record keeping and data entry. It is also sometimes referred to as administrative services or support services. 
Back office jobs are essential in any company, large or small. From handling accounts and processing orders to developing strategies for marketing initiatives, back office executives ensure that daily tasks are completed on time and accurately.
They are responsible for handling accounts, processing orders and developing strategies for marketing initiatives. These back office executives are considered the unsung heroes of businesses. They are quietly doing their jobs while ensuring organizations achieve success and growth.
Back office Executives help in bringing order to the business process operations. From Inventory to Supply Chain to Store Performance, they track the KPIs on daily basis.
Final thoughts
In conclusion, the retail industry offers some of the highest paying jobs available. From store managers to visual merchandisers, these positions are in high demand and can provide a lucrative career opportunity for any motivated individual. With the right qualifications and experience, there is almost certainly a position that will meet your requirements and allow you to take advantage of a range of benefits.
So if you're looking for a career in retail, it's definitely worth exploring how the many opportunities available can help you achieve success.