If you are a serious professional in Gems and Jewelry Industry, then mark your calendars for this show. This happening in Las Vegas from June 2-5 2023. The JCK Jewelry Show is a must-attend event for anyone in the jewelry industry looking to enhance their business. This annual trade show provides a forum for networking and showcasing new products, as well as gaining insight from industry experts on emerging trends and market innovations. Whether you are a seasoned professional or just starting out, attending the JCK Jewelry Show could give your business the competitive edge it needs to succeed. Below are the 5 reasons why attending Las Vegas Jewelry Show will be useful for anyone in the Jewelry Industry.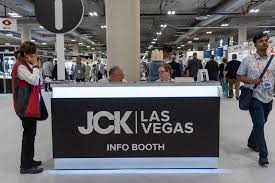 1.Network with professionals in the field
Attending the JCK Jewelry Show 2023 gives you an opportunity to network and collaborate with professionals in the industry. You can exchange ideas, learn from others' experiences, and build relationships that could lead to new business opportunities. Meeting industry experts and other jewelry professionals face-to-face is valuable for any jewelry business owner who wants to stay relevant and competitive. Don't miss out on this chance to connect with like-minded individuals and expand your professional network.
At JCK Jewelry Show 2023, attendees can access a marketplace of over 2,200 exhibitors and thousands of industry experts. Not only will you be able to view the latest trends and product offerings in jewelry, but you'll also have the chance to network with leading professionals in the field. Whether you're looking for new business collaborations, seeking advice from experienced jewelers or just want to chat with other like-minded individuals who share your passion for the craft – this show is the perfect opportunity to expand your professional horizons. So come prepared with your business card and a willingness to learn and network. You never know where those connections may lead.
In addition to exploring the latest products and trends, attendees of JCK Jewelry Show 2023 can also participate in educational seminars and interactive workshops led by industry experts. These sessions will cover a range of topics such as marketing strategies, new technologies and techniques of jewelry making. This is an opportunity to learn from experienced professionals who have been successful in the industry so that you can take your own skills and knowledge to the next level. So come ready to learn, grow, and make connections at this exciting event!
2. Gain knowledge and experience from educational sessions.
One of the top reasons to attend the JCK Jewelry Show 2023 is to gain knowledge and experience from the educational sessions. These sessions cover a wide range of topics related to the jewelry industry, such as new marketing strategies, design trends, technology advancements such as wearable tech and more. You'll have access to top-notch presenters who are experts in their fields and will share valuable insights that you can use in your own business. If you are a visitor (first time) for the show, you can upgrade the badge. This will give you premium access to all the sessions. Whether you're just starting out or have been in the industry for years, these educational sessions will provide you with a wealth of information that can help take your business to the next level.
The educational sessions at JCK Jewelry Show 2023 are designed to provide attendees with actionable insights and practical tips that can benefit their businesses immediately. From in-depth discussions on how to improve your online presence to exploring innovative ways to create unique designs and products, each session is crafted by experts who understand the industry inside out.
Attendees will have the opportunity to attend workshops, seminars, and interactive panel discussions led by leaders in the jewelry industry. Some of the sessions are also targeted towards specific areas of expertise or interests, such as gemology or sustainability. By attending these educational sessions, you'll gain invaluable knowledge and experience that can help you stand out in a competitive market, enhance customer satisfaction, increase sales and drive growth for years to come.
Different Talk Sessions
Check out the below link for the JCK Talk sessions during the show. One of the talks is organized by the Women's Jewelry Association. "Disability Inclusion in the Jewelry & Watch Industry". This is very interesting discussion for any company who has been advocate of diversity inclusion and disabilities.
3. Discover new products, trends, and services in the industry.
With hundreds of exhibitors showcasing their products, you can find everything from gemstones and diamonds to watches and other fine jewelry pieces. The best part? All exhibitors have been carefully selected by show organizers based on their reputation in the industry.
This means that you'll be able to source high-quality products from reputable suppliers who are dedicated to providing exceptional value and craftsmanship. Plus, with so many options available in one location, you'll save time and money by not having to search for these products elsewhere. Attending the JCK Jewelry Show ensures that you have access to the latest and greatest in the industry, helping your business stay ahead of the curve.
Also, attending the JCK Jewelry Show allows you to network with industry professionals and stay up-to-date on the latest trends and techniques. You can attend informative seminars, workshops, and panels to learn more about topics like jewelry design, marketing strategies, and industry news. Plus, you'll have the opportunity to connect with other attendees who share your passion for fine jewelry. In 2022, JCK celebrated its 30th anniversary, welcoming more than 17,000 attendees and 1,800 exhibitors from around the world, with guests from 130 countries.
Without a doubt, if you are in the Jewelry Industry, book your tickets to attend this biggest show of the year. You can find all the Top quality product companies, clearly vetted by the show organizers in the show.
4. Attend exclusive events and presentations.
One of the best reasons to attend the JCK Jewelry show is for the educational seminars and workshops offered. These sessions provide a wealth of information on a variety of topics ranging from merchandising strategies to marketing techniques. You can take part in talks from industry experts, learn about new digital marketing trends and software, and even gain insights into improving your branding strategy.
By attending such seminars, you can not only stay on top of industry changes but also network with other professionals, building relationships that could help grow your business in the future. With so many opportunities to learn and improve, it's no surprise that these sessions attract professionals from all over the world eager to make their mark in this exciting field.
Whether you're just starting out in the jewelry industry or looking to expand your knowledge, attending education seminars at the JCK Jewelry Show is a smart move. These sessions cover a range of relevant topics that will empower you to optimize your business strategies and make headway in this ever-evolving industry. In addition to practical tips and insider information, these events are also an opportunity to connect with other professionals, learn about their experiences, and apply those lessons learned to your own endeavors. By attending education seminars at JCK, you're investing in yourself and your business –and that's always a wise choice!
5. Participate in on-site ordering and purchasing opportunities.
One of the biggest advantages of attending the JCK Jewelry Show 2023 is the opportunity to participate in on-site ordering and purchasing. You'll have access to some of the most exclusive pieces from top designers around the world, meaning you can get ahead of the curve by securing items before they even hit retailers. With the ability to cut out intermediaries, attendees can also enjoy cost savings and build more direct relationships with suppliers. As a result, taking advantage of these special opportunities can provide a major boost for businesses looking to expand their offerings or stay on top of competition in this ever-changing industry. Almost all the attendees had benefitted directly or indirectly by attending this event.
6. Build your Brand Reputation. (BONUS)
The JCK Jewelry Show offers an excellent opportunity for businesses to build their brand reputation. With an exclusive audience of professionals within the industry, attending the event can help you enhance your branding strategy and leave a positive impression on your target audience. You can use this platform to showcase your products, services, and ideas by creating engaging displays that capture attention from visitors. By building a strong presence at the show, you increase brand recognition and establish credibility among other experts in the field. Don't miss out on this rare chance to improve your brand reputation while also networking with like-minded professionals from all over the world!
Attending the JCK Jewelry Show is one of the best ways to showcase your brand to industry leaders and potential customers. The show provides a unique opportunity for businesses to create stunning displays that not only highlight their products but also reflect their brand image. You can customize your booth and provide engaging demonstrations or interactive activities that draw people in and leave lasting impressions. By participating in this event, you're taking advantage of prime branding exposure within an attractive setting surrounded by some of the most influential players in the industry. So seize this chance to elevate your brand reputation and position yourself as a leader in the jewelry world!
Final Thoughts
In conclusion, the JCK Jewelry Show 2023 is an event that no jewelry lover should miss. With its dynamic and unique range of exhibitors, extensive educational program, and wealth of networking opportunities, the show provides an unparalleled window into the world of modern jewelry. Whether looking for inspiration for a new design or seeking information on industry trends, the show has something to offer everyone. It promises to be a vibrant and memorable experience that showcases the best in global jewelry design and technology.