Since time immemorial different types of jewelry have been adorned by royal families. Following this culture, several people have taken interest in wearing jewelry matching their outfits. Jewelry is worn for various reasons. It is referred to as ornaments to be worn either attaching to different parts of the body or the outfits.
Jewellery is a form of adornment that has been used for centuries by people all around the world. It can be made from a variety of materials such as metals, stones, and even bones. There are many different types of jewellery available today, each with its own unique characteristics and style. 
There are various types of metals used to make a number of types of jewellery for specific occasions. With the increased activity on social media and pictures posted there, everyone wants to look elegant from top to bottom.  There is a high demand for looking perfect owing to the different types of jewellery available for various occasions.
Events such as Casual Parties, Weddings are common for showcasing Jewelry worn. People of both gender wear jewelry based on their culture. However, among the two, women are the most consistent ones interested in adorning jewelry, regardless of age and culture. While producing it, mass jewelry designers and jewelry makers keep in mind the demand and produce different kinds accordingly.  
Types of Jewellery
The following are some of the most popular types of jewellery and their uses:
Rings are one of the most commonly worn pieces of jewellery. They come in various styles and sizes, from traditional bands to intricate designs featuring precious gems. Rings can be used to symbolize an engagement or wedding, or simply for fashion purposes. Earrings are another classic type of jewellery which have been around since ancient times. They range from simple hoops to beautifully crafted danglers that hang down from the earlobes.
There are two categories of Jewelry available as mentioned below. One on the basis of attaching to different body parts and another on the basis of jewelry materials and occasions.
---
1. Types of Jewellery on the basis of body parts
Under this category, the jewelry types are listed on the basis of where to wear the jewelry and which body part is to be adorned by which type of jewelry.
An earring is a piece of jewelry worn to adorn the ears. Earrings are generally put on by piercing the earlobe, although piercing can be done in any part of the ear. If the piercing is on the upper part of the external ear, it is called cartilage piercing. An individual can wear more than one or two earrings in the ear. There are a variety of designs for the earring to wear on the earlobe since it is the lowermost part of the ear one can wear big hoops, long dangling, and drop earrings. For the upper part earring, one can wear different kinds of studs. These earrings are also made of a variety of materials like steel, glass, silver, gold, etc.
Necklace
Women have been wearing necklaces as a form of jewelry for centuries, from ancient Egyptians to modern day women. Necklaces are an easy way to add a touch of elegance and glamour to any outfit, making them perfect for special occasions or everyday wear. Women often choose necklaces that reflect their personal style and taste – whether it be a string of pearls, a charm necklace, or something simple yet eye-catching. No matter the choice, necklaces are the perfect accessory to complete any ensemble.
Bracelets admire the wrist of a person as it is a piece of jewelry to be worn on the wrist. It comes in a variety of designs whereas the shape is mostly round or oval as regards the common shape of an individual's wrist. However, based on the function one can choose to wear bracelets. One can wear bracelets according to personal preferences as it is a fashion accessory with sparkling and colorful charms. Bracelets are mostly in the shape of chains or made with beads and stones, although they are different than bangles but sometimes with a single, inflexible loop, a bracelet is considered a bangle. Often it can be worn on the ankles and then it's called an anklet.
Cuff links
While generally there are buttons to secure the cuffs of a shirt it is cuff links that beautifies the cuffs of a shirt. From glass, stone to leather, etc. There are different materials used for making cufflinks. One can use cuff links specifically for shirts with button holes on their cuffs.
Rings
Rings are worn on fingers and so it is also called finger rings. A ring is usually a round band that adorns the finger, nose, toes, etc. Although there is a wide range of rings like bracelets, earrings, neck rings, toe rings, etc. only a hand ring is considered a ring, made from different materials like gold, silver, platinum, etc.
However, the above-mentioned jewelry is the most common type of pieces of jewelry that are usually available and can be seen being worn on a regular basis by several people. But other than the above-mentioned types of pieces of jewelry there are other many pieces of jewelry based to be worn on different body parts and those include armlets, waist-belt, nose-ring, broach, etc.
---
2. On the basis of different Jewelry Design
While we speak of the types of jewellery, the designs play an important role and under this category, the jewelry types have been listed on the basis of the designs and materials and as they are commonly known in the jewelry market.
Antique jewelry is highly sought after due to its unique beauty and craftsmanship. It is often characterized by intricate details and has a history behind it. Many pieces of antique jewelry are also very valuable and can be seen as an investment for the future.
This kind of jewelry is also commonly known as 'vintage jewelry' and these two terms are used interchangeably. However, antique and vintage jewelry is not the same and there is a difference in the time period. Antique jewelry is considered to be a hundred years old or more. A piece of vintage jewelry is nearly at least fifty years old.
These jewelry designs are classic and are never 'out of fashion.
This jewelry is not worn on a regular basis and only occasionally because they are valuable and suitable only with the classy outfit and look. Not many people have access to vintage and antique jewelry because it is not easy to come by. Hence such jewelry is expensive. A piece of antique jewelry is sold on the basis of the actual weight of the precious metal it is made of and/or the gemstones it is studded with.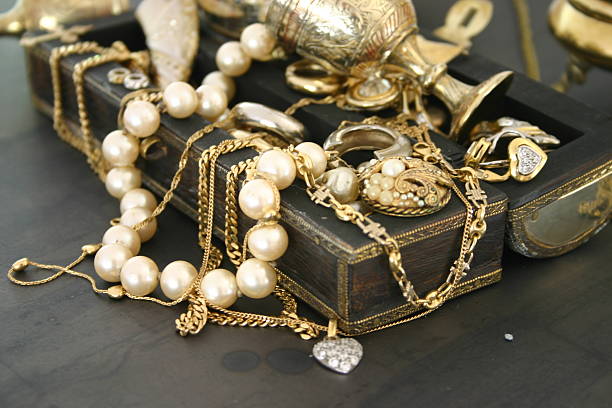 Temple Jewelry
The Temple jewelry is mainly worn by Bharatnatyam dancers. This jewelry took inspiration from type of ornaments adorned by Hindu Gods and Goddess idols in South India. Majorly gold plated jewelry forms the most part of the Jewelry designs. Material such as Rubies, White Sapphires or Pearls is used for creating the Temple jewellery. There are types of temple jewelry- simple necklaces, bangles, earrings, and nose pins. From odiyanums (waist belts) to vankis (armbands) there are a number of temple pieces of jewelry including the ornaments for the hair.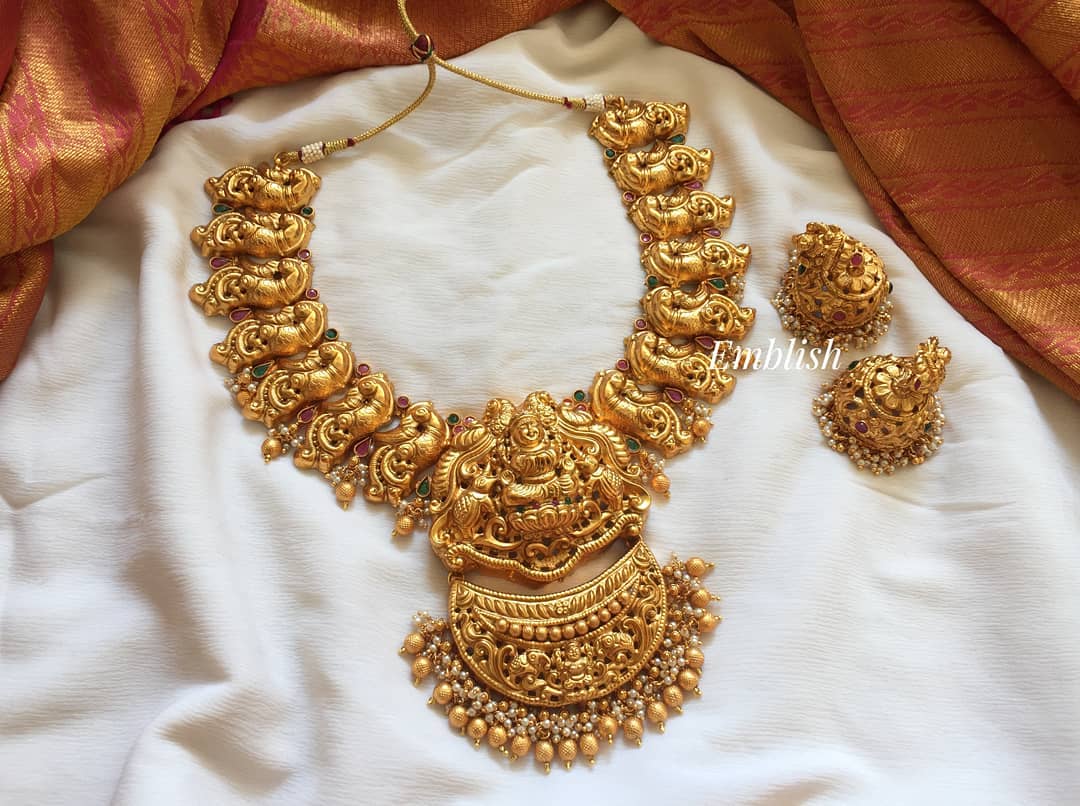 Bead jewelry is mainly considered as a piece of jewelry made of different types of designed beads which is a small decorative object. Beads are worn in strands, with the holes pierced in them, the beads are joined with strings or chains and thus formed. Beads are available in a wide variety of materials from pearls, glass, and wood to metals such as gold, silver, copper, etc.
The bridal jewelry market in India sees a huge profit during the wedding season (November – March), being the cool and dry weather conditions.
Jewelry is an important part of a bride's wedding ensemble. On her special day, she adorns herself with various pieces that add sparkle and elegance to her look. Brides often opt for traditional jewelry such as gold or silver necklaces, earrings, bracelets, and rings to signify the union of the marriage. Jewelry also serves as a reminder of the big day and holds sentimental value for many brides. Indian weddings have brides wearing royal and big pieces of jewelry on their big day.
From head to toe, brides are wrapped in jewelry as they are adorned with 16 adornment items commonly known as solah shringar which would include maang tika referred to as forehead jewelry, armlet, necklace, earring, anklet, finger rings, bangles, waist belt, nose pin, toe rings, etc.
Considering that weddings are the most common occasion in the world, there will be a never-ending demand for bridal jewelry. This is one of the types of fine jewelry for which expert workmanship is required, thus the jewelry job in this sector is comparatively higher than any other jewelry specialties.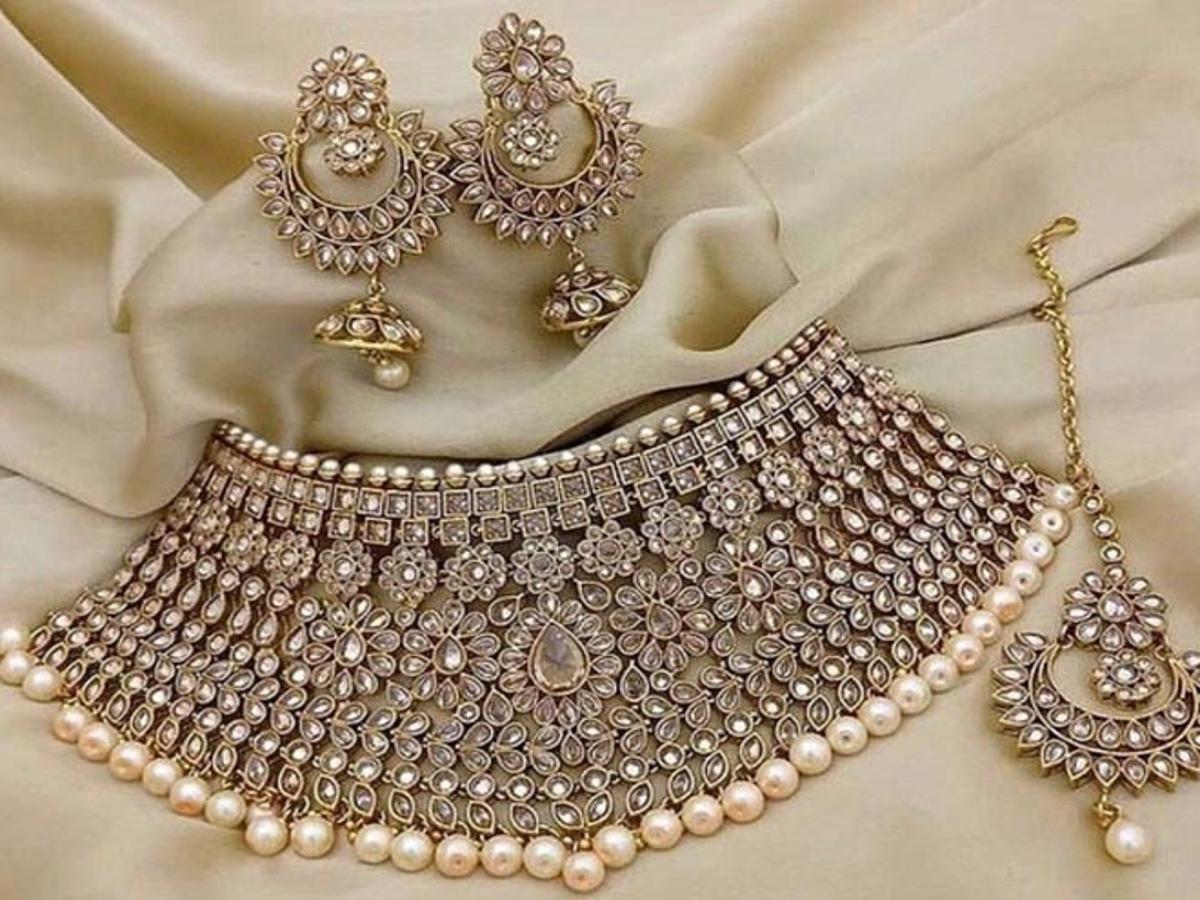 Fashion jewelry is commonly worn with a trendy fashionable outfit and they are generally available at cheap prices for wearing on a regular basis with different clothes. Reusable materials play a major role in creating costume jewelry or Junk Jewelry.
Cheap metals such as Nicket, Pewtar are being used in creating these fashionable designs. The demand for fashion jewelry is the most in the market and hence this is one sector where one can find jewelry jobs for making easily available fashion jewelry.
When we speak of jewelry, the list is absolutely incomplete without mentioning handmade jewelry as there are several craftsmen who make jewelry using their skills and their hands. Goldsmiths are experts in operating the step-by-step jewelry-making process from melting the material, to designing and forming, and also there is a stone setter who completes the design by including gemstones in the jewelry.
This is often a time consuming task that requires special tools for designs. Any artistic, skilled creative professionals will be in need to make handmade unique jewelry designs. The beauty of handmade jewelry lies in the fine detail and intricate workmanship of each piece. There are lots of opportunities in this type of jewelry making for goldsmiths and other jewelry makers who are seeking jewelry jobs.
In the Sanskrit language, Kundan means "pure gold".  Kundan jewelry refers to a variety of setting gems as it usually includes uncut diamonds using 24-carat gold foil. In Kundan jewelry designs, the purpose of 24k gold foil is to hold the stone.
In Kundan jewelry settings, commonly used gems are emeralds, rubies, sapphires, spinels, and pearls. Modern Kundan pieces also include semi-precious stones such as tourmalines, onyx, and turquoise. Although available in various parts of India, the pink city of Jaipur is the most popular destination for buying such jewelry. For the labor work and material availability and utilization of rarely accessible and expensive stones, Kundan jewelry is considered to be an expensive and luxurious jewelry type.
Minakari jewelry is the most royal type of jewelry considering its historic and unique design. This jewelry making is a pure art form in its own right. It is  made by enameling metal using vibrant colors and attractive design. Minakari word comes from the Persian word mina which means heaven.
The craftsman of minakari jewelry is commonly known as the minakar. Similar to Handmade Jewelry, Minakar Jewelry follow the same production process. A minakar is specialized in such design and artworks.  However, minakari jewelry is colorful, they have their own distinct style and color in respect to the various Indian cities. For example, In Lucknow, the dominant minakari colors are green and blue, enameled on silver. In Varanasi, the common color of minakari is a dusky pink or 'old rose'.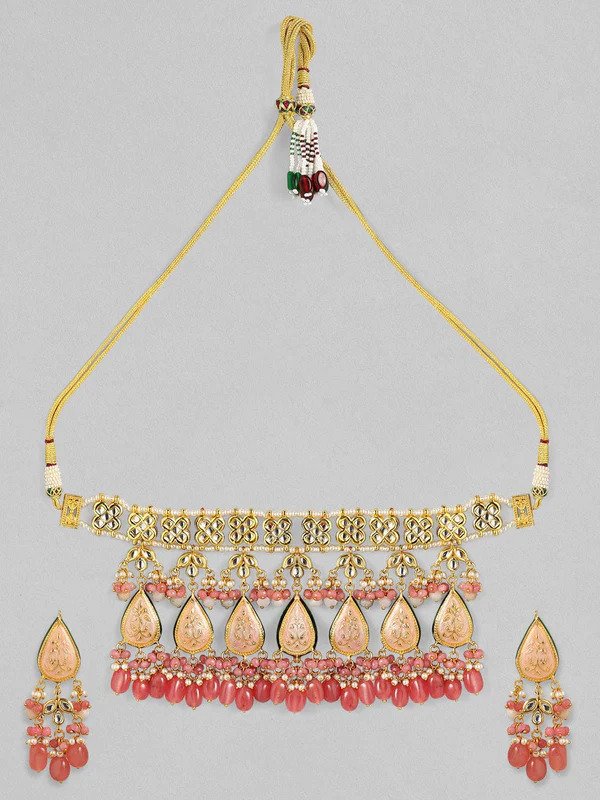 Following different processes and techniques, skilled, talented jewelry artists make these Jewelry pieces with craftsmanship. Often experiences make a difference in the jewelry jobs. For example, a jewelry store specializing in manufacturing bridal jewelry will want an expert goldsmith.
Professionals good at making bridal jewelry are in need for such roles. However, there are a lot of options and opportunities available in the jewelry-making industry for interested people.
Conclusion
From exquisite necklaces to dazzling earrings, the world of jewelry offers a plethora of options for every style and occasion. Popular types of jewelry include rings, bracelets, anklets, brooches, and pendants. Whether it's timeless classics like diamonds and pearls or trendy statement pieces made of gold or silver, there's something to suit everyone's taste and preference.