A Hindu festival rooted in deep human values, strong mythical beliefs, and legends, Diwali signifies the true essence of life where good overcomes evil. Celebrated with much gaiety, grandeur, and festivity, the festival of Diwali transcends caste, creed, and community to become all-inclusive and encompassing. 
In man's eternal quest for both spiritual enlightenment and worldly prosperity, Diwali marks the most auspicious day when family bonds and human relations become stronger while business ventures gain a promising head start. The 2022 Diwali celebration starts with Dhanteras on October 23, 2022, Sunday, and ends with Bhai Dooj on October 27, 2022, Thursday. Hence, Diwali 2022 falls on Monday, October 24.
Diwali illuminates our houses and hearts and preaches the message of friendship and togetherness. Light is the depiction of hope, success, knowledge, and fortune and Diwali reinforces our faith in these virtues of life. 
How Diwali is celebrated in India?
During Diwali, people wear their finest clothes, illuminate the interior and exterior of their homes with diyas and rangoli, perform worship ceremonies of Lakshmi, the goddess of prosperity and wealth, light fireworks, and partake in family feasts, where mithai (sweets) and gifts are shared.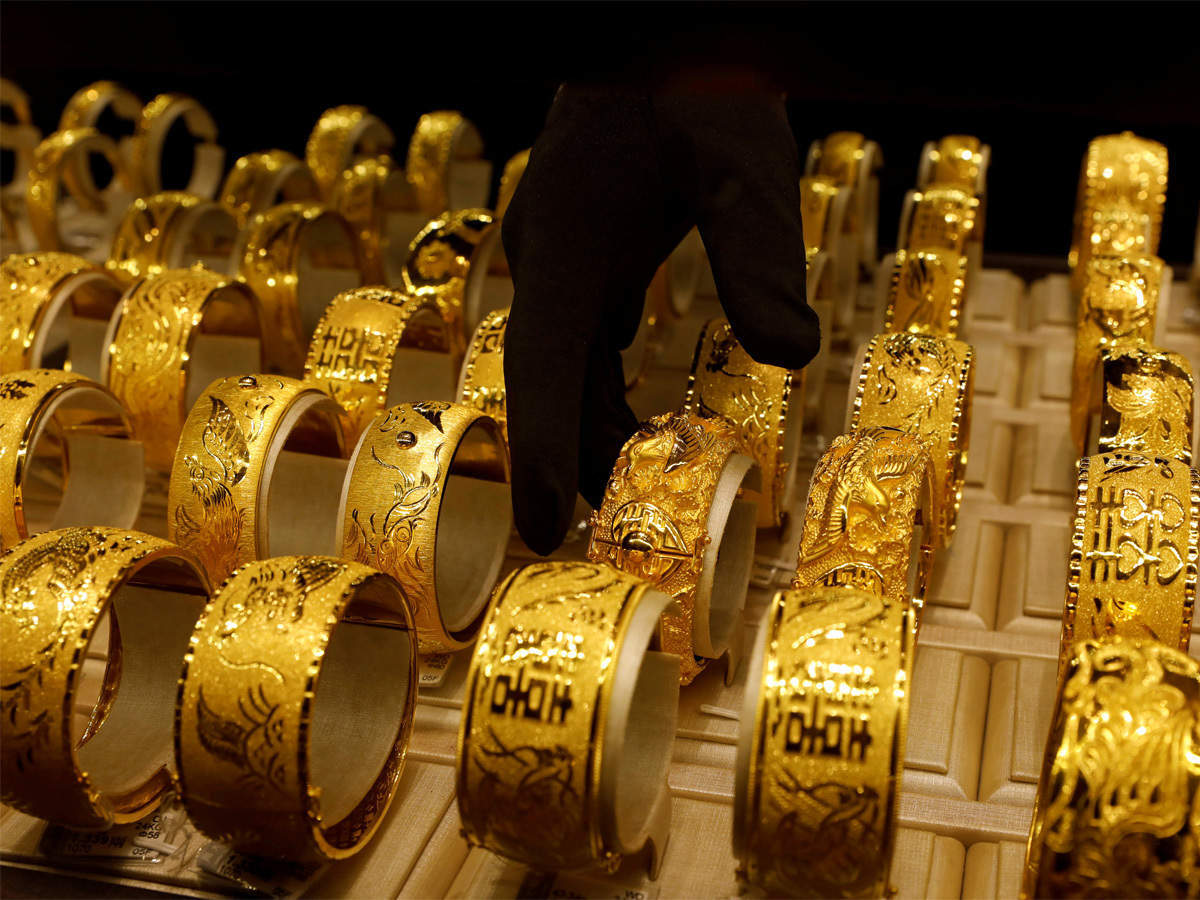 Most Hindu families prefer purchasing gold during Diwali, especially on Dhanteras (2 days before Diwali). Purchasing gold during Diwali is religiously significant as buying gold during Diwali is considered auspicious. The ritual of buying gold during Diwali is equivalent to inviting Lakshmi, the Goddess of wealth and prosperity to their home.
Apart from jewelry, the most preferred items to purchase gold during Diwali are coins. In India, gold coins are specially molded for Diwali with Goddess Lakshmi embossed on the front and her symbol Shri embossed on the other side of the coin. 
People flock to jewelry stores on Dhanteras, the biggest gold buying day of the year, with a bumper sales period for precious metals during Diwali.
The newly bought gold is used during Lakshmi Puja and it is kept inside an artificial home called Hatari (हटरी), which is either made of mud or silver. During Lakshmi Puja, the newly bought gold coin is attached to the navel of Goddess Lakshmi with the adhesive which is prepared ad-hoc with Sindoor and pure Ghee.
Muhurat of buying Gold during Diwali
Like other important activities, most Hindus prefer Muhurat i.e. auspicious time to purchase gold during Diwali. Pushya Nakshatra day and Dhanteras are the two most auspicious days when most of the gold purchasing occurs during Diwali festivity. Nakshatra Pushya, being the birth star of Goddess Lakshmi, has got the honor of being the most auspicious Nakshatra to bring Lakshmi home.
In Vedic astrology, both Guru Pushya and Ravi Pushya are given utmost importance to perform all sorts of purchasing activities.
In most years Pushya Nakshatra prevails a few days before Dhanteras and this day is preferred to do Deepawali shopping, including gold, new clothes, and jewelry. Most jewelry shops make special arrangements to handle the extra rush on the day of Pushya Nakshatra before Dhanteras.
It should be noted that more gold coins are sold on the day of Pushya Nakshatra than on the day of Dhanteras. However, on Dhanteras silver coins are more in demand along with Kalash, bowls, spoons, tumblers, and Lakshmi-Ganesha silver statues.
Apart from Pushya Nakshatra day, Dhanteras is the most significant day to purchase Gold and this day is considered as auspicious as that of Akshaya Tritiya to purchase gold and gold jewelry. Dhanteras is related to two different things, Dhan means wealth, and Teras means the 13th lunar day of Krishna Paksha in the Hindu calendar.
If you buy any metal(silver, gold) on Dhanteras, you will get it back in a much higher amount that is the basic ideology behind Dhanteras shopping. Gold, silver, or metals tend to have a higher resale value as compared to the buying value. That is why Silver & Gold shopping for Dhanteras is a big thing.
Silver gifts:
As we all know, silver is a symbol of prosperity. Considering the festive occasion of Dhanteras, gift your special ones shiny silver gifts, such as jewelry, utensils, diyas, silver charm, Lakshmi Ganesh coin, Swasti, shankh, etc. They are auspicious Dhanteras gifts that convey your heartwarming greetings of the season even from miles apart.
Lakshmi & Ganesha Jewellery Set: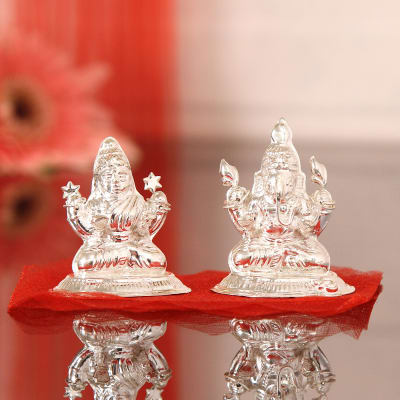 Lakshmi Mata is on one side while Lore Ganesha is on the other. A Lakshmi & Ganesha Silver Coin is considered to be auspicious and is known to bring good luck.
The Lakshmi & Ganesh Ji Jewellery Set contains the Lakshmi & Ganesh Ji Charm, Lakshmi & Ganesh Ji Dangler Earrings, and Sterling Silver Curb Chain. Four to seven Lakshmi Ganesh collection is the best gift for yourself and your loved one.
Ganesha Collection:
Lord Ganesha is a symbol of success, remover of obstacles, and selflessness. This symbol is viewed as a reminder to manifest the powers held within us. Couple these qualities and the result is a beautiful pendant to help you remember to stay grounded.
The Vakratunda Mahakaya is one of the oldest and most recited shlokas for Lord Ganesha. It is a request for help to remove obstacles and create a clear path for success and happiness.
Sukh Samriddhi Dhan Coin:
Sukh Samriddhi Dhan Coin: is designed to gift as a message of your wish for blessings of happiness, prosperity, and wealth to be bestowed upon the recipient. The front of the coin showcases an intricately detailed Tree of Life, which is a symbol of family, long life, and connectedness. The back of the coin holds three blessings सुख – समृद्धि – धन.
Lakshmi Ganesh Coin:
In the Hindu religion, most of the family believed that putting Lakshmi & Ganeshi Ji Silver Coin is auspicious and is known to bring good luck. But now you can wear your coin as a pendant on a chain or as part of your charm bracelet. Another nice option is to choose a Simplicity Moli bracelet or a semi-precious bead bracelet to hold your new coin charm.
Lakshmi Paduka Aashirvaad Tealight Holder:
A wish for Wealth & Prosperity, a beautiful hand-crafted tea light holder is an auspicious choice for special occasions like Diwali and Dhanteras. The sides are adorned with intricate cutwork, and the center holds Lakshmi Ji footprints, or Paduka, as a wish for her to bless the family with wealth and prosperity. This beautiful hand-crafted tea light holder is designed to hold from one to three tea light candles at a time. One of the candles is lit, and the walls surrounding the tea light will reflect the lovely lotus design, creating an aura of blessings and good wishes!
The consumption of gold during the Diwali festival and peak wedding season runs from August to December unlike anywhere else in the world. Diwali demand competes directly with a favorable cyclical environment for gold investment.
As of Sept. 30, 2019, the S&P GSCI Gold was up 14.21% YTD and on par with the S&P 500®, which was up 18.74% YTD.
Tata Group's Titan Co. reported a 77% year-on-year jump in income in its jewelry division in 3 months to Sept. 30, which is typically a lean demand period due to rains and lack of festivals. According to the company, Indians are finally more comfortable with spending and wedding-led demand is high.
All segments witness a very good demand upsurge, whether it be the lower-priced or higher-priced segments, gold jewelry, or diamond-studded jewelry during Diwali. The jewelry sector also benefits because travel and other discretionary spending remain muted due to the pandemic, with gold attractive to many Indians who see it as a store of value.
India's only London Bullion Market Association-certified precious metals refiner and mint have recently started diversifying its portfolio from selling bars mainly to bullion dealers to set up physical stores for coins and bars for retail investors.
Jewelers are actually unable to keep their inventory full due to more sales than production. Production delays due to Covid protocols, testing, and hallmarking backlogs may also cause difficulties in keeping stock in line with demand.
Subscribe to our Mintly page for more information and updated blogs on the jewelry, precious metals, and gemstones industry.