Gold loans which otherwise secure loans when the lending bank or NBFC accepts gold items as collateral, such as gold jewelry, ornaments, etc. You may quickly and with little paperwork obtain a loan against gold. Non-banking financing firms (NBFCs), in addition to banks like SBI, ICICI, HDFC, and others, also provide gold loans to private customers. 
The loan amount you may obtain against a gold item will vary depending on the gold purity in your jewelry, the LTV Ratio, and other internal lending rules. The lender could also have a predetermined minimum and maximum limit.
Since both banks and NBFCs provide gold loans, comparing their rates, eligibility requirements, and loan amounts can help you select the best option. In this article, we have mentioned the ten best gold loans companies in India.
It could be challenging to repay if the loan's term is too short, given your financial status and monthly costs. India's best gold loans companies frequently offer various goods and services. A rising number of financial organizations are now giving gold loans with straightforward application procedures and affordable interest rates.
Where To Take Gold Loans In India?
One of the most popular ways to raise money and meet personal financial needs is through gold loans. Finance businesses may offer individuals with certain eligibility conditions for loans on gold with licenses. The rates, fees, and interest levied by each company vary. However, it's crucial to be aware of the many financial institutions from which you may borrow money by pledging your gold items if you wish to do so. They consist of:
Non-Banking Finance Companies (NBFCs):
Financial organizations known as non-banking finance businesses can provide nearly all banking services but lack a banking license. According to the Companies Act, these businesses are registered. They offer services like loans on gold to individuals and are governed and supervised by the rules established by the RBI. The top gold loans financing firms in India are good NBFCs, like IIFL Finance, which lets you obtain the best loans on gold based on your needs.
Gold Loans Banks:
Banks are financial institutions that take public deposits and pay them interest consistently while using the deposits to make loans to borrowers. Banks have a banking license to provide all financial services, including loans on gold, and are also heavily regulated and controlled by the RBI. You can obtain a gold loan depending on the interest rates and terms offered by each government and commercial bank.
Gold Loans Finance Institutes:
To provide gold loans to individuals, gold banks or financial institutions are specialized financial organizations that are a part of the gold loans financing firms. They only offer loans on gold; they don't provide any other kind of loans. These companies offer a useful option to obtain a gold loan and are also monitored, controlled, and licensed by the RBI.
Choosing the loan amount needed to satisfy the capital requirement is the first stage in the process of getting a loan on gold. The second and most crucial step is to select the gold loan company from which you should obtain a gold loan. Here's how to evaluate your options and pick the top provider of gold loans financing:
Security:
You must pledge your gold as security to obtain a loan on it. Since the lending firm will hold your gold items until the loan is paid back, the gold's safety must be prioritized. Some lenders also secure the stored gold with an insurance policy. Some lenders further insure the gold that is kept on hand.
Tenure Options:
The tenure options greatly influence the interest rate and EMI options for loan repayment. The monthly EMIs decrease as the loan duration increases. To effectively manage your money and simply fulfill your loan commitments, finding a lender with a wide range of term alternatives is preferable.
Rates and Charges:
Loans secured by gold are subject to various expenses, including processing fees, appraisal fees, late payment fees, etc. Even though these costs are common, the lender is required to disclose all fees, even any that may be concealed.
Repayment Options:
Flexible repayment choices from the lender must include EMIs, one-time interest payments, and ongoing interest payments. The more alternatives for repayment, the better.
What is Gold Loans Process?
You must register with your basic information, depending on whether you're using an online or offline application.

The lender appraises the gold items in light of the needed loan amount and then gives the borrowers a loan amount with predetermined interest rates.

The lender carefully holds the gold items until the loan's term is through and the borrower has paid back the principal amount and any accrued interest.
Gold loans have emerged as a popular but efficient way for borrowers to use their hoarded gold to meet their financial needs.
1. Muthoot Finance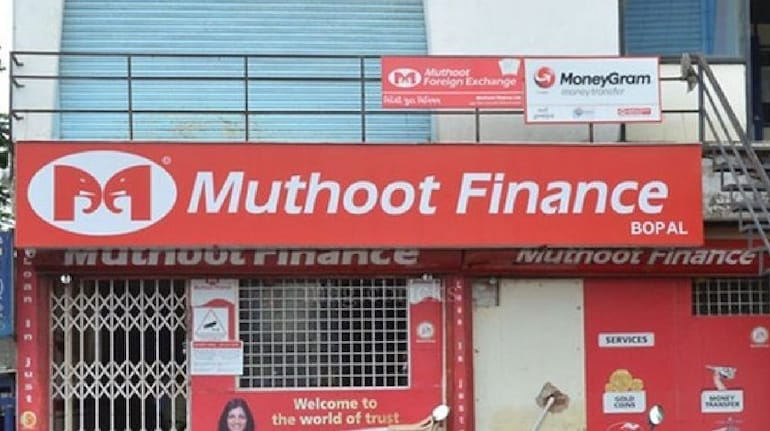 One of the largest providers of gold loans in India is Muthoot Finance. It is highly renowned for its reputation in the business and has a vast network of 4,265 branches spread throughout 21 states and four union territories. It is the most dependable name in gold loans financing.
Customers may have a loan sanctioned against their jewelry for up to Rs. 1 crore in only 5 minutes. Here, the loan application procedure is simple and requires little paperwork. With a maximum payback term of 36 months that can be extended with consent, gold loan interest rates start at 11.99%.
Interest Rate-

11.9% p.a. onwards

Lowest EMI / Lakh-

Rs. 3,321

Loan Amount-

Minimum- Rs. 1,500; Maximum- No Limit 

Loan Tenure-

7 days to 36 months

Collateral / Security-

Any gold item of up to 50 g with a purity of 18K to 22K

Processing Fee-

0.25% to 1% of the loan amount
2. Manappuram Finance Introduction  
Currently, Manappuram Gold is a well-known name in the banking sector and has 3,200 locations nationally. It is renowned for being trustworthy and processing loans quickly. Within 5 minutes, Manappuram authorizes and disburses gold loans. It provides a wide range of programs appropriate for people of all income levels with a maximum loan amount of Rs. 1 crore. The maximum payback period is 12 months, however, this can be extended with consent. The rate of interest is 12 percent.
Interest Rate-

Up to 29% p.a.

Loan Amount-

Rs.1,000 to Rs.1.5 crore

Tenure-

3 months to 12 months

Processing Fee-

Rs. 10 at the time of loan settlement, Additional Processing Fee on Repledge- 0.07% of New Pledge Value

Schemes-

'High Loan to Value' and 'Gold Loan Lowest Interest Rate'
3. Union Gold Loan
The Union Gold Loan, a Union Bank of India program, places a greater emphasis on the poor farmers as well as those who need money immediately. Only gold jewelry and gold coins sold by banks will be eligible for the loan. At the moment, 22-carat gold jewelry is lent at Rs. 1800 per gram by the Union Bank of India. Interest rates are based on the MCLR and currently begin at MCLR +2.65 percent. The most that may be borrowed has been set at Rs. 20 lakh.
Interest Rate-

7% p.a. onwards

Loan Amount-

Rs.3,000 onwards

Tenure-

up to 12 months

Loan Disbursal Time-

30 minutes

Schemes-

Customised schemes to meet your requirements

Processing Charges-

1% of the loan amount
4. Gold Loan SBI
The largest public sector bank in India, SBI has a sizable branch network. Customers may obtain loans from SBI with a maximum 36-month payback period. Farmers in rural regions can also take advantage of SBI's Gold Loan program. Customers creating new bank accounts must go through the same process as those opening a Gold Loan from SBI. The largest loan accessible through this site is Rs. 50 lakh, with gold loan SBI interest rates starting at 7.50 percent.
Gold Loan Interest Rate SBI –

7.50% p.a. onwards

Loan Amount-

Rs.20,000 to Rs.50 lakh

Tenure-

Up to 36 months

Age-

18 years and above

Gold Items accepted-

Gold ornaments verified for quality and quantity

Processing Charges-

0.5% of the loan amount
5. Kotak Mahindra Gold Loan
Kotak Mahindra For one year, an immediate Gold Loan is available for pressing needs. Depending on the situation, your term can extend. For Gold Loans, only wearing gold jewelry with a purity of 18 to 22 karats and bank-mint coins up to 50 gms per client can be useful as collateral. For new consumers, the lowest loan amount is Rs. 20,000 and the maximum loan amount is Rs. 25 lakh, while current customers can apply for up to Rs. 50 lakh. Kotak Gold loans include interest rates that vary from 10.50 percent per year to 24 percent per year.
Interest Rate-

12.5% p.a. onwards

Loan Amount-

Rs. 20,000 to Rs. 50 Lakh

Tenure-

12 months to 4 years

Gold Items accepted-

Jewellery and gold coins sold by banks

Processing Charges-

2% of the loan amount

Eligibility-

Savings account with satisfactory dealings or Credit-worthy New Customers
6. ICICI Gold Loan
Recently, ICICI Bank introduced a Gold Loan program with enticing interest rates starting at 10%. They guarantee a 30-minute approval procedure. Additionally, the large financial corporation provides Gold Loans up to Rs. 15 lakhs with a 12-month maximum payback term. The bank is in charge of making sure your gold is kept safely.
Interest Rate-

10% p.a. onwards

Loan Amount-

Rs.10,000 to Rs.1 crore

Tenure-

3 months to 12 months

Processing Fee-

1% of the loan amount

Documentation Charges-

Rs.199

Disbursal time-

60 minutes
7. HDFC Gold Loan
Recently, a lot of modifications have been made to HDFC Bank's Sampoorna Bharosa Gold Loan program. HDFC Gold Loans are great for emergencies since they need less paperwork and can be approved in 45 minutes. Processing fees are 1.50 percent plus taxes, and interest rates begin at 9.90 percent annually. The HDFC Gold Loan has a minimum sum of Rs. 50,000.
Interest Rate-

9.90% onwards

Loan Tenure-

3 months to 24 months

Loan Amount-

Loans starting at Rs.25,000 (Minimum loan amount of Rs.10,000 available in rural markets)

Gold Loan Scheme-

Term Loan, OD, and Bullet repayment 

Processing Fee-

1.5% + GST

Custody-

Stored under a unique triple-layered security
8. Gold Loan AXIS Bank 
Axis Bank is a private sector bank that provides customers with appealing and cheap gold loans starting at 13 percent per year for amounts up to Rs. 25 lakh. The longest possible payback term is 36 months. For unique demands, Axis Bank provides Gold Loans with same-day disbursals. The bank guarantees overall excellence, transparency, and a superior client experience with its Gold Loan product.
Interest Rate-

13% p.a. onwards

Loan Amount-

Rs.25,000 to Rs.25 lakh

Tenure-

3 months to 3 years

Age-

18 to 75 years

Gold Items Accepted-

Jewellery and gold coins sold by banks

Processing Charges-

1% of the loan amount
9. Central Bank of India Gold Loan
Customers can borrow up to 50 grams of gold under the Cent Personal Gold Loan program. The highest amount available as a Gold Loan is either Rs. 1,750 per gram or 70% of the market price of 22-carat gold. Interest rates for Central Bank Gold Loans start at 9.05 percent annually, with a 12-month maximum payback term.
Interest Rate-

9.05% p.a. onwards

Tenure-

Up to 12 months

Age-

18 to 70 years

Gold Items accepted-

Ornaments, jewelry & specially minted gold coins sold by banks (Min. 18 K gold)

Processing Charges-

0.5% of the loan amount
10. Gold Loan Federal Bank
The hassle-free borrowing option provided by Federal Bank features interest rates that begin at 8.50 percent. Customers get access to immediate gold loans with adjustable payback terms of up to Rs. 1.50 crore. It is a dependable alternative for clients looking for a Gold Loan due to its lack of hidden fees, minimal processing cost, and guaranteed affordability.
Gold Loan Rate of Interest –

8.50% p.a. onwards

Loan Amount-

Rs.1,000 to Rs.1.5 crore

Tenure-

6 months to 12 months

Repayment Options-

Lump Sum, EMI

Gold Items accepted-

Gold ornaments verified for quality and quantity (Security for the loan will be pledged against 22 karat gold ornaments)

Gold Loan today Rate per gram-

Maximum amount per gram is up to 85% of the gold price

Gold Loan today Rate per gram-

Maximum amount per gram is up to 85% of the gold price
How To Choose Gold Loan Best Bank/Company In India?
Let's speak about how people may decide which is the greatest gold loans provider in India:
Gold Loans Amount
The business should provide you with uncomplicated, high-interest gold loans to help meet your unforeseen financial responsibilities. You may use it to get a loan up to Rs. 50 lakh. There are no limitations on utilizing the money after you have it.
Disbursal In Less Time
Your money for gold loans should be disbursed by businesses in a matter of minutes. After a successful application, your cash will be delivered immediately to your account. It should follow an online loan application process.
Affordable Interest Rates on Gold Loan
Since gold loans are secured loans, you can obtain credit with a cheaper interest rate. The purity of the gold you pledge will affect the interest rate.
Minimal Documentation
You should confirm your qualification for gold loans before applying. For the lender to authorize your loan against gold, essential KYC papers are needed. Your ability to pay is not required.
Foreclosure Charges
Many financial organizations only impose a little or nonexistent loan prepayment fee. Before submitting the loan application, take a look at the fees the lender is charging.
Low Credit Score Or No Credit History
Since the credit score is not the basis for approving or rejecting a request for gold loans, you shouldn't be concerned about it. Lenders are not concerned about loan repayment if a borrower defaults since you are using your gold as security.
Flexible Gold Loans Repayment 
You may only pay the interest on gold loans transfer during the tenor, which is a special feature. After the loan term, you may refund the principal.
Gold Loans Cash back Offers
If you make timely and regular EMI repayments, the lender may give cash back incentives to you.
Conclusion
In conclusion, gold loan companies in India offer an efficient way to secure immediate funds by leveraging one's gold assets. They provide competitive interest rates and flexible repayment options. This list serves as a comprehensive guide to the leading companies in this thriving sector.