Background checks have become an integral part of hiring and various other processes, ensuring the safety, credibility, and trustworthiness of individuals. Whether you're a job seeker, a landlord, or an organization looking to onboard new talent, you've probably wondered about the duration of background checks. In this comprehensive guide, we will explore the various types of background checks, the factors influencing their timelines, and what you can expect during the process. So, let's dive into the world of background checks and answer the question, "How long does a background check take?"
Understanding Background Checks
Before delving into the timeframes, it's essential to comprehend the types of background checks and the reasons for conducting them:
Criminal Background Checks: These checks reveal an individual's criminal history, including arrests and convictions.
Employment Background Checks: Employers use these to verify a candidate's qualifications, work history, and references.
Credit Checks: Typically used by lenders, credit checks assess an individual's financial history.
Tenant Background Checks: Landlords use these to assess the rental history, creditworthiness, and criminal history of potential tenants.
Education and Credential Verification: Educational institutions and employers verify a person's academic qualifications and professional credentials.
Reference Checks: These help confirm the accuracy of a person's references.
Factors Influencing Background Check Timelines
The duration of a background check can vary widely depending on several factors:
Type of Check: Different background checks take varying amounts of time. For instance, criminal background checks are often quicker than comprehensive employment checks.
Complexity: The complexity of an individual's history can significantly impact the time it takes to complete a check. If someone has moved frequently, worked for numerous employers, or has an extensive academic history, it may take longer to verify the information.
Access to Information: The availability of records can vary from one jurisdiction to another. Some places provide electronic databases, while others rely on physical records, which can delay the process.
Consent and Authorization: Obtaining the necessary consent and authorization from the individual being checked is crucial. Delays may occur if these permissions are not promptly granted.
Third-Party Screening Services: Many organizations outsource background checks to third-party screening services. The efficiency of these services can affect the time it takes to receive results.
Volume of Requests: High volumes of background check requests, such as during peak hiring seasons, can result in delays.

Estimated Timelines for Common Background Checks
Now that we've covered the influencing factors, let's look at the estimated timelines for various types of background checks:
Criminal Background Checks:

Instant Checks: Some jurisdictions offer instant online access to criminal records. These can be completed within minutes.
County and State Checks: On average, county and state-level checks take 2-5 business days.
Federal Checks: Federal-level checks might take longer, often around 7-10 business days.

Employment Background Checks:

Basic Checks: A basic employment check, including reference verification and employment history, can take 2-4 business days.
Comprehensive Checks: More in-depth checks, involving education and credential verification, may take 5-10 business days.

Credit Checks:

Credit Score Check: These checks are generally instant or take just a few minutes.
Full Credit Reports: Obtaining full credit reports might take 1-3 business days.

Tenant Background Checks:

Basic Tenant Screening: Basic checks may be completed within 24-48 hours.
Comprehensive Tenant Screening: More comprehensive checks may take 2-5 business days.

Education and Credential Verification:

Verification times can range from a few days to a few weeks, depending on the responsiveness of educational institutions and employers.
Navigating the Background Check Process
Consent and Authorization: To expedite the process, promptly provide your consent and authorization for the background check. Delays can occur if this step is not completed in a timely manner.
Verification of Information: Ensure that the information you provide is accurate and up-to-date. Inaccuracies can lead to longer verification times.
Communication: Maintain open communication with the entity conducting the background check. If you have concerns or questions, addressing them promptly can help avoid delays.
Follow Up: After the background check is initiated, periodically follow up with the relevant parties to inquire about its progress. This can be especially important for time-sensitive processes like job applications.
Plan Ahead: If you anticipate the need for a background check, plan ahead. Start the process well in advance to avoid last-minute complications.
Legal Considerations and Privacy
It's important to note that background checks must be conducted in compliance with applicable laws and regulations. Individuals have rights regarding their background check information under the Fair Credit Reporting Act (FCRA) in the United States, and similar regulations in other countries. It's crucial to understand your rights and the responsibilities of those who are involved in background check process.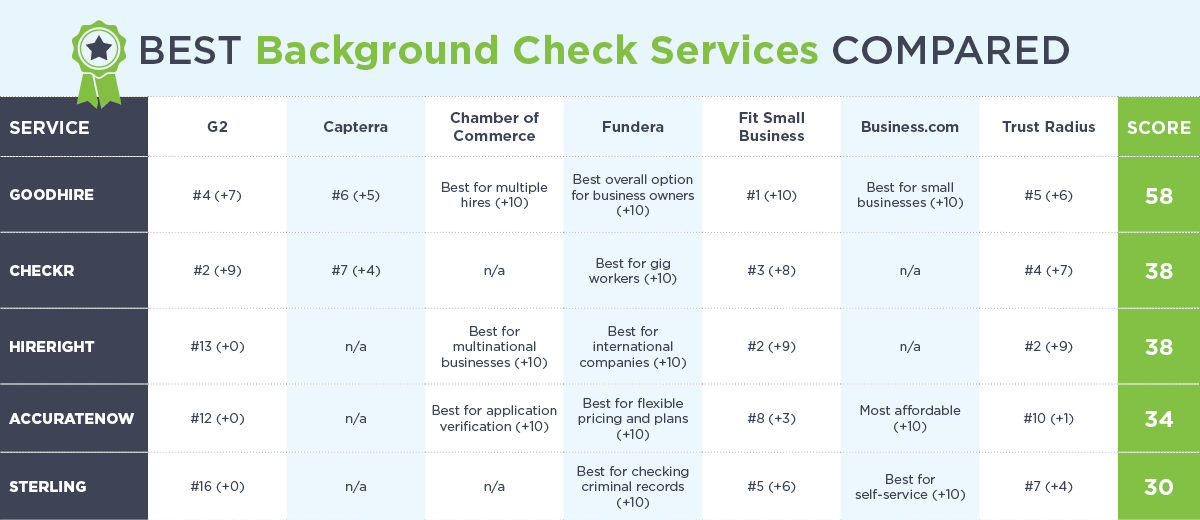 Background Check Agencies
A few agencies in India like GoodHire, Mintly, Intelius, HireRight, Auth Bridge, FirstAdvantage, IDfy, etc. are specialized in background verification, known as third-party service providers.
We partner with you to design a screening program that fits your needs or helps you choose from our pre-bundled packages. Our FCRA-certified, US-based support team is standing by to answer any screening, compliance, or how-to questions that either you or your candidates have, and we keep you both updated about the status of your employment background check.
Intelius
Intelius is a leading provider of public data about people and their connections to others. It does not provide consumer reports and is not a consumer reporting agency as defined by the Fair Credit Reporting Act (FCRA). This site must not be used to determine an individual's eligibility for credit, insurance, employment, housing, or any other purpose covered by the FCRA.
As the world's largest provider of background check services, it specializes in helping organizations of all sizes and locations efficiently implement, utilize and refine their background screening programs. With simple, streamlined solutions, it helps one solve even the toughest background screening problems and help their business work smarter. Many of Asia Pacific's most innovative and successful organizations trust HireRight to deliver customer-focused solutions that increase efficiency and speed up time-to-hire. From Singapore to China, Australia to India, our local knowledge ensures you can create the right screening program customized for your needs.
It developed pre-integrated background screening solutions with the industry's top applicant tracking solution providers. These include Ceridian, IBM, iCIMS, Oracle, SAP SuccessFactors, Ultimate, Workday, and others.  Pre-integrated employment screening solutions simplify setup with your existing platforms. NAPBS-accredited team spans over 200 countries and territories, providing over150 unique background check services for specific needs globally.
This was established in 2005 and claims to possess capabilities of delivering background verification solutions in some 140 countries. Company's website states that Cornell University conducted a case study about how Auth Bridge is innovating services in India.
The company claims to have processed some 55 million screenings for 35,000 companies in 14 countries. It states First Advantage employs 5,000 people for its EBS services for various industries. Verification services are also available for MSMEs.
IDfy
Mumbai-based IDfy is another major name in background verification checks. The company provides background verification of jobseekers, death certificate check, social media checks, and public database checks, among other services. IDfy claims it used sophisticated techniques to verify the backgrounds of individuals and companies.
Background check in Jewelry Business
The jewelry business is faced with the challenge of hiring and retaining a wide range of high-quality and honest employees. Employees often work without a co-worker or supervisor on site. In the face of sometimes minimal pay and many opportunities to access company property and funds, the need for a quality pre-employment background check is evident. A thorough criminal records background check is an employer's first line of defense in protecting the company's assets, fellow employees, and customers.
Communication skills are critical for establishing good relationships with clients and colleagues, getting necessary background information from customers, and for developing new business. Various jewelry sector jobs investigate the following before hiring:
Verifying Background Checks:
These typically run 7 years or more into a job candidate's history but can go back further if circumstances warrant it.
Access Restrictions:
Controlling access to inventory rooms and display cases is important for loss prevention. The fewer people touching merchandise, the easier it is to identify responsible parties when something goes missing. Restricting access may take the form of issuing display case keys or implementing key-card access to inventory rooms. Give only limited access to essential personnel using the most cost-effective tools available.
Metals Testing:
Jewelers often buy precious metals from the public, which requires them to test the items customers bring in for authenticity. Non-destructive x-rays and fire assay testing are among the methods used. Trusted personnel should be trained on testing methods and required to test pieces before finalizing transactions.
IdentityVerification:
Fraudsters often try to use fake information or credit card chargebacks to steal from jewelers. Verifying a customer's identity and personal information is an effective control method in preventing theft. Avoiding chargebacks can save jewelers thousands of dollars in lost merchandise.
Conclusion
The duration of a background check can vary depending on various factors such as the complexity of the check, the depth of information required, and the responsiveness of the sources. Generally, background checks can take anywhere from a few days to several weeks to complete. It is important to remember that thoroughness and accuracy are prioritized over speed in order to ensure reliable results.