Are you on the lookout for a new job or looking to switch careers? In today's digital age, job portals have become an essential tool for job seekers to find employment opportunities. The United States is home to numerous job portals that cater to a wide range of industries and job types. Whether you're an entry-level professional or a seasoned executive, these top job portals in the US can help you find your dream job. Let's explore some of the best job portals that can assist you in your job search journey.
1. Indeed
Indeed is one of the top job portals in the United States, catering to the needs of both job seekers and employers. As a leading platform, Indeed provides a wide range of opportunities for job seekers across various industries and skill levels. With its user-friendly interface and powerful search engine, Indeed enables users to easily find and apply for jobs that match their qualifications and preferences.
One of the key features that sets Indeed apart from other job portals is its extensive database of job listings. Employers from all over the country post their job openings on Indeed, making it a comprehensive resource for job seekers. Whether you're looking for entry-level positions or executive roles, Indeed has a vast selection of job opportunities to explore.
Indeed also offers various tools and resources to enhance the job search experience. Users can upload their resumes, create personalized profiles, and receive job alerts based on their preferences. Additionally, Indeed provides valuable insights into the job market, including salary information, company reviews, and interview tips, helping job seekers make informed decisions.
Indeed for Employers
For employers, Indeed offers a range of solutions to attract top talent. They can create company profiles, post job listings, and utilize sponsored postings to increase visibility. With millions of active users, Indeed provides a platform for employers to connect with qualified candidates and streamline their hiring process.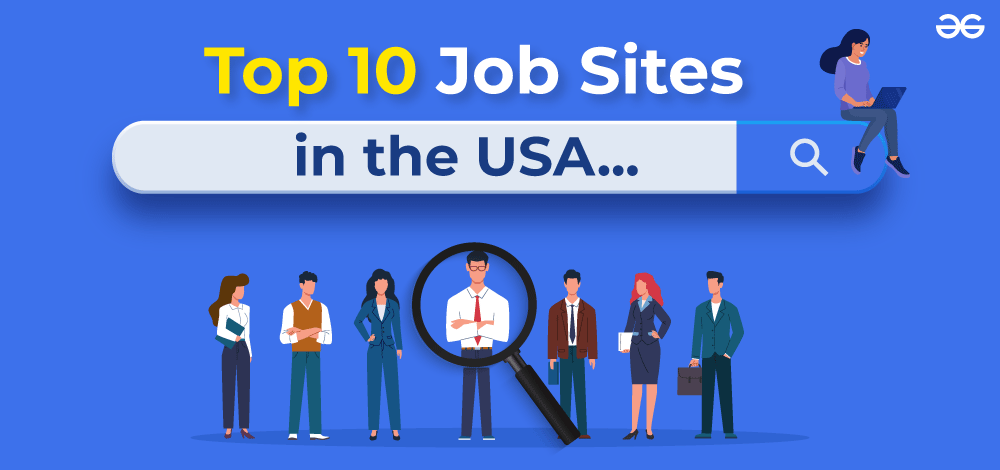 2. LinkedIn
LinkedIn has firmly established itself as one of the top job portals in the US. With its unique blend of professional networking and job searching capabilities, LinkedIn provides a comprehensive platform for both job seekers and employers. The site boasts a vast network of professionals, making it an ideal place for sharing career opportunities and scouting for talent.
LinkedIn's intuitive interface allows users to create detailed profiles showcasing their experience, skills, and accomplishments. This rich information helps match candidates with the right job opportunities. For employers, LinkedIn offers advanced tools to post job listings and search for candidates with specific skill sets, making the recruitment process more efficient.
The platform's algorithm also recommends jobs to users based on their profiles and previous activity, ensuring that job seekers are made aware of opportunities that align well with their career aspirations. Additionally, LinkedIn's messaging feature facilitates direct communication between candidates and recruiters, further streamlining the hiring process.
Moreover, LinkedIn goes beyond just job listings; it's a valuable resource for professional development. Users can engage with content, join groups, and participate in discussions relevant to their field, keeping them informed about industry trends and helping them to build a professional brand that is attractive to prospective employers.
You can always keep your Linkedin Accounts active during Active Job seeking. if you wish yo Delete your Linkedin Account you can do so. This can be reactivated later to improve  your online presence.
3. Glassdoor
With its extensive database of company reviews, salary information, and interview experiences, Glassdoor has become a go-to resource for individuals looking to research potential employers and make informed career decisions.
One of the key features that sets Glassdoor apart is its commitment to transparency. Job seekers can access valuable insights about companies, including employee reviews, ratings, and feedback on work culture, management, and benefits. This information allows candidates to gain a deeper understanding of a company's reputation before applying or accepting a job offer.
Glassdoor also offers a comprehensive job search engine, where users can browse through millions of job listings posted by companies across various industries. The platform allows job seekers to filter and customize their search based on location, industry, salary range, and other criteria, making it easier to find relevant opportunities.
Furthermore, Glassdoor provides salary data for different job roles and industries, helping candidates negotiate fair compensation packages. This feature empowers individuals to make more informed decisions about their careers and ensures greater transparency in the job market.
4. Monster
Monster stands out as one of the top job portals in the US, providing a comprehensive platform for job seekers and employers alike. With its robust database and advanced search capabilities, Monster helps millions of candidates to navigate the complex job market. Whether you're starting your career or looking to make a strategic move, Monster offers a wide array of job listings across various industries, ensuring that you can find opportunities that match your skill set and career goals.
Employers benefit from Monster's extensive reach and recruitment tools, which allow them to connect with qualified candidates efficiently. The platform's user-friendly interface and valuable resources make it a preferred choice for both job seekers and companies. As part of the best job boards in the USA, Monster continues to innovate and adapt to the evolving employment landscape, maintaining its position as a key player in the job search ecosystem[1].
5. CareerBuilder
CareerBuilder is another prominent player in the US job portal landscape, offering a plethora of job listings and career resources. The platform provides tools for resume building, personalized job recommendations, and access to career development resources. CareerBuilder's intuitive interface and diverse job listings make it a top choice for job seekers.
6. ZipRecruiter
ZipRecruiter is one of the top job portals in the US, connecting employers and job seekers efficiently. With its user-friendly interface and advanced search features, ZipRecruiter makes it easy for employers to post job listings and for job seekers to find relevant opportunities. The platform allows employers to reach a large pool of qualified candidates and provides tools for managing applications effectively. Job seekers benefit from ZipRecruiter's extensive database of job listings across various industries and locations.
The site offers personalized job recommendations based on user preferences and allows applicants to easily submit their resumes. ZipRecruiter also provides resources such as career tips and salary information to help job seekers make informed decisions. Overall, ZipRecruiter is a valuable platform for both employers and job seekers, offering a streamlined process for finding and filling job positions in the US.
7. FlexJobs
FlexJobs is one of the top job portals in the US, providing a platform for remote and flexible work opportunities. With its extensive database of vetted employers, FlexJobs offers job seekers access to a wide range of professional positions across various industries. The platform focuses on promoting work-life balance and offers a curated list of remote, part-time, freelance, and flexible jobs.
FlexJobs also provides valuable resources like career coaching, skill testing, and job search tips to help users navigate the job market successfully. The website's user-friendly interface allows for easy job searching and personalized job alerts. With a reputation for legitimacy and quality, FlexJobs has become a trusted resource for both job seekers and employers seeking qualified candidates for flexible work arrangements in the US.
8. USAJOBS
For those seeking employment with the US federal government, USAJOBS is the primary destination for job listings. The platform features a wide range of federal job opportunities across different agencies and departments. Job seekers can create profiles, apply for jobs, and track their application status through the USAJOBS portal.
9. Snagajob
Snagajob specializes in hourly and part-time job listings, catering to individuals seeking flexible work arrangements. The platform features a wide range of opportunities in industries such as retail, hospitality, healthcare, and customer service. Snagajob's focus on hourly jobs makes it a valuable resource for those seeking non-traditional employment opportunities.
10. Dice
DICE is renowned as one of the top job portals in the US for those specifically looking for opportunities within the technology sector. As a specialized platform, DICE connects employers with a niche community of highly skilled tech professionals, including software engineers, data scientists, and information technology experts. The site stands out due to its tailored approach, offering tools and insights that cater to the unique needs of both job seekers and recruiters in the tech industry.
For job seekers, DICE offers a rich database of opportunities, which can be filtered by skill set, location, and employment type, making it easier to find positions that match their expertise and career goals. Moreover, the portal provides valuable resources such as career advice articles, resume building tips, and salary information, which are essential for tech professionals looking to advance in their careers.
On the flip side, for employers, DICE serves as an efficient platform to access a concentrated pool of top-tier tech talent. With advanced candidate search capabilities and various job posting options, companies can streamline their recruitment process, ensuring they attract qualified applicants quickly.
Final thoughts
In conclusion, the US job market offers a wealth of employment opportunities across various industries, and these top job portals can help you navigate this landscape effectively. Whether you're actively seeking a new job or exploring potential career options, leveraging these job portals can significantly enhance your job search experience. With their advanced search features, personalized recommendations, and career resources, these top job portals are valuable tools for anyone looking to advance their career in the US.