Lithium Metal has been known for almost two centuries. This has become  the primary ingredient of the lithium-ion batteries which are set to power the next generation of electric vehicles . Lithium could become as precious as gold in this century. It is also non-uniformly spread within the Earth's crust, sparking rumors that Andean South American countries could soon be the new Middle East. Together, these factors set the scene for controversial debates about the available reserves and the anticipated demands: if all cars are to become electric within 50 years, fears of a crunch in lithium resources — and thus a staggering price increase such as that faced today with fossil fuels — are permeating.
About Lithium Metal: Properties
With its atomic number of 3, lithium metal is located in the top left corner of the periodic table. It was Johann August Arfvedson, one of Jöns Jakob Berzelius's students, who first detected its presence in 1817 while analyzing the mineral petalite (LiAlSi4O10), itself discovered in 1800. Berzelius called this new element lithos (Greek word for stone).
Lithium, whose silvery-white color tarnishes on oxidation when exposed to air, is the most electropositive metal (−3.04 V versus a standard hydrogen electrode), the lightest (M = 6.94 g mol−1) and the least dense (ρ = 0.53 g cm−3) solid element at room temperature, and is also highly flammable. Owing to this high reactivity, lithium metal is present only in compounds in nature — either in brines or hard rock minerals — and must be stored under anhydrous atmospheres, in mineral oil, or in sealed evacuated ampoules.
Their particular physical, chemical, and electrochemical properties make lithium metal and its compounds attractive to many fields. Apart from the recent advent of lithium-based batteries, lithium niobate (LiNbO3) is an important material in nonlinear optics. Engineers use lithium metal in high-temperature lubricants, to strengthen alloys, and for heat-transfer applications.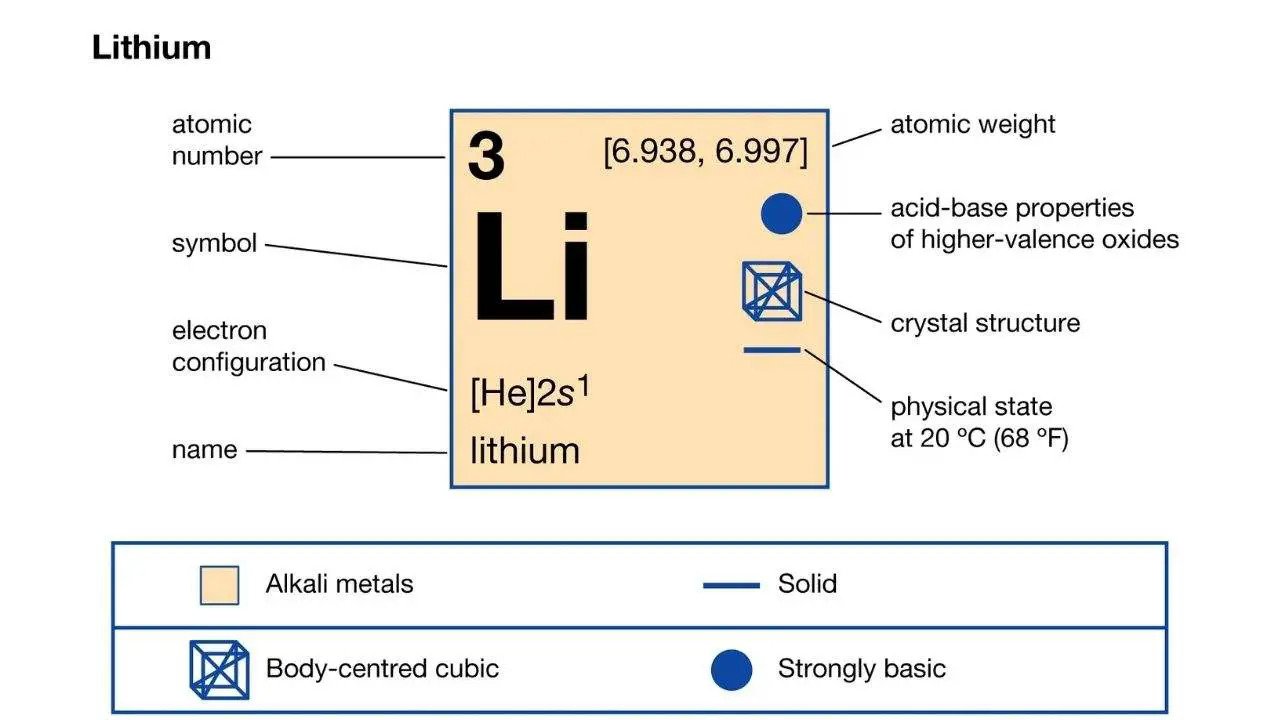 It is also widespread in the fine chemical industry, as organo-lithium reagents are extremely powerful bases and nucleophiles used to synthesize many chemicals. Its effect on the nervous system has also made lithium metal attractive as a mood-stabilizing drug, and in nuclear research tritium (3H) is obtained by irradiating 6Li.
Annual demand has therefore grown by 7–10%, currently reaching about 160,000 tons of lithium carbonate (Li2CO3) per year — about 20–25% of which is for the lithium battery sector.
Lithium for Renewable Energy
Energy storage, which should help mitigate the issues of pollution, global warming, and fossil-fuel shortage, is becoming more important than ever, and Li-ion batteries are now the technology of choice to develop renewable energy technology and electric vehicles. They typically consist of a Li-containing positive electrode and a Li-free negative electrode, separated by a Li-based electrolyte.
From simple calculations, assuming a one-molar Li-based electrolyte and a 3.6 V LiMPO4 electrode (where M is Fe or Mn), the demand is estimated to be about 0.8 kg Li2CO3 per kWh — and this number is not expected to decrease with recently developed batteries such as lithium-air or lithium-sulfur, which need an excess of lithium metal at the negative electrode to function properly. The fact that tritium might also be used with deuterium for nuclear fusion could increase demand.
Lithium Extraction
Extracting lithium metal from hard rocks is laborious and expensive, however, and most of that produced (roughly 83%) at present comes from brine lakes and salt pans: salty water is first pumped out of the lake into a series of shallow ponds, then concentrated using solar energy into a lithium chloride brine, which is subsequently treated with soda to precipitate Li2CO3. Considerable amounts of lithium metal are present in seawater, but its recovery is trickier and highly expensive.
It is extremely difficult to estimate the world's lithium reserves — a debate typically fed by investors and venture capitalists. The present production of Li2CO3 is about half what would be needed to convert the 50 million cars produced every year into 'plug-in hybrid electric vehicles (with an electric motor powered by a 7 kWh Li-ion (Lithium) battery and a combustion engine). The demand becomes astronomical if we consider full electric vehicles — which require an onboard Lithium battery of 40 kWh. These numbers bring fears of a potential Li shortage in a few decades, painting a dim picture.
Will lithium join the league of precious metals such as gold, silver, diamond, or platinum? Likely so, owing to a global move toward clean energy and carbon emission reduction, a massive shift in the auto sector across the world toward electric vehicles, and the proposed Inflation Reduction Act of the Biden administration.
At this stage, it will be prudent to invest in lithium-producing companies with a favorable Zacks Rank. Here we offer five such companies, namely – Albemarle Corp. ALB, Livent Corp. LTHM, Piedmont Lithium Inc. PLL, Sociedad Química y Minera de Chile S.A. SQM, and Lithium Americas Corp. LAC.
The global economy is crawling back to normalcy after two COVID-19-led pandemic-ridden years. As the global economy is bottoming out, albeit, at a slow pace, the demand for energy products has surged. This demand is primarily met by fossil fuels, prompting a spike in the prices of crude oil and natural gas.
However, as the planet is heating up, most of the political and economic superpowers are shifting toward clean energy to reduce massive carbon emissions. This has led to a move toward solar and wind power, ethanol blending on crude oil, and a remarkable shift toward electric vehicles. The lithium story starts from here.
For lithium, around 43kt were produced in 2017, according to the USGS, with 16,000kt of reserves. This means extraction at its current rate could continue for 372 years with current reserves.
Demand for lithium is relatively new, as is major exploration, and production has risen by 70% over the past 10 years. Reserves are also rising, increasing from 4,100kt in 2007 to 16,000kt in 2017. Identified resources have also risen from around 14,000kt in 2007 to 53,000kt in 2017. Bloomberg New Energy Finance (BNEF) has found lithium supply for batteries is just not an issue.
Massive Drive for Electric Vehicles
The latest thrust in the auto sector is electric vehicles (EVs), which are rapidly changing the dynamics of this space. As the government of several developed and emerging markets are encouraging EVs for a clean climate, this industry is set to flourish in the near future.
The Boston Consulting Group projects EV sales to rise from 12% of the global market in 2020 to 47% in 2025. Fortune Business Insights estimated that the global EV market size is expected to grow from $287.4 billion in 2021 to $1.32 trillion in 2028.
EVs run on batteries and lithium metal is the most vital component. Consequently, the demand for lithium is bound to skyrocket.
What comes next?
So will the world secure enough lithium for the upcom­ing EV revolution? We believe it will, but specific actions need to be taken at each level of the lithium value chain:
Funding new technologies. DLE can boost lithium production from conventional brines by increasing levels of recovery. It can also enable lithium production from assets where lithium is currently "locked," such as geothermal or oilfield brines.
Exploration for new projects. In 2021, almost 90% of lithium mining took place in just three countries (Australia, Chile, and China). Expanding into other regions for new sources of lithium can contribute to developing a new resource base for mining.
Early warning of manufacturers' requirements. Depending on how battery technologies develop, the industry will need more lithium carbonate or lithium hydroxide. Accordingly, end users such as OEMs and those involved in computer-aided manufacturing can help by signaling product specifications and required volumes of lithium early on.
Lithium: The Next-Generation Precious Metal
Per Fortune Business Insights, the global lithium market size is projected to reach $8.24 billion by 2027-end, representing a CAGR of 9.2% over the 2020-2027 time frame. Credit Suisse expects lithium demand in 2025 to triple from the 2020 levels.
The rising EV penetration will have a trickle-down effect on the supply chain, making lithium metal more attractive than ever. Per Reuters, lithium metal demand is set to hit 1 million tons by 2025 and 3 million tons by 2030 from the 320,000 tons registered in 2020.
In the United States, Tesla Inc. (TSLA) is the undisputed leader in the EV space with General Motors Co. (GM), Ford Motor Co. (F), and Toyota Motor Corp. (TM) having joined the race already.
The size of the EV market in China is projected to cross $800 billion by 2027. At present, EV penetration in emerging markets like India, Brazil, and Indonesia is less than 1%. Major automakers of these countries are gradually shifting toward EVs, therefore opening an astonishing growth opportunity for lithium-based batteries.
On Aug 6, Senate approved a $430 billion Inflation Reduction Act, which is headed for a vote in the House of Representatives this week. The bill has provisions of $390 billion to combat climate change.
Per the Biden administration, the most important way to restore a clean climate is to encourage Americans to shift toward electric vehicles. Democrats are of the opinion that the bill if converted into an act, will reduce carbon emissions by 40% by 2030. Undoubtedly, lithium metal will be a major beneficiary of this legislation.
Lithium Producers
We have narrowed our search to five lithium producers that are expected to gain from this massive opportunity. Each of our picks carries either a Zacks Rank #1 (Strong Buy), #2 (Buy), or #3 (Hold).
Albemarle should gain from long-term growth in the battery-grade lithium market. It is expected to benefit from its actions to boost its global lithium metal derivative capacity. ALB will also benefit from the synergies of the Rockwood acquisition. The buyout has enhanced diversity across end markets.
Albemarle also remains focused on executing its cost-reduction program. Its cost-saving actions are expected to support margins in 2022. ALB also remains committed to boosting shareholder returns by leveraging strong cash flows. It remains focused on maintaining its dividend payout. Albemarle has ample liquidity to meet its short-term debt obligations.
The Zacks Rank #1 Albemarle has an expected earnings growth rate of more than 100% for the current year. The Zacks Consensus Estimate for current-year earnings has improved by 41.4% over the last 7 days. ALB has a current dividend yield of 0.65%.
Livent is the largest vertically integrated pure-play producer of low-cost lithium. This leading lithium producer is a seller to EV original equipment manufacturers and battery makers worldwide. LTHM is one of the lowest-cost resources for lithium carbonate, providing the company with a competitive edge. Livent has a current production capacity of around 20,000 metric tons of lithium carbonate, which is expected to double by the fourth quarter of 2023.
LTHM is currently producing qualified battery-grade lithium hydroxide in the United States and China. Livent remains on track with near-term capacity expansions and a 5,000 metric ton hydroxide addition in Bessemer City. The acquisition of 25% indirect equity ownership in the Québec-based Nemaska Lithium project is also set to aid top-line growth.
The Zacks Rank #1 Livent has an expected earnings growth rate of more than 100% for the current year. The Zacks Consensus Estimate for current-year earnings has improved by 9.5% over the last 7 days.
Sociedad Química produces and distributes lithium metal and its derivatives. SQM offers lithium carbonates for various applications that include electrochemical materials for batteries, frits for the ceramic and enamel industries, heat-resistant glass, air conditioning chemicals, continuous casting powder for steel extrusion, primary aluminum smelting process, and pharmaceuticals.
Sociedad Química sells lithium derivatives which is an ingredient in the manufacturing of gunpowder. Further, SQM supplies lithium hydroxide for the lubricating grease industry, as well as cathodes for batteries.
The Zacks Rank #1 Sociedad Química has an expected earnings growth rate of more than 100% for the current year. The Zacks Consensus Estimate for current-year earnings has improved by 17.5% over the last 30 days. SQM has a current dividend yield of 9.62%.
Piedmont Lithium has not generated revenues yet but is gaining massive investors' attention of late due to its prospects. PLL is set to benefit from hard rock lithium assets in three strategic locations including North Carolina, Quebec, and Ghana.
Piedmont Lithium is focused on the development of the Carolina Lithium Project, located in North Carolina — one of the top-notch regions in the world for lithium metal exploration. The project targets the production of 30,000 tons/year of battery-grade lithium hydroxide. PLL also holds a 25% stake in the Abitibi lithium hub and a 16.52% interest in Sayona Lithium Mining.
The Zacks Rank #2 Piedmont Lithium has an expected earnings growth rate of more than 100% for next year. The Zacks Consensus Estimate for next-year earnings has improved by 45.2% over the last 30 days.
Lithium Americas operates as a lithium resource firm. This emerging entrant in the lithium space is not producing any lithium right now. Nonetheless, construction activities at LAC's Caucharí-Olaroz lithium brine project in Argentina continue to advance with production in mid-2022 expected to eventually produce 40,000 tons per annum of lithium carbonate equivalent.
Moreover, as far as Lithium Americas' Thacker Pass project in Nevada is concerned, an integrated pilot plant to support enhanced scale and ongoing optimization work will make Lithium Americas' long-term prospects promising. The Zacks Rank #3 LAC has an expected earnings growth rate of 20% for the current year.
With this soaring demand, should the world be concerned about future lithium supply? In 2020, production capacity was crossin slightly above 0.41 million metric tons of LCE. During  2021, production were exceeding 0.54 million metric tons (a 32% year-on-year increase). Our current base-case analysis sees lithium metal demand of 3.3 million metric tons or a compounded 25% growth rate. Due to the short lead times associated with new lithium production, we only have visibility of 2.7 million metric tons of lithium supply in 2030; we expect the remainder of the demand to be filled by newly announced greenfield and brownfield expansions.
Currently, almost all lithium mining occurs in Australia, Latin America, and China (accounting for a combined 98% of production in 2020). An announced pipeline of projects will likely introduce new players and geographies to the lithium-mining map, including Western and Eastern Europe, Russia, and other members of the Commonwealth of Independent States (CIS). This reported capacity base should be enough for supply to grow at a 20% annual rate to reach over 2.7 million metric tons of LCE by 2030.
While forecasted demand and supply indicate a balanced industry for the short term, there is a potential need to galvanize new capacity by 2030. Early- stage conventional mineral and brine projects could become the sources of lithium. Researchers could spot  unconventional brines such as geothermal or oilfield brines. New technologies such as DLE and DLP are boosting recovery and capacity. In addition, the use of direct shipping ore (DSO) could help mitigate short-term undersupply risk, as it did in 2018.
Precious Metals Refinery
Lithium is a precious metal that plays an essential role in the production of batteries, electronics, and many other consumer goods. It is one of the most valuable minerals in existence and has become increasingly sought after in recent years. As a result, more companies are turning to lithium refineries to ensure they can obtain large enough amounts of this valuable resource.
Lithium refineries processes raw ore  into usable materials. The Lithium Precious metals refinery process begins with mining operations that extract the ore from deposits deep underground or on land surface mines. The ore then goes through processing  stages which involve crushing, grinding, separating, and purifying . This happens  before it can be useful for various applications. This process helps in reducing impurities and making sure  we are using only the top  quality materials  such as  lithium-ion batteries or lubricants.
Golf cart owners and operators now have a new option when it comes to powering their vehicles – Lithium ion batteries. Lithium golf cart batteries offer a host of benefits over traditional lead acid batteries. This  including significantly lighter weight, longer life-cycles, faster recharge times, and improved performance.
Lithium ion golf cart batteries can be up to 70% lighter than their lead acid counterparts. This reduced weight makes them easier to handle and install into a vehicle. It will also make them them more fuel efficient due to the reduction in overall weight of the vehicle itself. Additionally, lithium ion batteries typically last up to four times as long before needing replaced, allowing users to get far more mileage out of their investment.
Final Thoughts
In conclusion, lithium is an incredible metal with a wide variety of uses in industry. Tts potential to revolutionize the world's energy needs is only just beginning to be explored. Its modern day applications are already superior to other traditional metals. The future possibilities are almost limitless for Lithium. In a world that is searching for alternative sources of energy and new solutions, lithium appears to be the perfect answer.