Welcome to our comprehensive guide to the top 10 best jewellery design software options in 2022. In today's digital era, jewelry designers are embracing innovative software tools to unleash their creativity and bring their designs to life. These software programs offer a wide range of features, from 3D modeling and rendering to virtual try-on and production management.
Whether you're a professional jewelry designer or an enthusiast exploring the world of jewelry design, this curated list will provide you with insights into the most powerful and advanced software solutions available. Get ready to discover the possibilities and take your jewelry designs to new heights with these top-rated software options in 2022.
A CAD jewellery design is created by a 3D CAD jewellery design software. CAD tools provide engraving modules, modeling features, geometric print tools, goldsmithing, and of course, a user-friendly interface for the realistic rendering of images. Such images are of high quality and precision in design, which can be shared with clients/customers for further improvement or final printing.
How do you design high-end jewellery?
High-end jewellery requires 3D modeling for creating photorealistic images. CAD jewellery design softwares lets a designer work on artistic aspects of jewelry design such as displacement, organic shapes, and texture painting.
Once done, 3D printing with high resolution is the next step in the process before finally proceeding with the jewelry manufacturing stage.
What is the best 3D software for jewellery design?
Some of the best 3D jewellery design softwares are Zbrush & Sculptris, CounterSketch, Firestorm CAD software, Metal Pressions, Jewel, 3Shaper, Mudbox, and Customily.
Have you ever wanted to design your own jewelry? There are a number of jewelry design software programs available that can help you create amazing pieces. In this blog post, we'll take a look at some of the best programs out there. So whether you're a beginner or an experienced designer, there's sure to be a program that meets your needs. So let's get started!
1.SelfCAD (Overall Best Jewellery Design Softwares of 2022)
SelfCAD is one of the topmost jewellery design softwares available in the market. This software ensures the designing of fine segments of models with great accuracy. This versatile 3D graphic jewellery design softwares has handy tools for creating any type of jewelry.
Whether you are a beginner or a pro, SelfCAD is for everyone. One of the unique features of this jewellery design software is you can use the scanned images of the products to produce 3D printed models. You can do this by simply importing them to the software using the reference image tool then tracing around it using the freehand drawing and sketching tools and converting the sketches into a 3D model.
Key features of SelfCAD includes:
SelfCAD is easy to use – Even if you've never used a 3D modeling or design program before, SelfCAD is user-friendly and intuitive. With its drag-and-drop interface, you'll be designing amazing jewelry in no time!
SelfCAD is affordable – Compared to other professional 3D design software programs, SelfCAD is very affordable. This makes it a great option for those just starting out in the jewelry design field.
SelfCAD has powerful features – Despite its low price tag, SelfCAD is packed with powerful features that will allow you to create complex jewelry designs with ease.
SelfCAD is available both online and offline – One of the best things about SelfCAD is that it's available online and offline. This means that you can access your designs anywhere at any time.
SelfCAD is compatible with other programs – If you need to export your design for use in another program, SelfCAD can do that with ease. You can also import most of the commonly available 3D fiu
If you are a beginner and want to start coloring your hands with jewellery design software and don't know where to start, you should go with SelfCAD. You can begin your initial understanding with the course offered by SelfCAD on their website and youtube.
Pricing: There is a free version but with limited tool access. The usual paid amount is $14.99 per month.
2. Jewelry CAD dream
Jewelry CAD dream software is used for more accuracy and HD quality in jewelry designs. This software is equipped with floating grass technology and protective layering system(PLS). These technologies allow users to design jewelry with quick printing and polished surfaces.
Jewelry CAD dream is easy to use. The user interface is designed to be simple and easy to use. Even if you don't have any experience with CAD jewellery design software, you should be able to create beautiful jewellery designs with Jewelry CAD Dream. Also, to master this software, you don't need to get any certification from universities and institutions.
Additionally, the software has powerful design tools. You have access to powerful design tools that will allow you to create complex jewelry designs with ease that are of high quality. Jewelry CAD Dream produces high-quality output that is suitable for professional use.
Pricing: $35 per month
Jewelry CAD Dream is built on a powerful modeling engine that helps in achieving accuracy while creating HD-quality designs. It includes an LED DLP projector for more accuracy and HD quality in jewelry designs.
It also allows users to access the dynamic history of each step in the designing process and facilitates endless possibilities for customization at any point. Additionally, the Floating glass technology and Protective Layering System (PLS) within this jewelry design software allow for quick printing of designs and polishing of smoother surfaces.
Features:
Thea Render with a built-in materials library that could be used for jewelry processes.
Create your own online inventory of designs and custom models through ultra-realistic renderings.
Virtual Inventory animation with hundreds of classic designs.
High-end mesh tool for 3D printing.
Morphing features and direct editing tools for developing organic shapes.
Cutter, Pave, and Setting tools for the desired cuts.
Pricing: Jewelry CAD Dream offers two paid packages, JCD V.14 Permanent and Remote Installation prices at ₹467137.13 to ₹5988.94 respectively.
Platform supported: Windows 7/8/10/Vista (64-bit)
3. Adobe Illustrator
With a diverse toolset like fill and stroke, vector, gradient, and more, Adobe illustrator is one of the most diversified toolsets for jewelry designing. This jewellery design software is used for 2D drawing, which can further be converted into a 3D model. Like SelfCAD, you can use the scanned images of the objects to produce 3D printed models.
Adobe Illustrator allows you to create isometric drawings and three-way diagrams. It has a gemstone library to make or modify your findings. It also has integration programs with different creative cloud apps like Ps, InDesign, XD, and premiere pro.
When you create your model, illustrator directly saves your plan to the cloud to simplify your entire working process. As adobe illustrator is vector-based graphic designing software, you can easily manipulate the sizes according to your requirements.
Pricing: $20.99 per month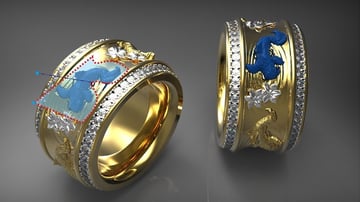 Best for: Professionals working in the design industry use this 2D jewellery CAD design software for its advanced vector technology.
Adobe Illustrator for jewellery design is used for drawing 2D lines, which can be converted into a 3D model for technical illustration. Users can also experiment with advanced 3D effects such as substance effects, different lighting options, rotating, etc., available in the 3D panel.
A graphic design platform is a handy tool for laser engraving images. You can also use a scanned image of a product for producing a 3D print model, and this is also one of the unique features of this jewellery design software.
Features:
Multiple tools such as fill & stroke, vector, gradients, pathfinder, brushes, graphic styles, and colors are available.
Rendering techniques available such as isometric drawing, 3-way diagrams, and handmade paintings.
Easily develop digital paint-ups for different designs of different ornaments.
The gemstones library is available for making and modifying chains/findings.
Laser engraving features are also available.
Create your own unique effects
Use hand lettering designs to create personalized name jewelry.
Pricing: Adobe Illustrator single app is available at ₹19,158.48 per annum.
Platform supported: Windows 7/10; 64-bit
4. AutoCAD
AutoCAD is one of the most popular platforms for 3D designing. It also offers jewellery design with great ease. It acts as a drafting application to develop blueprints of designs. The software supports different APIs; with the help, it converts the files into different formats.
It allows you to use many plugin tools to interact with third-party applications. AutoCAD also provides an extensive library for 3D design mapping. Users can create custom dimensions for drawings and easily copy them for other graphics with the help of 3D drafting. You can smoothly modify your jewellery design layouts and sizes with various scales.
AutoCAD software is equipped with excellent capabilities that let you visualize drawing with the help of a versatile modeling process.
Pricing: $185 per month
Best for: Educators and advanced jewellery design professionals
AutoCAD jewellery design software functions as a drafting application for developing blueprints of designs before taking final prints of the same. The tool also saves you time by automating tasks like comparing drawings, creating schedules, adding blocks, counting objects, and more.
This CAD-based computer application supports different APIs for the quick conversion of files into different formats. AutoCAD best supports the creation of beautiful 3D designs and engineering for jewel pieces.
Features:
Replicate shadows for preparing detailed designs
A large number of plugin tools are available for integration with third-party applications.
Available both as an online tool and multiple extension
Online viewer for sharing screenshots and designs through URLs.
Provides an extensive library for 3D design mapping.
Pricing: Autodesk AutoCAD is available at ₹1,10,849 per annum at Techjockey.
Platform supported: Windows, Mac, iOS, and Android
5. Sketchup
Sketchup is one of the best free jewelry designing software available in the market. Even though it is free, the versatility of the tools is remarkable compared to other paid software. The inbuilt representation of instruments is user-friendly and easy to use. To master this tool, you don't need steep learning curves.
Beginners who want to master jewelry designing tools should go with Sketchup. When it comes to many learning aids for jewelry design, this software takes the number one position. You can easily save your jewelry drawing in the SKP format and export them quickly in STL format for 3D printing. You can comfortably print prototypes with tools like scale, artisan organic, sandbox, and many more.
Pricing: It is free jewellery design software
SketchUp 3D Modeling Design Software
Best for 3D modelers, designers, and young professionals.
SketchUp free jewelry design software has built-in presentation tools for quickly creating even the most complex jewelry design models. 3D programming gives the software an edge over other jewellery design tools. The software also allows you to document your 3D designs in 2D formats. This best 3D printing software comes with many learning aids for beginners to get their hands on jewellery design.
Features:
You can save drawings in the cloud as SKP files or even locally.
Export files into STL format for 3D printing
Varied navigation options for an attractive interface
Featured extensions are available such as scale tools, artisan organic toolsets, sandbox tools, etc.
Mobile model viewing and interoperability
The print function helps print prototypes
Facilitates collaboration with the team-sharing feature
Pricing: Use SketchUp as free jewelry design software on a trial basis for a period of thirty days. Then there are different plans available for commercial, higher education, and primary & secondary work. The commercial plans start from ₹9693.50 per year.
Platform supported: Windows, macOS, Chromebook
6. Rhinojewel
Rhinojewel is a version of Rhino3D for jewelry design. It is professional software that allows you to make beautiful, enticing jewelry designs for the luxury industry. You can create and design any model, from easy to complicated. You can also produce the most realistic models to present your vision in 3D. With a user-friendly interface and equipped with a wide range of tools, designers need not think of other options.
Pricing: $660 per year
RhinoGold 6.6 for Jewellery Design 3D: Free jewellery design software
Best for Powerful creation tools and jewelry builders for creating 3D models of a design. Beginners too can use the software as no prior computer skills are required.
RhinoGold 6.6 is a jewelry CAD design software for producing high-quality jewelry designs for all kinds of ornaments. It comes with exciting jewelry designing features such as an azure cutter, a Veni tool for creating curves, different pattern designs, a channel cutter for gems, a hinge creator, etc.
RhinoGold 6.6 offers a large number of jewelry components so that you can edit or combine those to create an attractive design. The platform is preferred for developing photorealistic videos and images.
Features:
Sculpting tools for managing surface modeling and curve complexities in a design.
Stuller and quick CAM exporting offer integrated manufacturing capabilities for creating the best designs.
Fusion elements for developing one-of-a-kind and unique designs.
Freeform for designing organic shapes with the help of Clayoo emboss and subd.
Promotes 3D modeling of jewellery designs for creating versatile pieces.
Access to a library of unique textures
Pricing: RhinoGold 6.6 is available at ₹2,92,841.51 which gives access to more than 1500 jewellery pieces, object editing features, advanced studio, etc.
Platform supported: Windows 7,8,10; 64-bit
7. MatrixGold
MatrixGold is another professional software that helps designers create complex, customized jewelry pieces per the customer's demands. With its help, you can develop renders, shanks, gems, etc., online quickly.
To access this gold software with great ease, you can use their online tutorial programs. You will get working files, various tools, and training materials on this software. It is a very costly jewelry design software available in the market.
Printing: $3995 matrix Gold with rhinoceros
MatrixGold 3D Printing Software – Jewellery design 3D
Best For Students trying to learn jewelry designing and design experts who are working on intuitive 3D shapes.
MatrixGold jewellery design software helps create customized designs wherein the designer can print or cast the jewel pieces as per the customer's or business's preferences. It also offers dedicated jewellery design software that helps you create renders, shanks, gems, etc. through MatrixGold jewellery design software online. You can take advantage of video tutorials, working files, and other training materials for jewellery CAD design software.
Features:
Parametric history, which keeps track of all changes or steps you take while making a jewelry piece. Use this option to revisit history in order to save time.
The robust content manager through which an end user can access the collections for selecting a base design from pre-built parts.
Clayoo allows a designer to structure any customized design such as animals, patterns, flowers, etc.
Pave and Gems on the surface for personalizing the layout of any gemstone and placing it in the desired form on the chosen surface.
Jali tool for adding decorative looks to an ornament by deciding on the placement of a pattern for applying milgrain, pipes, or ropes.
Platform supported: Windows 10 Professional 64-bit
8. WizeGem
Best for: Beginners, craftsmen, students, businesses, designers, educators, and DIYers.
WizeGem is specially designed for amateurs and beginners who want to learn jewelry design with highly personalized 3D-printed tactics. It is an online cloud-based platform for both designers and retailers. With an effortless working interface, you can handily pick elements for the jewellery and customize it according to your demand. When you complete your design, you can download or manufacture them further within the online software.
Features:
Production-ready 3D vax printing for quickly downloading the 3D model file.
Advanced design options with ready-made elements and templates.
3D prints ready and freely available hand custom shapes.
No limit to downloading STL files.
3D customizers for selling jewellery in online 3D shops owned by you.
You can also import the file models, which are external, and use the full email support to your advantage.
Pricing: You can find the pricing of the software on their official website.
Platform supported: NA
9. Blender
Blender is one of the free, open-source software available in the market. It  is direct modeling software based on mesh, not on parametric. You can smoothly save and export your jewelry-designed files into an array of file formats.
Blender is an accessible and user-friendly software with highly customized input that supports the entire 3D pipeline, including animation, compositing, rigging, motion tracing, rendering, modeling, and simulation. Although it is a free jewellery design software, it would not limit your creativity in any way.
Pricing: It is a free open-source jewelry designing software.
10. ZBrush: Jewelry creation tool
You don't need to find any better alternative if you have ZBrush. ZBrush is a digital sculpting software that allows you to model, paint, and texture objects. You can get a high resolution of your model due to its integration of 3D pixel technology.
ZBrush allows you to work on the surfaces and textures of 3D models. You can create and design different fashion accessories and jewellery pieces without obstacles. ZBrush is famous for sculpting, and if you want to design your jewellery with details like gemstones, this software allows you to sculpt pieces according to your demand.
Pricing: $39.95 per month
Final Thoughts
In conclusion, the world of jewelry design has been revolutionized by the availability of advanced software tools. The top 10 jewelry design software options highlighted in this article offer an array of powerful features and capabilities to unleash your creativity and streamline your design process. Whether you're a professional jewelry designer or an aspiring enthusiast, these software solutions provide the necessary tools to bring your vision to life.
From 3D modeling and rendering to virtual try-on and production management, these software programs cater to various aspects of the jewelry design workflow. Embrace the possibilities that these best jewelry design softwares in 2022 offer and take your creations to new heights. Let your imagination run wild and create stunning pieces that will captivate the world of jewelry.