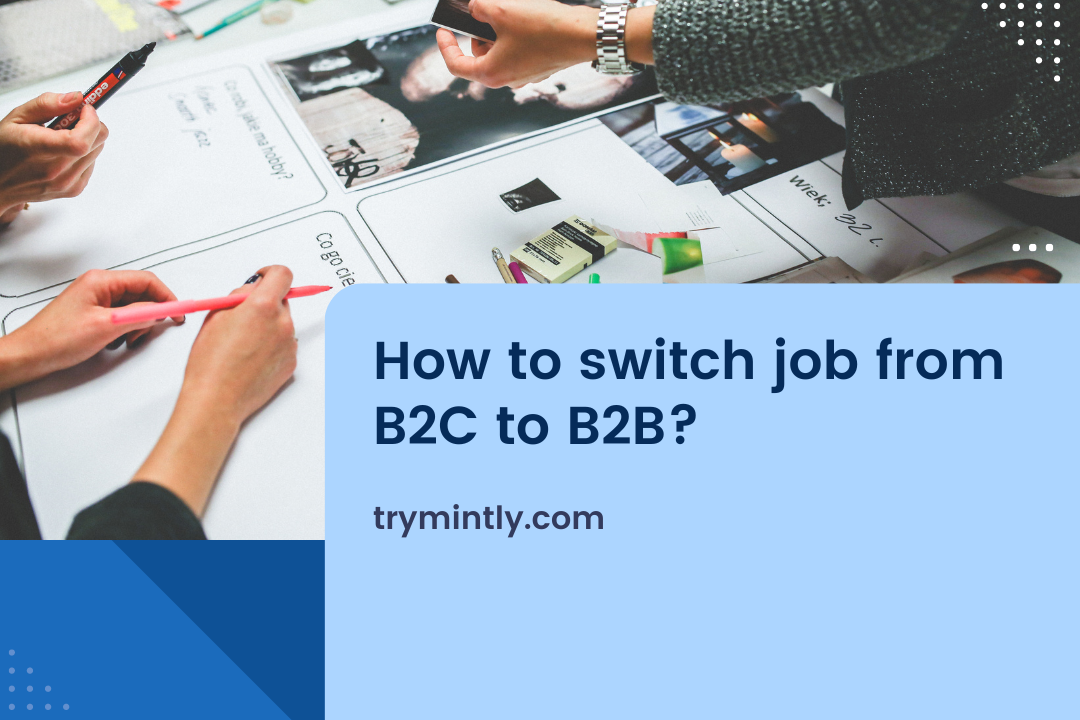 Last Updated on 5 months by The Mintly Team
If you're considering a career move from business-to-consumer (B2C) to business-to-business (B2B), there are some important factors to consider. While the transition can be challenging it can also be a rewarding opportunity to expand your skills and knowledge. In this guide, we'll explore some tips and strategies to help you navigate the switch successfully from B2C to B2B job.
Understand the key differences between B2C and B2B
Before making the switch from B2C to B2B, it's important to understand the key differences between the two. B2C marketing focuses on selling products or services directly to consumers, while B2B marketing targets businesses and organizations. B2B sales cycles are typically longer and more complex, involving multiple decision-makers and stakeholders. It's also important to note that B2B marketing often requires a deeper understanding of the industry and the specific needs and pain points of the target audience.
When transitioning from B2C to B2B, it's important to adjust your marketing strategies accordingly. B2B marketing often involves more personalized and targeted approaches, such as account-based marketing and lead nurturing. It's also important to build relationships with key decision-makers and stakeholders, as they often have a significant impact on the purchasing process.
Additionally, B2B sales often involve more negotiation and customization, as businesses may have specific requirements or needs that must be met. By understanding these key differences and adapting your approach, you can successfully make the transition from B2C to B2B and thrive in your new role.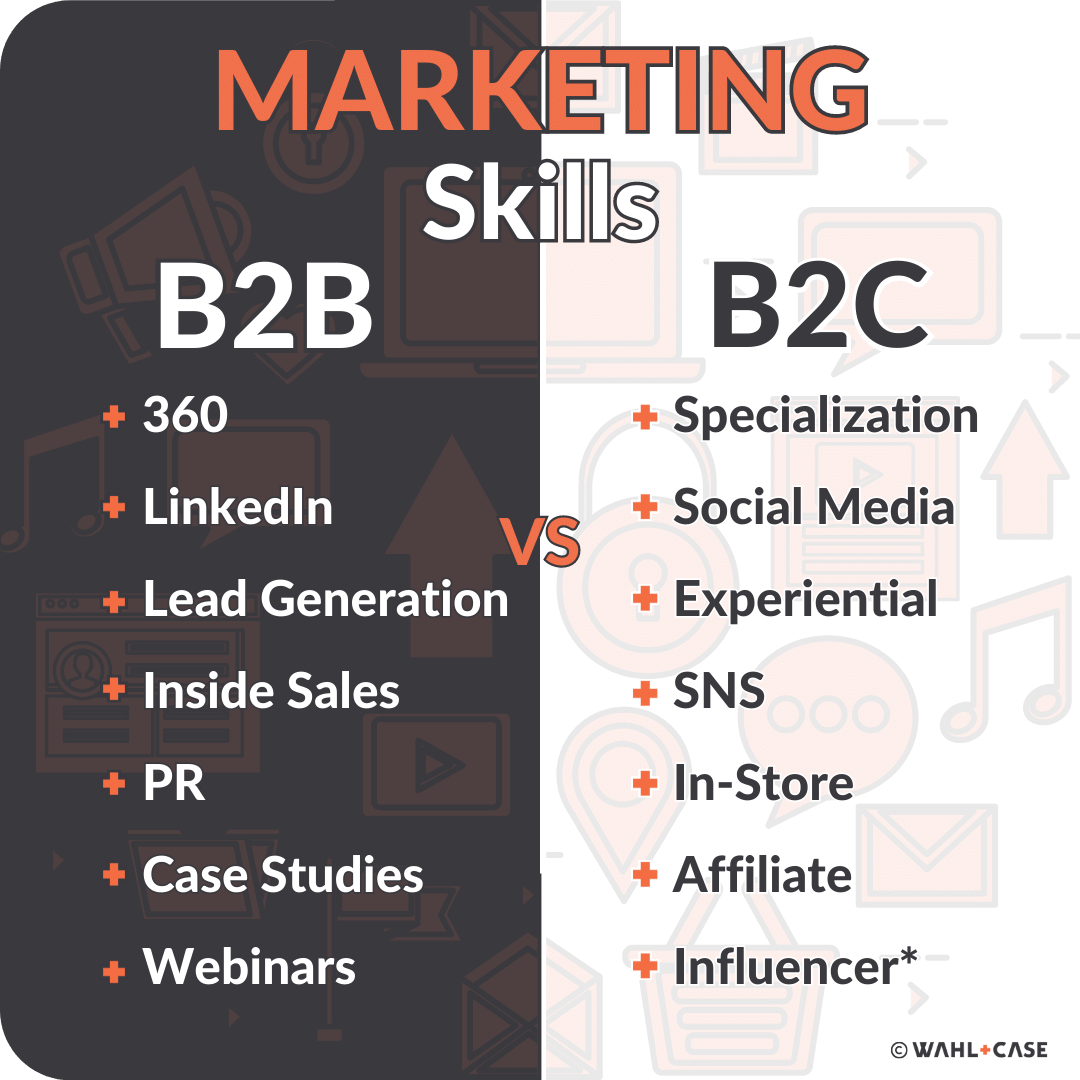 Identify your target audience and their unique needs
One of the most important steps in transitioning from B2C to B2B is identifying your target audience and their unique needs. Unlike B2C marketing, where the target audience is often broad and diverse, B2B marketing requires a more targeted approach. You need to understand the specific pain points and challenges faced by businesses in your industry, and tailor your messaging and solutions accordingly.
This may involve conducting market research, analyzing industry trends, and engaging with potential customers to gain a deeper understanding of their needs. By focusing on the specific needs of your target audience, you can create more effective marketing campaigns and build stronger relationships with your customers.
Once you have identified your target audience and their unique needs, it's important to develop a clear value proposition that speaks directly to those needs. This may involve repositioning your brand, developing new products or services or refining your messaging to better resonate with B2B customers. It's also important to establish a strong online presence as B2B customers are increasingly turning to the internet to research and evaluate potential vendors.
This may involve creating a professional website optimizing your content for search engines, and leveraging social media to connect with potential customers. By taking a strategic and targeted approach to B2B marketing, you can successfully make the transition from B2C and build a thriving business in the B2B space.
In B2B marketing, building relationships with key decision makers is crucial. Unlike B2C marketing where the focus is often on appealing to individual consumers, B2B marketing requires a more personalized approach. You need to identify the key decision makers within your target companies and develop relationships with them over time.
This may involve attending industry events, networking with potential customers, and engaging with them on social media. By building strong relationships with key decision makers you can position yourself as a trusted advisor and increase your chances of winning their business.
When switching from a B2C to a B2B job it's important to understand the importance of building relationships with key decision makers. These individuals are often responsible for making purchasing decisions on behalf of their companies. Hence it's essential to establish a rapport with them. One effective way to do this is by attending industry events and conferences where you can meet potential customers face-to-face.
You can also use social media to engage with decision makers and share valuable content that demonstrates your expertise in your field. By taking the time to build relationships with key decision makers, you can increase your chances of success in the B2B market.
Value Proposition:
When transitioning your career from a B2C to a B2B environment, it is essential to create a compelling value proposition that highlights your adaptability, versatility, and expertise in addressing the unique needs and challenges of B2B clients. In this context, your value proposition could be:
"Leveraging a diverse skill set, customer-centric mindset, and proven success in the B2C space to drive strategic growth and lasting impact in the B2B sector."
Messaging:
Transferable skills: Emphasize your ability to apply your B2C experience and skills to the B2B context. Use phrases such as "adaptable and versatile professional," "applying B2C best practices to B2B," and "cross-functional expertise."
Customer-centric approach: Highlight your experience in understanding and catering to customer needs in the B2C space, and how that approach can be beneficial in a B2B setting. Use messaging like "customer-focused strategies," "prioritizing client satisfaction," and "building strong relationships."
Results-driven mindset: Showcase your track record of success in the B2C sector and how you can replicate it in a B2B environment. Incorporate phrases like "proven track record of success," "impactful solutions," and "delivering tangible results."
Collaborative and strategic thinking: B2B clients value professionals who can work collaboratively and think strategically. Use messaging such as "strategic problem solver," "team player," and "driving synergy across functions."
Industry knowledge: Highlight your understanding of the B2B landscape and your commitment to staying updated on industry trends. Use phrases like "well-versed in B2B dynamics," "keeping a pulse on industry trends," and "continuous learning and improvement."
Example Messaging:
"As an adaptable and versatile professional, I am excited to transition my career from the B2C space to the B2B sector. Leveraging my diverse skill set, customer-centric mindset, and proven success in B2C, I am committed to driving strategic growth and lasting impact for B2B clients. I bring a customer-focused approach, prioritizing client satisfaction and building strong relationships, while applying B2C best practices to deliver impactful solutions.
As a strategic problem solver and team player, I thrive in collaborating with cross-functional teams and staying up-to-date on industry trends. I look forward to contributing my expertise and passion to help your organization achieve its goals in the B2B landscape."
Leverage your existing network and industry knowledge
Successfully transitioning your career from B2C to B2B requires leveraging your existing network and industry knowledge to create new opportunities and connections. Here are some strategies to help you make the change effectively:
Reconnect with your network: Reach out to former colleagues, mentors, and contacts who have experience in the B2B sector. Let them know about your career change and ask for advice, insights, and potential leads. Attend industry events and conferences to expand your network and stay informed about B2B trends.
Showcase your industry knowledge: Share your understanding of the B2B landscape by contributing to industry blogs, online forums, and social media discussions. Demonstrating your expertise can help you build credibility and attract new connections in the B2B sector.
Identify transferable skills: Assess your B2C skill set and identify skills that are relevant to B2B roles, such as relationship building, customer-centric approach, project management, and strategic thinking. Highlight these skills in your resume, cover letter, and LinkedIn profile to demonstrate your adaptability.
Seek professional development opportunities: Enroll in courses, workshops, and certifications to strengthen your knowledge of the B2B sector and acquire new skills that will be valuable in your new career. This will not only boost your resume but also provide you with networking opportunities within the B2B community.
Leverage your B2C success stories: Use your accomplishments in the B2C sector as evidence of your ability to drive results and adapt to new challenges. Share your success stories during job interviews and networking conversations to build credibility and demonstrate your potential for success in B2B roles.
Tapping B2B Companies
Target B2B companies with B2C roots: Research companies that have transitioned from B2C to B2B or have a hybrid model. As they may be more open to considering candidates with B2C experience. Your B2C background could be an asset in such organizations. They may value your perspective and ability to bridge both worlds.
Engage with B2B professionals: Join B2B-focused online communities, LinkedIn groups, and professional associations to network with B2B professionals, learn from their experiences, and stay updated on the latest industry trends.
Seek informational interviews: Request informational interviews with professionals working in B2B roles or industries you are interested in. This will help you gain insights into the nuances of B2B roles and gather valuable advice on how to position yourself for success in the B2B sector.
By leveraging your existing network, showcasing  industry knowledge, and focusing on transferable skills, you can successfully navigate the transition from B2C to B2B. This can create new opportunities for your career.
Luxury brands typically focus on providing high-end products and services to affluent customers. These brands primarily operate in the B2C space. Also there are several B2B job opportunities available, as they also work with retailers, distributors, and other partners. Here are some examples of B2B job roles within luxury brands:
Corporate Sales Manager: Responsible for identifying and securing business clients, such as hotels and airlines. Also will handle premium event organizers, that require luxury products or services for their customers.
Wholesale Account Manager: Manages relationships with luxury retailers, distributors, or other partners. To  ensure brand representation, product placement, and sales targets are met.
Business Development Manager: Focuses on identifying new partnership opportunities. You will be expanding the brand's reach in the B2B sector, and driving revenue growth.
Key Account Manager: Manages and nurtures relationships with key business clients. You ensuring that their needs are met, and maintaining long-term partnerships.
B2B Marketing Manager: Develops and executes B2B marketing strategies to generate leads. You build brand awareness within the industry, and support sales efforts.
B2B Events Manager: Plans and executes industry events, trade shows, and conferences. You will be showcasing the luxury brand to potential business clients and partners.
B2B Sales and other Roles
B2B Sales Analyst: Analyzes sales data and performance metrics to identify growth opportunities. Optimize sales strategies, and support the sales team in achieving their targets.
B2B Public Relations Specialist: Builds and maintains the brand's reputation within the B2B sector. Securing press coverage, managing media relations, and developing strategic partnerships with industry influencers.
B2B Training and Development Manager: Designs and delivers training programs for retailers, distributors, and partners. This to ensure that they effectively represent the luxury brand and meet sales goals.
B2B Customer Service Manager: Oversees the customer service provided to business clients. Ensure that their needs are met, and maintaining high levels of satisfaction and loyalty.
When looking for B2B job opportunities within luxury brands, consider focusing on industries such as fashion or jewelry. You can also check automobiles, hospitality, and cosmetics. These sectors typically have a strong presence of luxury brands with B2B operations.
Final Thoughts
Switching careers can be challenging, especially when moving from a B2C to B2B role. However, with the right mindset and preparation, it is possible to make a successful transition. By doing your research, networking, and gaining relevant experience, you can position  as strong candidate for a B2B role. Remember to emphasize your transferable skills and show how they align with the requirements of the job. With determination and hard work, you can make this career switch a reality. Start taking action today!