People these days have become very image conscious and the want for jewellery is no more a symbol of financial security but trendy fashionable wear that can go well with different occasions. This article speaks in detail about whether a career in Jewellery Industry is good. Jewellery industry is flooded with ample job roles and opportunities for all skills, education levels, etc. Nowadays jewellery designing as a career is flourishing like never before. This profession is not only rewarding but also available to anyone who has a creative bend of mind. The gems and jewellery industry in India is a lucrative career option to consider for several reasons. 
Fast Growth of Jewellery Industry
It is one of the fastest growing sectors in India and accounts for around 7% of the country's GDP and 15.7% of its total merchandise exports. Hence, it is best to start a career in the jewellery industry.
Increase in Demand:
Jewellery is a growing sector of the Indian economy and it earns a lot of foreign exchange for our country. Moreover, in India, people have become more conscious about the jewellery they wear, it's no more a mere investment but a style statement and this has led to a great demand for creative hands who can design jewellery for different moods and occasions.
As a result, many institutions have come up with various jewellery courses to supply high-quality professionals and fulfill the unending demand for jewellery experts.
There are lots of job opportunities available in this industry for fresh and experienced CAD jewellery designers. The pay package may vary depending on the experience and education of candidates. To begin a career in the jewellery industry, a fresher can expect a 70-80K salary per month and it may range from 1.5 to 2 Lakh per month. For freelancer, earring depends on their work, skills, and creativity.
Easy to Start your Own Company
Starting your own company in the jewellery industry can be an exciting and rewarding venture. With the right approach and a passion for the craft, it is relatively easy to get started. Here are some key points to consider:
Identify your niche: Determine what type of jewellery you want to specialize in, such as fine jewellery, costume jewellery, or handmade designs. You can connect with Manufacturers to get CAD Design projects.
Create a business plan: Outline your goals, target market, pricing strategy, and marketing plan. This will help guide your business decisions and attract potential investors or partners.
Source materials: Establish relationships with reliable suppliers to ensure a steady and high-quality source of materials for your jewellery creations.
Build an online presence: Set up a website and social media accounts to showcase your products and engage with potential customers. Utilize e-commerce platforms to sell your jewellery online.
Attend trade shows and events: Network with industry professionals, gain exposure, and stay updated on the latest trends and innovations.
Provide excellent customer service: Focus on delivering exceptional customer experiences to build a loyal customer base and generate positive word-of-mouth referrals.
Availability of Industry Niche Roles
One can work with the smaller private players or big brands as an employee. Also, one can work as a repair person or lapidary. Jewellery industry is one of the industries that has various niche roles/jobs available for all. It depends on your qualification and skill.
The jewellery industry offers a wide range of niche roles that cater to various aspects of the business. These roles are essential for the smooth functioning and growth of the industry. Here are some key points about the availability of niche roles in the jewellery industry:
Jewellery Designers: These professionals are responsible for creating unique and aesthetically pleasing designs for different types of jewellery. Their creativity and technical skills play a crucial role in setting trends and meeting customer demands.
Gemologists: Gemologists specialize in the study and identification of gemstones. They play a vital role in assessing the quality, authenticity, and value of gemstones used in jewellery. Their expertise is essential for maintaining the industry's standards and ensuring customer satisfaction.
Jewelry Appraisers: Appraisers determine the value of jewellery items based on various factors such as materials used, craftsmanship, and market demand. Their evaluations are crucial for insurance purposes, selling, or buying jewellery.
Jewelry Merchandisers: These professionals are responsible for selecting and sourcing jewellery products that align with current market trends and consumer preferences. They play a significant role in ensuring that retailers have a diverse and appealing collection to offer customers.
Jewelry Sales Representatives: Sales representatives are the face of the jewellery industry. They interact with customers, provide product information, and assist in making sales. Their knowledge of different jewellery types, styles, and trends is essential for providing a personalized shopping experience.
International Focus:
The global fashion industry welcomes professionally qualified jewellery professionals from across the world. There is a perpetual requirement for creative minds that can create CAD jewellery designer and other fashion accessories for fashion shows and for fashion retailing. With good experience, you can find a lucrative job in an international jewellery export house or a jewellery designing firm.
A Career in Jewellery Industry – Jewellery Designing
A career in jewellery CAD design gives a chance to utilize artistic skills and earn lots of money.
Education or Professional Courses to start a career in the jewellery industry
There are many CAD design jewellery courses available all over India. For joining a diploma course, you have to complete your graduation in any field and for short-term courses, the minimum qualification can either be class 10 or a 10 + 2. It is advisable to pursue a program in jewellery drawing design, CAD software, Camcad software, BDes, from a renowned design school such as the National Institute of Fashion Technology (NIFT) or the National Institute of Design (NID). After completing your bachelor's degree in design, BDes, from a recognized design school you should look for an internship with a renowned jewellery house in India or abroad. Alternatively, you can do a master's course in designing also.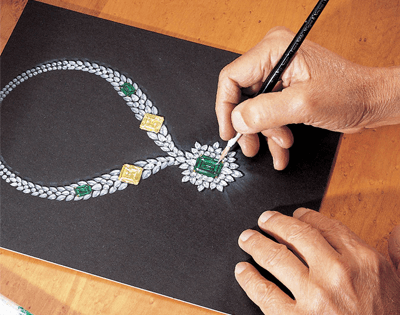 However, a good grounding in creative arts is a plus point. Like many other creative fields, it is essential to have an inbuilt creative frame of mind to move towards a career in designing jewellery.
If you are a person with a fair sense of design and creative imagination and have the skills to understand the latest trends with sound technical knowledge, then this is the right career option for you. You can learn everything else while getting trained.

These courses will impart knowledge about different types of stones, design themes, presentations, jewellery costing, and jewellery making. Some of the courses use computer-aided programs for designing jewellery and accessories. On the technical front, you get to learn the art of working with precious metals, alloys, and the mathematics that goes into the manufacturing of flawless jewellery items.
Cost of the courses:
A one to two-year study program can cost you anywhere around Rs 65,000 to Rs 1.80 lakh while short-term courses can cost you between Rs 15,000 to Rs 65,000. Usually, Scholarships and financial aid are not available for these courses.
Job Prospects of a career in the jewellery industry:
The boom in the gems and jewellery industry has brought innumerable employment opportunities for CAD jewellery designers. After the successful completion of your course, you can easily find vacancies in this industry. You can also start your own freelance designing business or set up your own retail and trading unit.
Pay Package:
Hot job opportunities and lucrative salaries make it just the perfect time to consider jewellery designing as a career option. The pay package of a CAD jewellery designer can differ depending on the education and experience. For a starter, you can expect a salary to be around Rs 7000 to Rs 8000 per month. With experience, it can increase from Rs 18,000 to Rs 20,000 or more. Top-rated CAD jewellery designers can easily fetch salaries in excess of Rs 1 lakh a month. If you are working as a freelancer, then your earnings will completely depend upon your creativity and your skills in marketing your work. 
Limitations of a Career in the Jewellery Industry
Job vacancies for CAD jewellery designers are usually not advertised therefore you will have to put in a great deal of effort to get a foothold in this industry.
The initial cost of setting up your business is high.

Industry is not looked up for serious career growth by new age professionals
Future career
The future of careers in the Jewellery Industry looks promising and exciting. As technology continues to advance, it will bring about new opportunities and transform the way jewellery is designed, manufactured, and sold. Here are some key trends that will shape the future of careers in the industry:
Customization and Personalization: With the rise of 3D printing and CAD software, jewellery designers will have the ability to create unique pieces tailored to individual customers' preferences, allowing for a more personalized and meaningful experience.
Sustainable Practices: As consumers become more environmentally conscious, there will be a growing demand for sustainably sourced and ethically produced jewellery. Careers in the industry will focus on implementing sustainable practices and ensuring transparency throughout the supply chain.
Digital Transformation: E-commerce platforms and virtual reality technology will revolutionize the way jewellery is marketed and sold. Professionals in the industry will need to adapt to these digital platforms and leverage social media and online marketing strategies to reach a wider customer base.
Innovation and Technology: The integration of technology, such as blockchain for verifying authenticity and augmented reality for virtual try-ons, will redefine the customer experience. Careers in jewellery design and manufacturing will require knowledge of cutting-edge technologies and the ability to adapt to rapid changes.
Global Market Expansion: As emerging markets continue to grow, there will be increased opportunities for jewellery professionals to expand their businesses internationally. Cultural diversity and understanding global market trends will be essential for success.
Conclusion
The jewellery industry offers a promising career path for individuals passionate about creativity and craftsmanship. With a growing demand for unique and personalized jewellery, there are ample opportunities for skilled professionals.
However, the industry can be highly competitive, requiring dedication, continuous learning, and adaptability to succeed. Despite its challenges, a career in the jewellery industry can be fulfilling and financially rewarding for those willing to put in the effort.