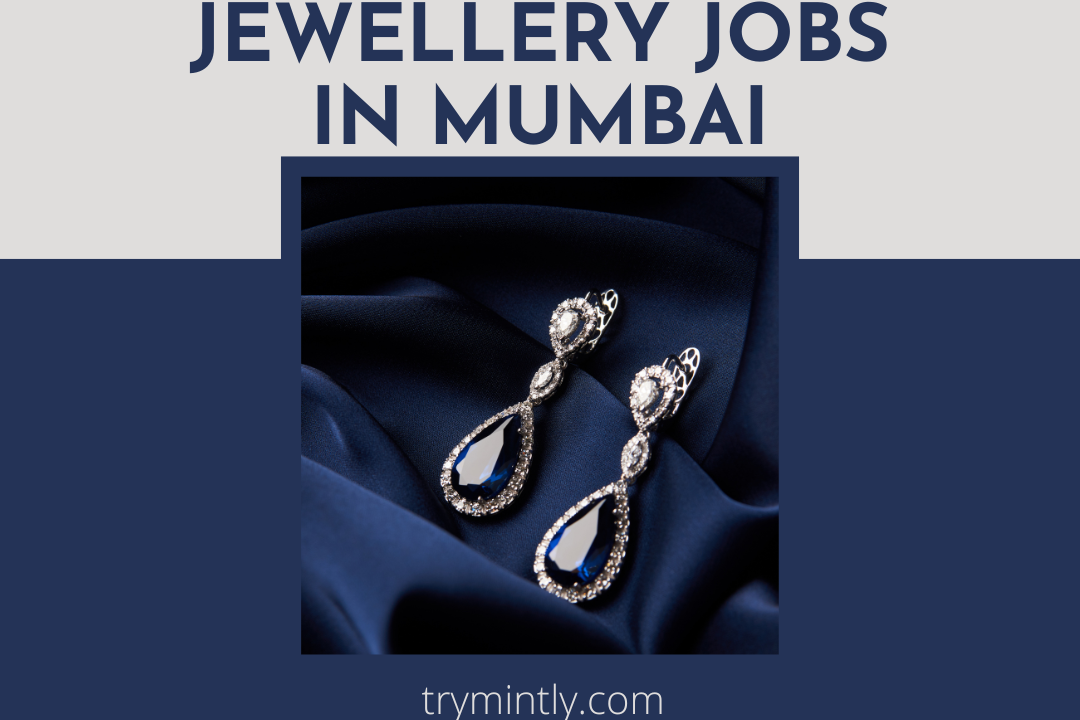 Last Updated on 6 months by The Mintly Team
Jewellery is an important part of the culture and heritage of Mumbai, India. From its traditional to contemporary designs, the city has something for everyone. Jewellery jobs in Mumbai are also plentiful and diverse, offering a great opportunity for those looking to break into this vibrant industry. Whether you're interested in design, production, sales or marketing, there's plenty of room for creativity and innovation in this line of work.
Overview of the Jewelry Industry in Mumbai
Mumbai is known as the "City of Gold" and is home to one of the largest and most vibrant jewelry markets in the world. The city has a long history of jewelry making, with skilled artisans and craftsmen producing high-quality pieces for centuries. Today, Mumbai's jewelry industry is a major contributor to the city's economy.Thousands of businesses and workers involved in all aspects of the industry, from design and manufacturing to sales and marketing.
Whether you're a seasoned professional or fresher, there are plenty of job opportunities to build a successful career in the Mumbai jewellery industry. The jewelry industry in Mumbai is diverse and includes everything from traditional gold and silver pieces to modern, contemporary designs. The city is home to a number of renowned jewelry schools and training centers. They offer courses in design, manufacturing, gemology, and more. Many of these schools have partnerships with leading jewelry companies, providing students with valuable industry connections and job opportunities.
In addition, Mumbai's bustling jewelry markets, such as Zaveri Bazaar, BDB and SEEPZ, offer a wealth of employment opportunities for those interested in sales and marketing. With its rich history and vibrant present, the jewelry industry in Mumbai is a dynamic and exciting field to be a part of.

The jewelry industry in Mumbai offers a wide range of job opportunities for individuals with different skill sets and interests. Some of the most common types of jewelry jobs available in Mumbai include jewelry designers, gemologists, jewelry manufacturers, sales executives, marketing professionals, and customer service representatives. Depending on your qualifications and experience, you can choose to work for a large jewelry company or a small boutique, or even start your own business. With the right skills and attitude, the sky's the limit in the Mumbai jewelry industry.
Jewelry Designer Jobs
Jewelry designers are responsible for creating unique and innovative designs for various types of jewelry, including necklaces, bracelets, earrings, and rings. They work closely with clients to understand their preferences and requirements and use their creativity and technical skills to bring their ideas to life. You must be skilled in Manual or CAD Design Softwares. Manual Design involve Hand Sketching with bit of Corel Draw skillsets.
Gemologist Jobs
Gemologists, on the other hand, specialize in identifying and grading different types of gemstones and diamonds. They work with jewelry manufacturers to ensure that the stones used in the jewelry are of the highest quality. Jewelry manufacturers are responsible for producing the jewelry pieces based on the designs created by the designers. They use a variety of tools and techniques to create intricate and beautiful pieces of jewelry. Sales executives and marketing professionals are responsible for promoting and selling the jewelry to customers.
They work closely with customers to understand their needs and preferences and provide them with the best possible service. Finally, customer service representatives are responsible for providing support and assistance to customers who have questions or concerns about their jewelry purchases. They ensure that customers are satisfied with their purchases and provide them with the necessary information and guidance.
Companies such as Gemological Institute of America, SGL Labs, HRD Antwerp regularly hire Diamond Graders and Lab Assistants. You must be skilled with Analytical, Basic Mathematical Skills to get into these Jobs.
Skills and Qualifications Required for Jewellery Jobs
The skills and qualifications required for jewelry jobs in Mumbai vary depending on the specific role. For example, jewelry designers need to have a strong sense of creativity and design. Having a strong knowledge of different materials and techniques is required. Gemologists, on the other hand, need to have a deep understanding of gemstones and their properties. Sales executives and marketing professionals need to have excellent communication and interpersonal skills. Also they should have the knowledge of the latest trends in the industry.
Customer service representatives need to be patient, empathetic, and able to handle customer complaints effectively. In general, a degree or diploma in jewelry design, gemology, or a related field is preferred for most jewelry jobs in Mumbai. Some of the karigar level jobs doesn't require a Degree. You must have the Artistic skillsets and passion for the Job.
If you are interested in pursuing a career in the jewelry industry in Mumbai, it is important to have a clear understanding of the skills and qualifications required for different roles. For example, if you want to become a jewelry designer, you will need to have a strong sense of creativity and design, as well as knowledge of different materials and techniques. You may also need to have experience working with computer-aided design (CAD) software and be able to create detailed sketches and models of your designs.
Top Companies and Employers in the Mumbai Jewellery Industry
Mumbai is home to some of the biggest and most prestigious jewelry companies in India. Some of the top employers in the Mumbai jewelry industry include Tanishq, Carat Lane, Tata Cliq, Reliance Jewels, Manubhai Jewels, KGK Diamonds and HK Diamonds. These companies offer a wide range of job opportunities, from design and manufacturing to sales and marketing. In addition to these large companies, there are also many smaller, boutique jewelry brands that offer unique and specialized job opportunities.
Whether you're just starting out in your career or looking to make a change, the Mumbai jewelry industry has something for everyone. Starting salary at Karigar Level could be in Rs 12K. For Professional jobs, you could start at Rs 20K per month
Tips for Landing the Jewellery Job in Mumbai
Landing your dream jewelry job in Mumbai can be a competitive process, but with the right approach, you can increase your chances of success. First, make sure your resume and cover letter are tailored to the specific job and company you're applying to. Research the company and its values. Highlight how your skills and experience align with their needs. Networking is also key in the jewelry industry. Attend industry events , trade shows like IIJS and connect with professionals on LinkedIn.
One of the first steps is to tailor your resume and cover letter to the specific job and company you're applying to. Research the company's values and mission, and highlight how your skills and experience align with their needs. Additionally, networking is crucial in the jewelry industry.
Finally, be prepared for the interview process by practicing common interview questions and showcasing your passion for the industry. By following these tips, you'll be well on your way to landing your dream jewelry job in Mumbai.
Jewellery Jobs in SEEPZ Mumbai
SEEPZ, the Special Economic Zone located in Andheri East, Mumbai is an important hub for several sectors including Jewellery manufacturing. The zone offers a conducive environment for business with world-class infrastructure and state-of-the-art facilities. Professionals seeking employment opportunities in the jewellery industry can find a plethora of options at SEEPZ.
Several companies within SEEPZ are currently hiring for various positions in their jewellery manufacturing divisions. Some of these positions include designers, craftsmen, quality control executives, sales personnel and marketing professionals. These companies offer competitive remuneration packages along with ample growth opportunities to deserving candidates.
Candidates with relevant experience and skill sets can apply for these positions by submitting their resumes online or through recruitment agencies that specialize in hiring for the jewellery industry.
Jewellery Jobs in BDB Mumbai
Bharat Diamond Bourse in Mumbai is one of the most sought-after destinations for people looking to build a career in jewellery. With over 2,500 diamond traders and manufacturers operating from its premises, it provides ample opportunities for people seeking jewellery jobs. The bourse offers a host of roles ranging from sales, marketing, design and production to security and logistics.
Hiring is an ongoing process at  companies in Bharat Diamond Bourse with job openings available throughout the year. It attracts talent from across the country due to competitive salaries, growth opportunities and exposure to international markets. Candidates with relevant experience or education in jewellery making or gemology are preferred. There are also positions available for freshers who are passionate about building a career in this field.
Working at BDB not only provides financial stability but also helps individuals develop their skills and knowledge in the jewellery industry.
Other locations in Mumbai
Many Jewellery Manufacturers and Retailers are located in Bandra West and Opera House areas.
One particular area where jewellery jobs in Retail and Jewellery Designs are abundant is Bandra West. This trendy suburb attracts many young professionals who aspire to join this exciting industry.
Bandra West offers a plethora of opportunities for aspiring jewellery enthusiasts, including internships at established retailers, boutiques and workshops. Many of these places offer hands-on experience with skilled craftsmen. It is providing an excellent platform for those who wish to learn more about designing and creating fine jewellery pieces. In addition, there are several job listings posted on popular recruitment websites that cater exclusively to job seekers interested in the jewellery field.
Jewellery jobs in Mumbai have been booming for the past few years, and one of the best places to find them is in the Opera House area. This bustling hub of diamond merchants and jewellers is a treasure trove of job opportunities for anyone interested in entering this glittering industry. With its prime location in South Mumbai, Opera House is easily accessible from all parts of the city.
If you're looking for a jewellery job in Mumbai, then Opera House should be at the top of your list. Here, you can find jobs ranging from sales executives to designers, and everything in between. The area is home to some of India's most famous jewellery brands and has an extensive network of suppliers and manufacturers.
Working in Opera House also means that you'll be surrounded by some of the most beautiful jewellery pieces on offer. From traditional Indian designs to contemporary styles, there's something here for everyone.
Frequently Hired  Jewellery Jobs in Mumbai
Manual Designer
PD Manager
Sales Executive
Accountants
Digital Marketing Executives
Karigars -Wax Setters, Diamond Polishers, Filing
Merchandisers
Operation Executives
E-Commerce Executives
You can apply for Entry Level upto Managerial Level positions with various jewellery brands in Mumbai.
Final Thoughts
In conclusion,Mumbai is an ideal destination for individuals seeking a career in the jewellery industry. With its vibrant culture and diverse selection of opportunities, Mumbai has something to offer everyone. A great place to start your search is by consulting the many job boards and websites that provide easy access to the latest openings in this field. Additionally, networking with members of the jewellery community can help you find out about any potential positions that may not be listed publicly.