Did you know? The first jewellery was not actually created by humans (Homo sapiens) but by Neanderthal living in Europe.
Jewels and the art of making jewellery are older than the human race. But in the past, it was a traditional family business where the families played the dual role of designer and manufacturer. With the increase in demand and the need of vividity in the jewellery designs, this family business opened up for trained and qualified professionals. Before knowing what kind of career opportunities professionals have in this field, let us know what is jewellery designing and the qualifications required.
Table of Contents
What is Jewellery Designing?
It is the art of designing and creating jewellery. Throughout history and in modern times, it has taken different forms. From the first-ever jewellery made from small seashells to the modern machine-cut gems, jewellery has moved towards sophistication. And with this progress, designing the jewellery pieces is turning out to be one of the most rewarded careers.
How to Become a Jewellery Designer?
Qualifications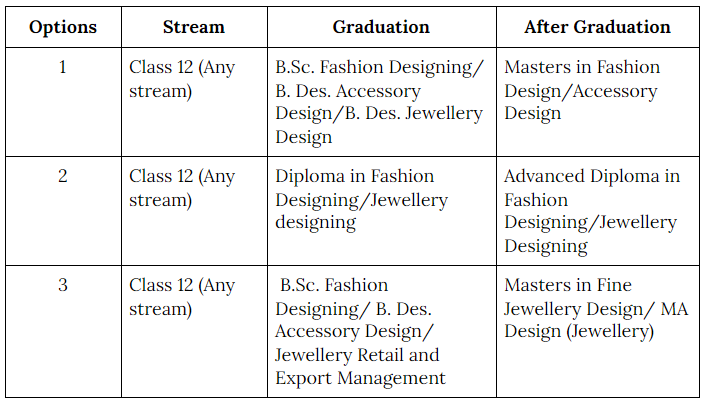 Top Jewellery Design Institutes In India and the World
There are more than 100 Jewellery Design Institutes in India alone. Here is the list of top institutes among those and also top institutes in the world for studying designing.
Leading Indian Institutes for jewellery designing
NIFT, New Delhi

Indian Institute of Technology

National Institute of Design

ARCH Academy of Design, Jaipur

Vogue Fashion Institute, Bangalore

National Institute of Jewellery Design, Ahmedabad

Indian Institute of Jewelry Design, Ahmedabad

Amor Design Institute, Ahmedabad

India International Trade Center, Pune

Exterior Interior Limited, Kolkata

Hamstech Institute of Fashion and Interior Design (HAMSTECH), Panjagutta, Hyderabad

Indian Institute of Gems and Jewellery, Jaipur
Leading Jewellery Design Institutes in the world
Pratt Institute, New York

Massachusetts College of Art and Design, Boston

International Gemological Institute

International Career Institute, Australia

The Italian International Institute, Italy

London Jewelry School, London
Skills Required
Do you want to be successful in your workplace? Then, there are a few skills you need to succeed as a Jewellery Designer. 
Customer Service: To assist the customers in-store or establish the business from the ground up and develop a loyal clientele, this skill holds high importance. 

Graphic Design: To create high quality and standard designs.

Engineering Drawings: To analyze sketches, specifications, drawings, ideas and related design data to determine factors affecting component designs. 

CAD: To refine and repair models from computer-produced rapid prototype designs. 

Knowledge about art shows, product design and development, and retail sales.

Technical knowledge such as Photoshopping, using Adobe Creative Suite, experience with using "Rhinoceros"software, etc. 

Sense of design and passion for profession

Creative, artistic, and imaginative with designs

Precision and attention to details

Technically sound knowledge of jewellery industry

Skills in drawing and computer designing. Knowledge about CAD would be useful

Practical skills to handle tools and materials

Working knowledge of jewellery manufacturing

Awareness of different type of metals, jewels and gemstones.
Career Opportunities in Jewellery Designing
It is one of the most rewarding career option in the world of designing. While new entrants can kick-start their career in the jewellery design firms, the experienced jewellery designers have the opportunity to either find employment in large jewellery production industries or start their own ventures in this field or launch their own brands.
But, let us get back to the basic question, What are the career options in here? Here is the answer! Read below where all the jewellery designers can thrive and in what role.
Jewellery designers can work as designers and create a luxury collection of jewelleries that pleases the customers. 
If you are an experienced jewellery designers, you can collaborate with retail chains of jewellery brands and design and create pieces that appeal to the mass audiences. The pieces of jewellery you designed are put for sale at all the locations of the retail brand. 
Television and Film Industry
Have you noticed the choker design of Deepika Padukone in "Padmavat" movie? Or Kundan necklace of Anushka Sharma in "Ae Dil Hai Mushkil" movie? Those pieces of jewellery were designed by Jewellery designers. 
Jewellery or Accessory Designing firms
Every jewellery brand has its own style and ideology. The jewellery designers can work with firms to bring out that style through the designing of their jewellery.
Jewellery designers who choose Goldsmith as their career path, they exclusively work with gold. They create gold ornament designs, and also often go beyond that and create objects, such as gold pots and plates. 
If you have a specialisation in gemology, this could be your career option. Gemmologists design jewellery pieces with gemstones which are mainly intended for luxury and therapeutic purposes. 
Independent Jewellery Designers
You can build your own brand in by designing your own jewellery pieces and enter the market.
Freelance Jewellery Designing
You can work as a freelance jewellery designer for brands or team up with other freelancers and take up projects. 
Job Profile
Now we have understood the different career options in jewellery designing, the next obvious question would be what are the roles and responsibilities of a jewellery designer? We have answers for that too. 
The main job role of a jewellery designer is to design and often make jewellery from a variety of materials such as gold, silver, platinum, and other jewels or precious stones. Other roles and responsibilities include:
Discussion about the design, understanding the requirement and style of the user or take a brief from clients and work accordingly. 

Conceptualising and Visualising a design and preparing the sketches either on paper or through design software such as CAD. 

Create prototype or models of jewellery which can be manufactured in bulk by company machinery. 

Create custom jewellery designs for individuals if required. 

Find the jewellery parts suitable for the jewellery designs, source parts of jewellery, cut and polish to use in jewellery pieces. 

Use tools and other equipment as and when necessary while working on the jewellery designs. 

If working as a freelancer or self-employed basis, manage business activities and operations. 

Gemmologists assess the quality, value and use of gems in jewellery.

Gemologists use their expertise in grading, sorting, and setting the gems in various metals. 
How to get hired?
While skills are certainly required to be a successful jewellery designer, you also need to know how to get hired. Here are our tips to get hired as a jewellery designer. 
Attend trade fairs and exhibitions to build your network within the industry and to be aware of the job vacancies. 

Build your portfolio and ensure it stands out of the crowd. 

A certification in design course can certainly be an add-on for your experience. 

If you are a new entrant, ensure to attend an internship in a designing studio or have work experience of being an assistant to a well-known jewellery designer. 

Follow TryMintly to stay up-to-date on the job market in the jewellery industry. 
Pros and Cons of a Career in Jewellery Design
Pros:
You would have opportunities to work with top brands at any given point in time in your career.

Once you are experienced, you can start your own brand. 

Your creativity can be brought to the limelight. 

It is a highly rewarding job
Cons:
Jewellery jobs are rarely advertised. Hence, you need to put a great amount of effort to get a foothold in the industry. 

If you want to set up your own business in the jewellery industry, the initial cost would be too high. 

It is a highly competitive field, especially for freelancers. 

The demand of the jewellery industry varies with the economy of the country. 
In a nutshell, the jewellery industry is certainly a booming field for aspiring jewellery designers considering the consistent entry of new jewellery brands and foreign jewellery houses and firms. However, it needs great skills and knowledge to be successful. So, are you up to get hired?
Sign up with Mintly to find the right job for your skills in the Jewellery industry!