1,030 views
Designing stunning jewellery pieces as a career can be the most rewarding profession in art and fashion. Jewellery Design provides an opportunity to create pieces that would be loved, worn, and cherished by others. It is always gratifying to see one's creative visions and interesting ideas turn into a beautiful piece of art that can be worn. For many, this gratifying feeling is all that is needed to become a jewellery designer. However, there are several other reasons that need to be taken into consideration before answering this question:

Why study Jewellery Design?
The fashion and jewellery industry is such that it opens up an opportunity for everyone who wants to establish a career in this industry. Ergo, there can be many reasons for one to choose this creative profession and become an expert jewellery designer.
For starters, jewellery design is a great career option for people with creative minds. Earlier, jewellery was considered just a symbol of status in society and a means of financial security. However, today jewellery has a major part to play in fashion. They are considered as trendsetters and fashion statements, giving jewellery designers a wider scope and growth prospects.
Jewellery design opens up a lot of job opportunities. There are different roles for both freshers and professional jewellery makers and designers. The pay packages vary depending on the experience and education qualification of the aspirants. The industry also offers opportunities to freelancers who like to create their own designs or work closely with clients.
There are numerous roles available in this industry. An aspirant can either work with a small jewellery store or become an employee of big brands like Tanishq or Malabar Gold and Diamonds. They also get the option to choose their specialization. For instance, they can work as a repair person, lapidary or as a designer.
Lastly, the jewellery design role offers a sense of freedom and the opportunity to work independently. A jewellery designing professional can become a freelance jewellery designer or can open their own jewellery boutique and create their own designs. They can also hire staff to help them in their boutique and can retail out of some stores. Read More.
The role of jewellery designer involves:
Ideating a jewellery design for new ornaments
Designing the sketches of the jewellery design
Selecting the metals and gems for the ornaments
Customizing and manufacturing them.
Creating models of jewellery design that will be mass-produced by other staff or machinery
How to become jewellery designer?
If you are a person with good observant, creative imagination and have a fair share of designing skills, then a career in the jewellery industry is perfect for you. Jewellery designing offers various roles for different positions and specializations. You need to have the ability and skills to understand the market well and keep yourself updated with the latest jewellery trends in order to sustain yourself in this industry and make your jewellery designs popular.
Jewellery Design eligibility criteria
The first step to becoming a successful jewellery designer is to complete a bachelor's degree or a diploma degree from a recognized college. For that, you need to complete your 10+2/HSC in any stream from a recognized board with the required passing marks. Post that you can either do a graduate in a designing course or do a short-termed diploma in any relevant course.
You can pursue a course in jewellery design after completing your 10+2 from Arts/Commerce/Science
In order to get admission in Post-graduation courses in Jewellery designing, you must complete your Graduation from a recognized college/university with the minimum passing marks.
Listed here are the three paths you can choose to get a degree in jewellery design.
Path 1:
Complete 10+2/ HSC from Art/Commerce/Science with minimum passing marks.
Pursue graduation degree in B. Sc. Fashion Designing/ B. Des. Accessory Design/ B. Des. Jewellery Retail and Export Management. A graduation degree is for 3-4 years.
Enroll for Masters in Fashion Design/ M. Des. Accessory Design for 2 years.
Path 2:
Complete 10+2/ HSC from Art/Commerce/Science with minimum passing marks.
Then complete a Diploma in Fashion Designing/ Diploma in Jewellery Designing course for 1 year
Apply for a course in Advanced Diploma in Fashion Designing or Advanced Diploma in Jewellery Designing
Path 3:
Complete 10+2/ HSC from Art/Commerce/Science with minimum passing marks.
Pursue B. Sc. Fashion Designing/ B. Des. Accessory Design/ B. Des. Jewellery Retail and Export Management for 4 years.
Post-B.SC, you can pursue Masters's in MA Design (Jewellery) or Fine Jewellery Design for 1 -2 years and study abroad.
Top Colleges in India and abroad offer Jewellery Design courses
There are several reputed and known colleges in India that offer both full-time and distance courses in designing, art, and jewellery making. Listed here are the best colleges:
Apart from these India-based colleges, there are several international colleges and universities offering specified jewellery design courses for graduation and post-graduation. Here is a curated list of top colleges outside India offering numerous courses in jewellery design.
Entrance exams for jewellery design
Certain undergraduate colleges conduct entrance exams to get into their elective courses. These exams are challenging and clearing which will help you grab a seat in some of the reputed jewellery designing colleges in India. Listed here are the top colleges and their entrance exams along with their eligibility criteria and website link.
Career opportunities in jewellery design
When it comes to a career in the jewellery industry, there is a myriad of opportunities available. This is because the field of jewellery making is a booming one, and with frequent changes in fashion and trends, there is always a new demand for jewellery. Hence, if you have the skills and the required education for jewellery making, you can easily establish yourself in this industry.
Here is a curated list of career opportunities available for an aspirant jewellery designer
Retail Chains:
As a jewellery designer, you can tie up with retail stores and brands across the country and put your creative jewellery designs for sale in their outlets and kiosks.
Jewellery Boutiques:
You can open your own jewellery boutique where you can put luxury ornament pieces and unique jewellery designs for sale. You can also customize your design as per the requirements of your customers.
Jewellery Designing Firms:
You can also work with reputed jewellery designing firms or even work with some of the popular jewellery designers like Farah Khan Ali, Suhani Pittie, Varuna D Jani, and the like and create designs that resonate with the ideology and style of that firm.
Goldsmiths:
You can work as a goldsmith and get hands-on experience in creating metal-based jewellery, ornaments, gold plates, pots, and other objects.
Film and Television Industries:
You can also be a part of the film and television industry by creating customized jewellery designs for multiple characters according to the various roles they play.
Gemologist:
As a gemologist or a gem expert, you can help identify precious stones and gems by testing their genuineness, value, and authenticity.
Freelance/ Independent Jewellery Designers: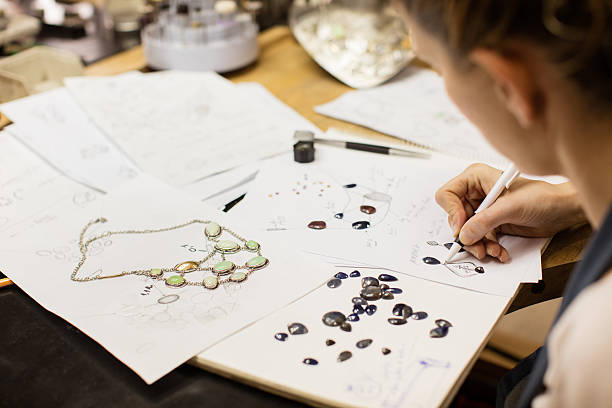 As a freelance jewellery designer, you can either open your own brand of jewellery designs or take up independent jewellery projects and create customized designs that go with the style and taste of the customers.
Career Tip: The best way to get your work noticed is to create a strong resume and apply for designers' roles through the right portal. TryMintly.com has the largest pool of reputed and certified Jewellery designing brands from across countries. As a jewelry aspirant or an experienced professional, you will get all the help on this platform in seeking and connecting with some of the industry's top recruiters.
Be the first one to get hired.