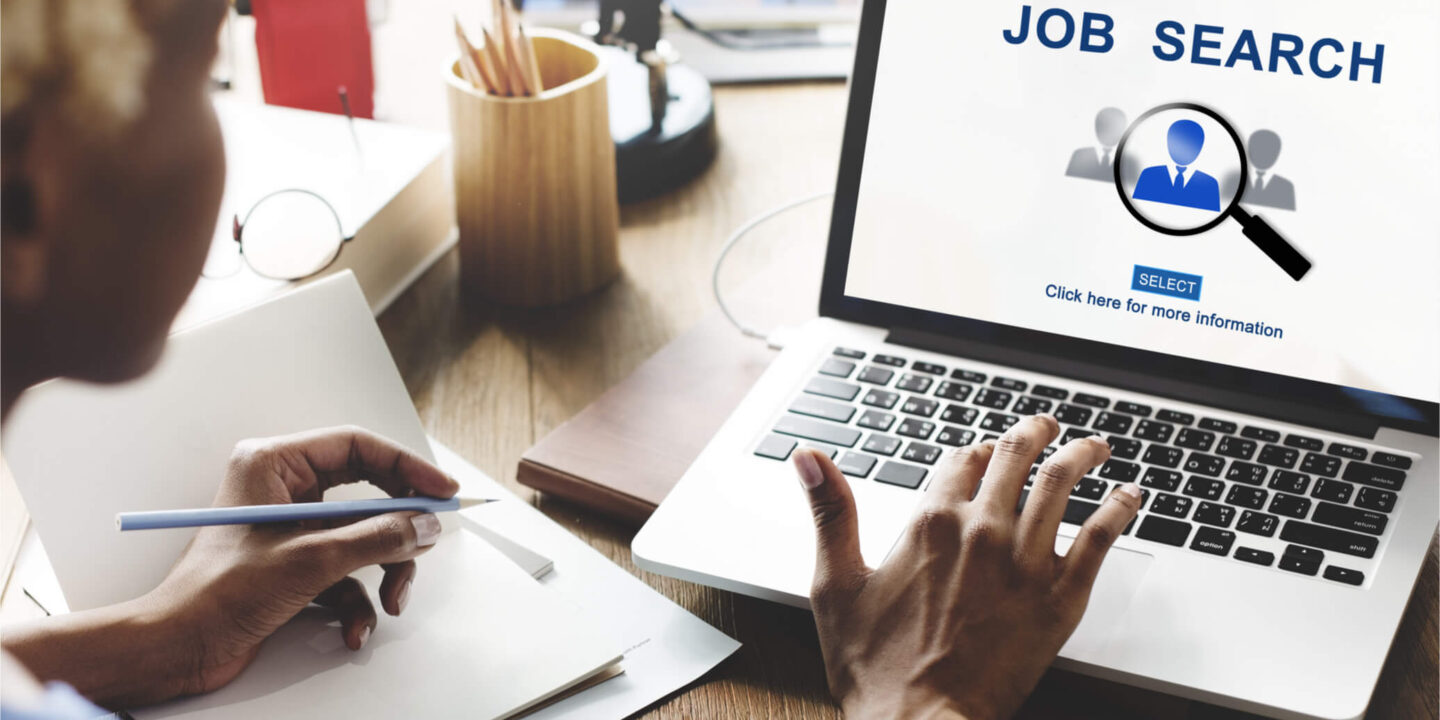 Last Updated on 2 weeks by The Mintly Team
The job market is starting to become more and more competitive every day. It's not always easy to find the right position which is why people are turning to job search apps/websites and apps on a more frequent basis.
If you're on the go a lot these apps can be a great convenience. At Mintly we have researched and consolidated the    list of best Apps down to save you time and help you find that next  job opportunity.
25 Best Job Search Apps
This article shows some of the best job search apps out there and how they can help you get a better job quickly.
ZipRecruiter has spent a lot of money over the years on advertising. You may remember hearing about them on the radio on the way to work or receiving some of their fliers at work. Employers are posting thousands of jobs on Ziprecruiter every day.
When your resume is viewed by an employer , you will receive an email alert on your phone.  Job seekers can  set up alerts to review local jobs that may be a fit for them. The tool aggregates the jobs  from other employment apps and job boards giving you various jobs to review and apply for.
The ZipRecruiter job search app has been downloaded over 5 million times on the Google play android store.
Indeed is the leading job search app in the world. It lists all types of jobs such as Contract, Part -Time, Full Time and Freelance Jobs. It included pay per post pricing model and fees to view the resumes from the database. The App has crossed 100M+ downloads in the Play Store.
Job seekers can use one click apply to sign in, upload resume once and apply to as many jobs. They can view the company reviews given by other job seekers. You can custom filter the alerts to get only relevant jobs for email alerts.
Monster has been around for over 20 years and is one of the most well-known job boards. Their job search app is simple to use and lists millions of jobs posted by employers.
Mobile device users need to simply create an account upload their resume, set their search criteria, and instantly apply to job listings with just a swipe of their finger.
The Monster job search app has been downloaded over 5 million times on the Android Google play store.
Careerbuilder has been in the mobile job search app business for a long time. Their mobile job search app has been downloaded over 1 million times on the Google Play Android store.
CareerBuilder's mobile job search app helps job seekers each step of the way. Job seekers can make and save a personalized resume with just a few clicks. You would then be able to utilize your resume to go after job opportunities of interest.
What's more, the Careerbuilder job search app sends alerts on new position openings dependent on the job seekers' preferred search. You can upload or build a resume right in the app, apply for jobs with a single tap, and research salaries, and required skills for various job openings.
If you're in a rush you don't have to create an account and can just apply to jobs as a guest.
Glassdoor is known for employee reviews at the companies they work at or have worked at in the past. They also have a robust mobile job search app. You can sign up and get notified when jobs pop up that match your search criteria.
The Glassdoor app allows you to upload your resume and apply for career opportunities with one click. Its user interface is modern and easy to use. The mobile app has been downloaded over 10 million times on the Google play store.
LinkedIn has a job section within its business networking app. The job search app section is easy to find as it uses a briefcase for the job icon. You can search within the application quickly by skill, title, location, or company.
The  app lets you know how many people have applied for the Job.  This gives you the indicator how big the candidate pool for a particular one. This has been downloaded over 100 million times in the Google play store.
7. Snagajob
If your seeking an hourly job Snagajob is the mobile job app you seek. You can find job postings by keywords or location or use the map search function to search for jobs in local areas. The app lets you get jobs sent straight to your email inbox.
The job is a real time saver if you're looking for a position in the retail, hospitality, customer service, administrative, or restaurant industries. Snagajob app has been downloaded over 5 million times in the Google Play Store.
If you're seeking a job interview in the IT field, this is the app to get. It has been downloaded over 500,000 times in the Google Play Store. You can upload your resume easily using Dropbox, Google Drive your a file on your phone.
Dice allows you to set the resumes to searchable mode. This allows the Hiring Managers or recruiters to find you easily.  Search features allows you to set the relevant Job alerts hitting your inbox with latest jobs.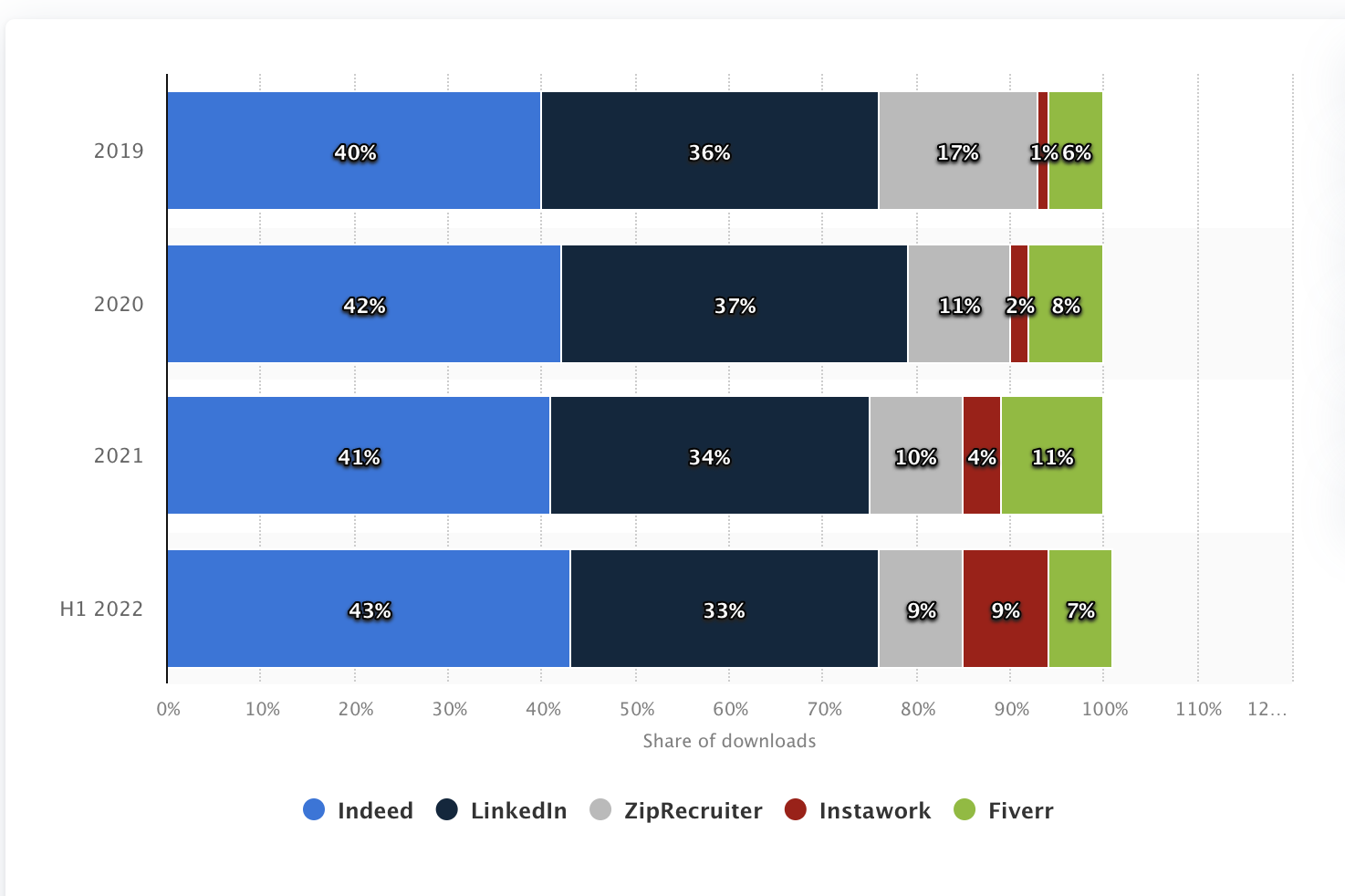 Looking for freelance work? Upwork's job search app is a great one to check out. It lists millions of freelance jobs annually to match job seekers with potential employers.
Some jobs include marketing, programming, web development, writing, design, and more.
Naukri.com is a subsidiary of Info Edge. It is an Indian internet-based organization. After its establishment in March 1997, Naukri.com became the first online platform to provide jobs in India.
Currently, it has become  best job search app in India. Roughly, 20,000 people upload their resumes and CV in Naukri every day. Employers across India and Middle East using Naukri or Naukri Gulf to hire the talent.
Jobseekers can register on the website and download the app  to access millions of jobs available on Naukri.
Toptal App is a powerful tool designed for freelancers and clients looking to connect and collaborate on projects. With its user-friendly interface and robust features, the app provides a seamless experience for both parties involved. Freelancers can showcase their skills, browse job listings, and communicate with clients through the app's messaging system.
Clients, on the other hand, can easily post job requirements, review freelancer profiles, and hire talent directly from the app. The Toptal App also offers secure payment processing, ensuring a hassle-free transaction process. Overall, the Toptal App is a reliable platform that streamlines the freelancing process and facilitates successful collaborations.
Times Jobs is a subsidiary of The Times Group. It came into existence in 2004 and has become one of the best Job Search Apps/Sites in India. This is inclined towards employing the youth of India and Middle-Eastern countries in sectors like BPO (Business Process Outsourcing), advertising, government, retail, etc.
JobGet is the #1 App for Hourly Workers looking for jobs in the US.  It is one of the leading job apps for the worker level category. You can look for Catering, Admin, Retail and other blue collar jobs instantly in this App. Employers can chat with Jobseekers and have Video Interview right away.
Instawork helps you find the side hustle and get paid quickly. Are you looking for flexible employment and get paid the same work day? Instawork is the place to go. Gig workers can apply and find suitable job easier.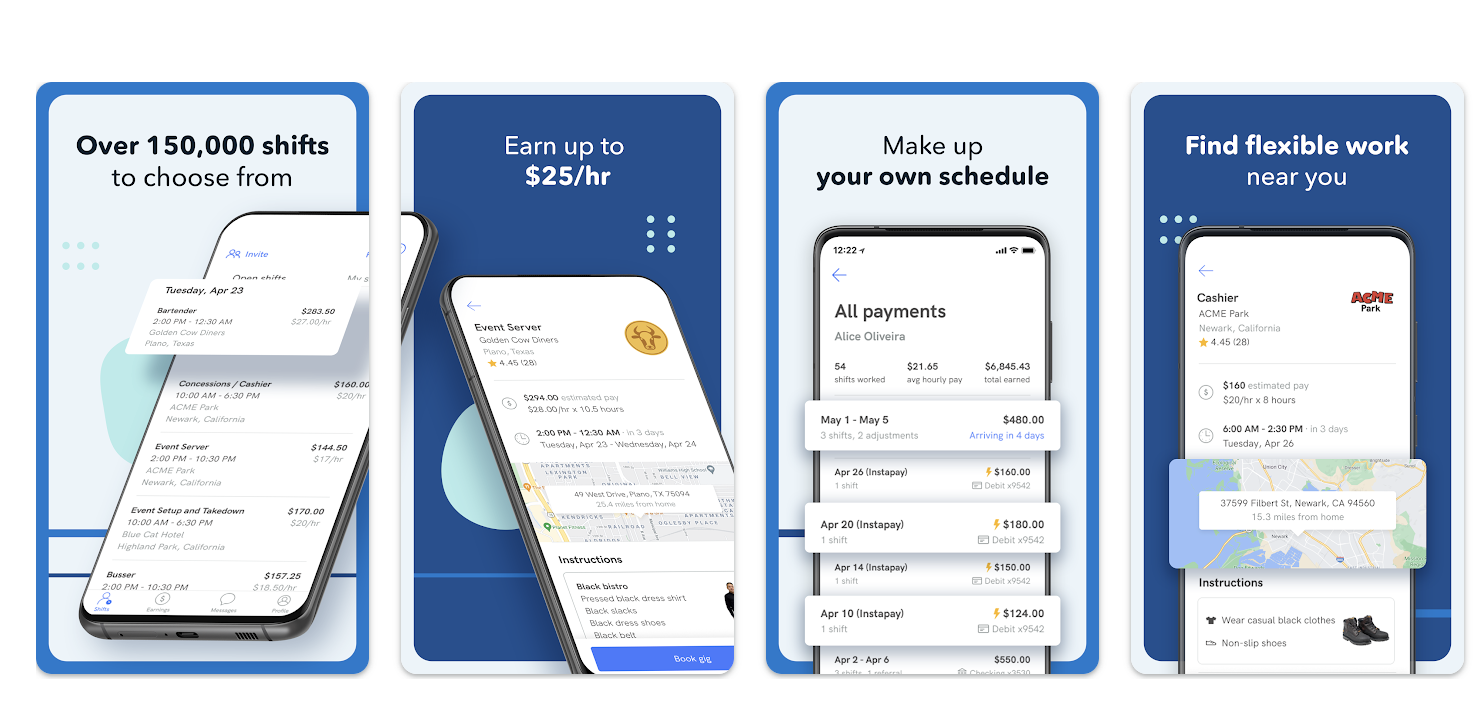 It gives the Jobseekers,  the Job Finder, Tracker and Career finder features to easily apply and get the job.
Internshala was founded in 2010 as a platform to help students find internships. It used to be one of the premier platforms that provided internships to students based on their interests. Recently, Internshala had started the 'jobs for freshers' feature. Freshers of all disciplines can look for jobs here, along with internships. Finding internships helps you in gaining experience. On this portal, you can enlist your details and past experiences, and they help you build a strong profile.
Shine came into existence in 2008, and it has about 300,000 latest job vacancies. They offer  500 + certification courses  to help jobseekers prepare for the interview.  Shine app helps you find jobs quickly.
17. Placement India
Placement India came into existence in 1999. It is a subsidiary of Weblink Ltd. Placement India provides jobs to young job seekers. It helps you find thousands of jobs related to your experience. All you have to do is upload your resume and apply for job search app openings. Over 5 million job seekers have applied for their dream jobs via Placement India.
Careerjet is an employment-providing search engine that operates worldwide. Career Jet boasts 90 websites in 28 languages, with a database of over 70,000 websites worldwide, and advertises over 40 million jobs. It helps job seekers to apply straightforwardly and land their dream jobs.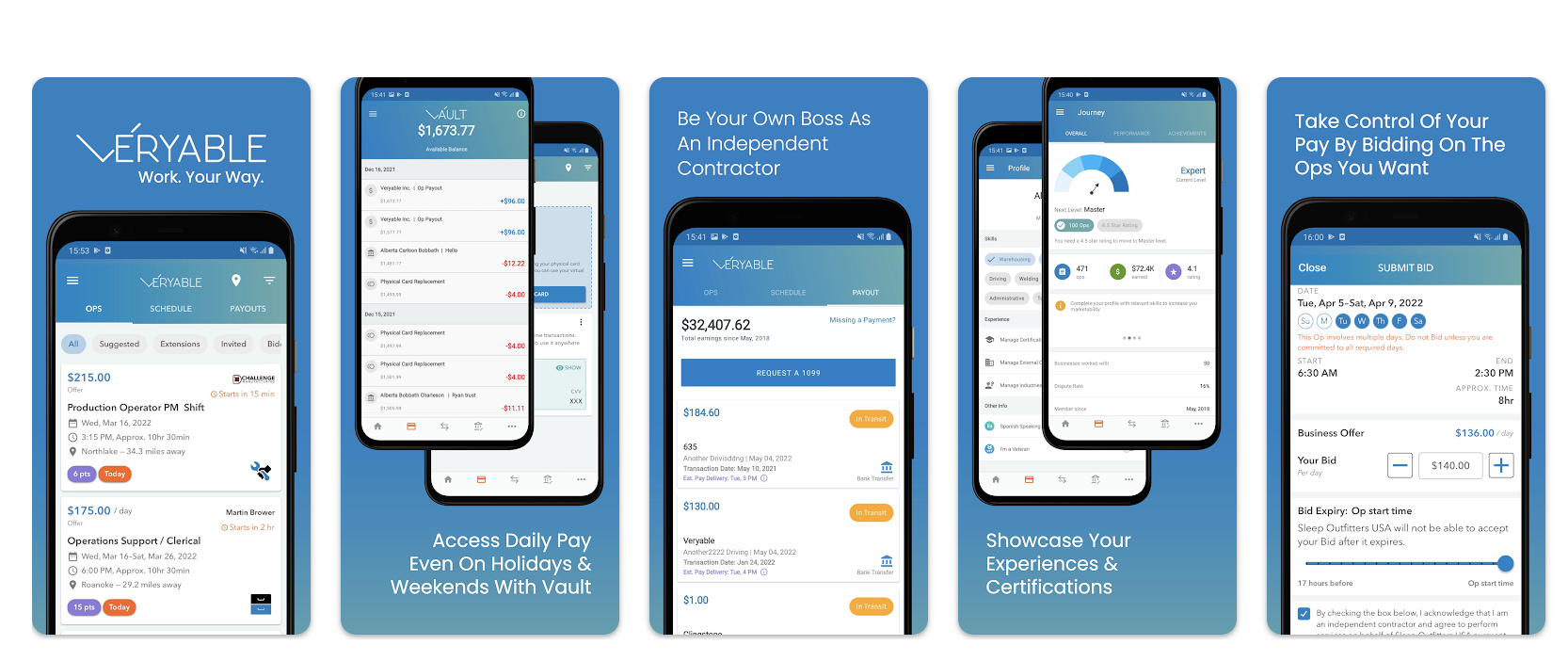 Veryable is an on-demand marketplace built for the manufacturing industry. Their motto is to offer flexible work schedule and daily Pay feature to the tradesmen on the platform. It can help you become an independent contractor and starting finding work immediately. You can download the App and start bidding on the opportunities available.
GoodSpace is a platform to find Fulltime, Work from Home or Freelance work opportunities with thousands of employers worldwide. It can help the Hiring Manager Recruit with Confidence and Hire instantly.  The  platform allows you to receive feedback from the peers on  personal strengths & other attributes. The  algorithm converts this feedback into a goodness score. Think of your goodness score as a social credit score. Hiring Manager decide about the candidate based  on the score.
Bayt is Job search platform , helping jobseekers find a job in the Middle East market. The Goal is to provide the Jobseeker with Instant access to many jobs across the MENA region.
JobStreet  provides an easy job search experience and a wide variety of job vacancies in multiple industries across Asia. They have helped many thousands of  people start and grow their career. You will find job ads for all career levels, from internships to part time jobs or high-level management positions.
A Modern AI based Job search app, Cut Short was found to provide the next job effortlessly to the seekers.Job search offers customized job matches. Any IT Developer or someone interested in getting into Tech world, can leverage CutShort.
Job Today  claim to have 9.5M users using Job Today.  Their target market is in Europe and North America. Job Today use the Mobile App to facilitate the communication between Jobseekers and the Employer.
Quikr Jobs platform help you find relevant Entry Level/Fresher, Blue Collar Jobs. Hiring Managers can post a job and recruit the role specific candidates.
How to Prepare Resume to Apply with Job Apps
You can follow these steps
Start by selecting a clean and professional template for your resume.
Include your contact information, such as your name, phone number, email address, and LinkedIn profile.
Create a concise summary or objective statement that highlights your skills and career goals.
List your work experience in reverse chronological order, including job titles, company names, dates of employment, and key responsibilities and achievements.
Include relevant educational qualifications and certifications.
Emphasize your skills, both technical and soft skills.
Customize your resume for each job application by tailoring the content to match the requirements of the specific job.
Proofread your resume carefully to eliminate any spelling or grammatical errors.
Save your resume in a commonly used file format like PDF to ensure compatibility with job application platforms.
Conclusion
The job market is constantly evolving, and staying ahead of the competition requires utilizing the right tools. In 2023, there are numerous apps available to streamline your job search and enhance your chances of landing that dream position. From popular platforms like LinkedIn and Glassdoor to innovative apps like Jobr and Indeed, these 25 best apps for job search offer a range of features. Features such as tailored job recommendations, resume building, networking opportunities, and interview preparation. Are you a seasoned professional or just starting your career?. These apps can provide valuable resources and insights to help you navigate the competitive job market with confidence. So, take advantage of these apps and boost your job search in 2023!