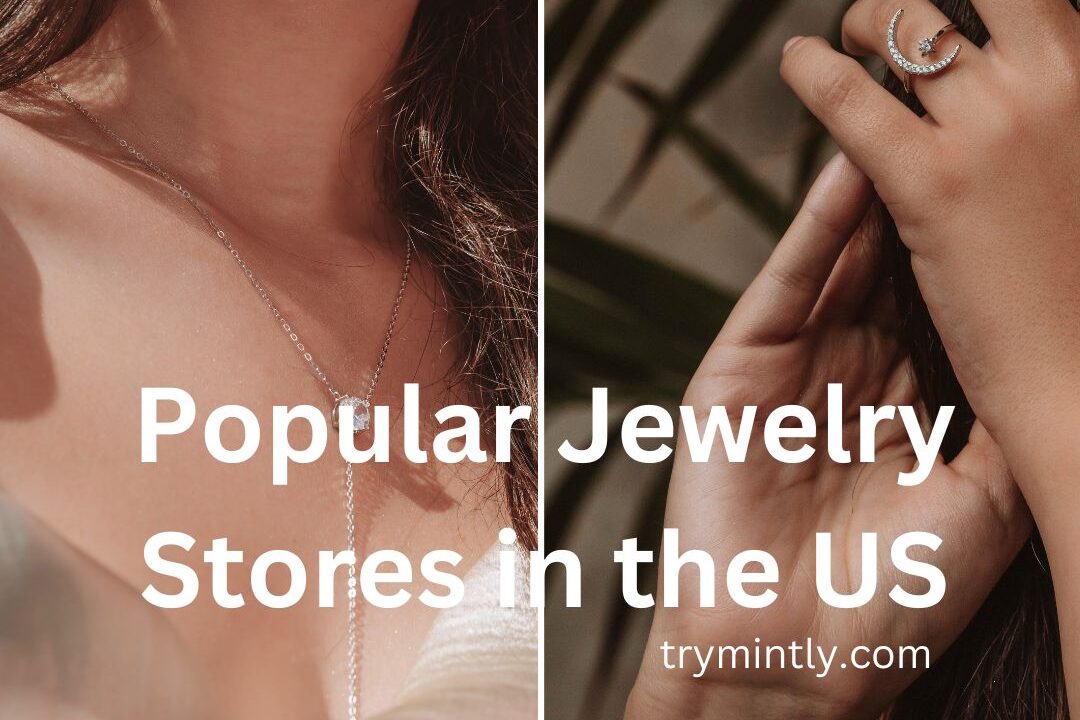 Last Updated on 4 months by The Mintly Team
In a land as diverse as the USA, it's no surprise that the jewelry industry mirrors this cultural richness. From high-end boutiques to ethically-conscious creators, American jewelry stores offer something for everyone. This guide takes you on a sparkling journey across the USA, highlighting some of the most popular jewelry store you shouldn't miss.
Tiffany & Co., New York
Tiffany & Co. is a name that echoes sophistication, luxury, and timeless elegance in the world of jewelry. Established in New York City in 1837, this iconic brand is globally recognized and celebrated for its exquisite range of jewelry. Housed in an impressive nine-story building on Fifth Avenue, Tiffany & Co. offers an unparalleled shopping experience that leaves a lasting impression.
The store is a haven for jewelry lovers, boasting an extensive collection that showcases the finest gold, silver, and precious gemstones. Tiffany's legacy, however, is most tightly bound with diamonds. Their signature engagement rings, adorned with brilliantly cut diamonds, have been coveted by couples worldwide for generations. These treasures come cradled in the brand's iconic robin's egg blue box, a symbol of style and luxury itself.
Entering Tiffany & Co., you're transported into a world of glittering grandeur. The staff provides an unmatched level of service, each one an expert who guides you through their exquisite collections, ensuring every customer feels valued and informed. The store's aesthetic is as refined as its jewelry, with polished glass cases presenting pieces as if they were works of art.
Tiffany's Engagement Ring
The Tiffany & Co. brand has been immortalized in film and literature, cementing its status in American and global culture. From "Breakfast at Tiffany's" to the countless proposals enacted with a Tiffany engagement ring, the brand is embedded in our collective romantic psyche.
This historic brand does more than just sell jewelry; it sells a dream woven with beauty, elegance, and a promise of the finest quality. Tiffany & Co. on Fifth Avenue is more than a jewelry store; it is a landmark, an institution, and for many, a symbol of life's most cherished moments and celebrations.
Whether you're seeking the perfect engagement ring, a timeless piece of fine jewelry, or simply want to experience the prestige of one of New York's legendary brands, a visit to Tiffany & Co. is a sparkling highlight on the city's map of luxury.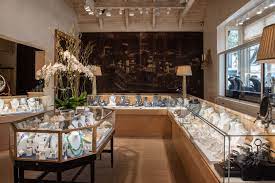 Harry Winston, New York
In the heart of New York City, amid the glittering expanse of Fifth Avenue, resides the famed Harry Winston flagship salon, a beacon of luxury and sophistication in the world of high-end jewelry. Known as the "King of Diamonds", Harry Winston has been synonymous with unparalleled quality, craftsmanship, and innovation since its establishment in 1932.
The moment you step foot into the Harry Winston store, you are transported into a world of brilliance and magnificence. The salon is elegantly designed, with discreetly lit cases showcasing a stunning array of diamonds, fine jewelry, and timepieces. Each piece is a work of art, meticulously designed to highlight the natural beauty of the gems. Harry Winston is renowned for its exquisite diamonds, especially those featured in its legendary engagement rings and iconic Hope Diamond.
The level of service provided at Harry Winston is just as exceptional as the jewelry itself. The expert staff, deeply knowledgeable about every facet of gemology, guide clients through the collections with care and attentiveness. They ensure that every visit is not just a shopping trip but a truly luxurious experience.
Harry Winston with Oscar Awards
Harry Winston's impact extends beyond its store and its celebrity clientele, reaching into the realm of cultural influence. The brand has a longstanding relationship with the Academy Awards, often adorning Hollywood stars with its glamorous pieces, thus earning the moniker "Jeweler to the Stars". Winston's jewelry has graced many red carpets, adding to the store's reputation and mystique.
But Harry Winston isn't just about outward glamour. The brand is also committed to ethical sourcing of its diamonds, ensuring that every piece not only looks beautiful but also has a story of integrity behind it.
A visit to Harry Winston is a journey into a world where diamonds are not just gemstones, but the very embodiment of luxury, style, and grace. Whether you're looking for an engagement ring, a statement piece, or just seeking a glimpse into the world of high jewelry, Harry Winston offers an experience that is as unforgettable as the jewels it houses.
Blue Nile, Seattle
Blue Nile, based in Seattle, has revolutionized the way people buy jewelry, particularly diamond engagement rings. Established in 1999, this company broke away from traditional brick-and-mortar stores, creating an online platform that brings the world of fine jewelry to your fingertips.
As you browse through the Blue Nile website, you'll find an impressive array of carefully selected, high-quality diamonds, gemstones, and fine jewelry. The company provides detailed descriptions and high-resolution images of every item, ensuring that customers understand exactly what they're purchasing. You have the  opportunity to customize your own jewelry. You can be selecting your preferred diamond, setting, and metal to create a piece that is uniquely yours.
Despite being an online store, Blue Nile has a physical presence in Seattle, where you can visit their webroom to see a curated selection of their offerings. The experience is different from a traditional jewelry store, as the focus is on education, with non-commissioned consultants providing detailed information and advice.
Blue Nile's commitment to quality, transparency, and customer service has made it a major player in the jewelry industry. Whether you're in Seattle or halfway across the world, Blue Nile brings the luxury and romance of fine jewelry to you, transforming the way we shop for those precious, life-defining pieces
Claire's, Chicago
Claire's is a go-to destination for fun, trendy, and affordable jewelry and accessories. Catering primarily to teens, tweens, and young adults, Claire's is a treasure trove of stylish pieces that are as delightful as they are pocket-friendly. This Jewelry Store is located in Chicago.
With a vast array of colorful earrings, bracelets, necklaces, and more, the store brings the latest trends to its customers, making it a must-visit place for those seeking to accessorize their look. Claire's is also renowned for its professional ear-piercing services, offering a wide range of ear-piercing options in a safe, clean, and friendly environment.
Stepping into Claire's is like entering a candy store of sparkly, shiny things, where the atmosphere is casual and fun. Whether you're looking for a unique piece of jewelry, a stylish hair accessory, or to get your ears pierced, Claire's Chicago store brings a vibrant and exciting shopping experience.
Kendra Scott, Austin
Located in the heart of Austin, Texas, Kendra Scott is a jewelry brand known for its beautiful pieces . It  embodies a unique blend of sophistication and laid-back Austin style. Founded in 2002, Kendra Scott has quickly become a favorite among fashion-forward consumers and celebrities alike.
The moment you step into the Kendra Scott store, you're enveloped by the brand's signature aesthetic—modern, stylish, and distinctly feminine. Their collection spans a wide range of pieces, from statement necklaces and dainty earrings to stackable bracelets and custom pieces.
One of the highlights of the Kendra Scott experience is the Color Bar. Here, customers can design their own jewelry, selecting the style, metal, and stones to create a piece that's truly unique. This interactive experience is a testament to the brand's commitment to innovation and customer engagement.
Kendra Scott is not just the jewelry store, it's also about giving back. The company is heavily involving in philanthropic endeavors, hosting countless events and initiatives to support local communities.
With its stylish pieces, personalized shopping experience, and philanthropic heart, Kendra Scott in Austin is more than a jewelry store. It's a testament to the power of ambition, creativity, and community.
Kay Jewelers Jewelry Store, Akron
Based in Akron, Ohio, Kay Jewelers is a renowned name in the American jewelry industry. With a history that spans over a century, Kay has become synonymous with quality and craftsmanship. It is providing a variety of stunning jewelry pieces that cater to a diverse clientele.
Kay Jewelers offers an extensive range of fine jewelry. This including diamond, gold, and gemstone pieces. From elegant engagement rings and wedding bands to beautiful necklaces, bracelets, and earrings, each item in their collection embodies a perfect blend of style and sophistication. Are you looking for a timeless classic or a trendy piece?. Kay Jewelers' selection ensures that you will find something that truly resonates with your taste and preference.
One aspect that sets Kay Jewelers apart is their commitment to educating customers. Staff at the Akron store are knowledgeable and friendly. They are always ready to explain the different characteristics of diamonds and gemstones, metals, and styles. This approach not only makes the shopping experience more comfortable but also enables customers to make informed decisions.
Further, Kay Jewelers offers customized services, enabling customers to create one-of-a-kind pieces. The store's 'Design-a-Ring' feature allows shoppers to select their preferred diamond, setting, and metal. It is resulting in a personalized piece that captures their unique story and style.
Beyond their stunning collections, Kay Jewelers demonstrates an unwavering commitment to ethical sourcing and corporate responsibility. The store ensures that their diamonds are conflict-free and sourced from suppliers who follow strict labor and environmental standards.
James Avery, Kerrville
Located in the quaint town of Kerrville, Texas, James Avery is a cherished name in the jewelry industry. The brand is recognized for its artisan jewelry that beautifully combines time-honored techniques with fresh, modern designs.
James Avery's collection encompasses a broad range of items from intricate charms and pendants to elegant rings and bracelets. Crafting each piece  with attention to detail and a unique aesthetic that embodies both simplicity and sophistication. Are you searching for a personal piece to celebrate a special occasion or a gift for a loved one?. The store's collection ensures a piece for every memorable life moment.
One defining characteristic of James Avery is their commitment to craftsmanship. Jewelry-making techniques that have been handed down through generations are preserved and employed in creating their pieces. This dedication is evident in the quality and unique design of each item on offer.
The staff at the Kerrville store epitomize the brand's dedication to customer service. Their knowledgeable and friendly approach enhances the shopping experience. It is  helping customers navigate the diverse collection to find pieces that resonate with their personal style and story.
In essence, James Avery in Kerrville represents more than a jewelry store. It's a testament to enduring craftsmanship and timeless design. It is  bringing a unique shopping experience to all who walk through its doors.
Final Thoughts
In conclusion, the diverse landscape of the jewelry industry across the USA is impressive. It may be the timeless elegance of Tiffany & Co. or Harry Winston in New York. This may give the unique customization options at Blue Nile in Seattle and Kendra Scott in Austin. Or this may give the rich heritage and craftsmanship of James Avery in Kerrville. Each store offers a unique shopping experience. From luxury pieces to affordable treasures, these popular jewelry store ensure that there is something for everyone. They are fulfilling the varied tastes, styles, and budgets of American jewelry enthusiasts. Ultimately, it's about finding that perfect piece that tells your unique story.