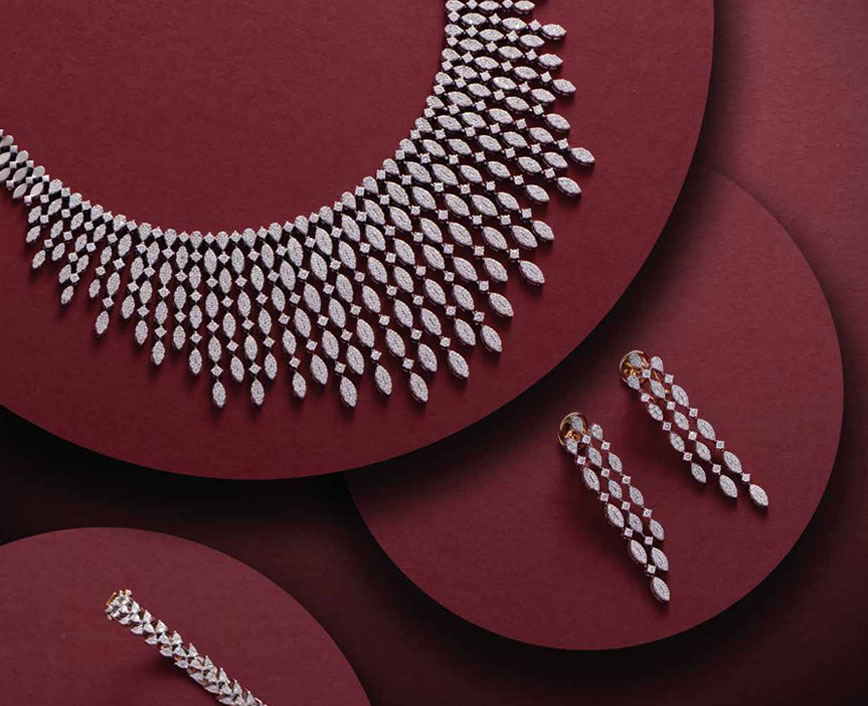 Last Updated on 10 months by The Mintly Team
What is the first thing that pops up in your head when someone says Surat city except Dhokhla and Khandavi? Yes, It is a textile and diamond!
Surat is a trade city located in western Gujrat. The city has been a trade center for colonial powers like Britain and Portugal.
'The Diamond City' and 'The Slik City' are some other names of Surat city. It is a hub for diamond cutting and polishing. Diamonds are not only luxurious but are a symbol of love and passion.
The strategic location of Surat city does give it an economic advantage but various forms of artistic expression, religious practice, and mouth-watering Gujarati Food make this city aesthetically appealing.
The vibrant Surat culture, well-cut diamonds, and textile makes it a perfect shopping destination. From Rani Haar to Bangadi, you will find top-notch quality Surat jewellery. Hence, there are multiple Surat city job vacancies in the gems and jewellery industry.
Jewellery Jobs in Surat
Diamond Jewellery Sales and Design Consultant at Sarvada Jewels, Surat
Salary: ₹16,000 – ₹34,000 a month
Benefits & Perks: Internet reimbursement
Supplemental pay types: Overtime pay, Performance bonus
Job Type: Full-time, Regular / Permanent
Sarvada Jewels is a fast-growing, fine jewelry e-commerce brand, based in jobs in Surat – The Diamond Capital of The World, with customers all over the World and complete in-house processes from cutting and polishing of diamonds to the manufacturing of fine jewellery. We specialize in creating one-of-a-kind, bespoke diamond and sapphire engagement rings, with a custom design process, meticulously handcrafted by experienced craftsmen.
We are looking for an experienced sales and design consultant who can help our clients with designing their bespoke jewellery and selecting the perfect diamonds/sapphires.
A jewellery consultant would be required to guide clients through the entire journey from the custom designing process, and selection of diamonds/sapphires as well as placing the order, and resolving any queries they may have.
Profile and job description:
– Contacting all incoming leads and understanding their requirements, sending detailed estimates and other information as required.
– Responding promptly to clients via email, live chat, and telephone.
– Assist in placing the order and providing updates as and when required.
– Overall, provide excellent customer service.
We are looking for candidates with:
– Excellent communication skills and proficiency in verbal and written English + 1 other language, preferably Hindi. Exceptional verbal and written skills are required.
– Previous experience in a sales/customer service role, preferably in jewellery retail.
– Knowledge of diamonds/sapphires (preferred but not essential).
– Willingness to learn and engage with clients with a consultative approach.
– An entrepreneurial spirit, attention to detail, and an amicable personality.
Remuneration will be at par with the best in industry standards, with great opportunities for career growth. Opportunity to work with a fast-growing, e-commerce company with a vibrant and rewarding work culture and enriching on-the-job training.
Please apply with your resume and a cover letter (both required) detailing your work experience and skill set.
Full Job Description:
Key responsibilities will be: taking care of the goldsmiths, getting additional goldsmiths, quality control of each stage and each item produced, overseeing 3d and printing, planning the production for a month ahead, and so on.
Understanding the demand requirement of customers; planning and monitoring production process; coordinating with other departments; ensuring quality check of the finished product and delivery of jewellery on time as per order.
Roles and Responsibilities:
1. Coordinating with the manufacturing team, solving issues in product development, and ensuring they adhere to the aesthetic and quality of production
2. Performing QA/QC at various stages of production and approving final pieces
3. Responsible for end-to-end production, shipment, and delivery
4. Responsible for management of manpower for maximum production and quality control, maintenance, tools, and gold loss control.
Job Type: Full-time
Salary: ₹30,000.00 – ₹45,000.00 per year
Schedule: Day shift
Application Question(s):
How many years of Jewellery Manufacturing Experience do you have?
Do you know how to operate a Computer?
E-commerce and telemarketing jobs in Surat at Maiora Diamonds
Full Job Description:
Qualifications: Marketing, E-Commerce, Telemarketing
E-commerce experience is a must.
English and Hindi Fluent
Tele-calling/marketing experience must.
Jewellery or Fashion industry is a must
Job Type: Full-time
Salary: ₹10,000.00 – ₹15,000.00 per month
Schedule: Day shift
Supplemental pay types: Commission pay
Experience:
E-commerce: 1 year (Preferred)
Telemarketing: 1 year (Preferred)
Speak with the employer: +91 9725360263
Surat, Gujarat ( NEARBY SURAT STATION )
Qualifications: CAD
NEED ONLY LOCAL CANDIDATE
INDUSTRY- DIAMOND & JEWELRY
PAY RANGE & SALARY- AS PER SKILLS
EXPERIENCE REQUIRED- 1- 3 YRS ( DO NOT APPLY IF HAVE EXPERIENCE UP TO 3 YRS )
REQUIREMENTS-
1- 3 YRS OF WORK EXPERIENCE AS A CAD JEWELRY DESIGNER REQUIRED
WELL, UNDERSTANDING OF JEWELRY DESIGNING, PRODUCT TRENDS, AND CLIENT REQUIREMENTS
apply now – Surat Jobs WhatsApp group link – 9619789053
If the number is hidden search in google ( Miracle Hub Surat )and get the number there and send us a cv, avoid calls, please.
Job Type: Full-time
Salary: ₹8,569.86 – ₹36,552.97 per month
Schedule: Day shift
Speak with the employer: +91 9979551789
We are looking for EXPERIENCED candidates only.
Must be passed out from a reputed institute.
Experienced in designing diamond and color stone jewellery on CAD.
Have proper technical knowledge in 2D & 3D on Matrix (must), Rhino, Rhino Gold, Jewel CAD & any other.
Must-Have Excellent understanding skills & responsible for new model development, modification in the existing styles/product designs, quality checking of CAD images, etc.
Development CAD of sketches on given design briefs
Ability to work at a good speed to tight deadlines & briefs
We are looking for someone who can understand paper designs and their linking and design the CAD accordingly
Skills needed:
Rhino = compulsory
Matrix = Preferred
Zbrush = Higher pay scale depending on the level
Tspline = Higher pay scale depending on Level
Keyshot Rendering = Higher pay scale
Salary: ₹20,000.00 – ₹35,000.00 per month
Benefits: Paid time off
Job Type: Full-time, Regular / Permanent
Qualifications: total work – 2 years (Required)
Schedule: Day shift
Supplemental pay types: Performance bonus, Yearly bonus
Ability to commute/relocate: Jobs in Surat, Surat – 395004, Gujarat: Reliably commute or planning to relocate before starting work
Application Question(s): What Platform do you use for designing?
Key Skills: Jewellery, Quality Control, Diamond, Gold, Jewellery Technician
Education: Diploma, Any Bachelor Degree
Job Description: Need A Well Experienced Quality Control Manager In Diamond Gold Jewellery Manufacturing, With A Minimum Experience: Of 3-5 Years Of Quality Control.
Salary: Rs.1.75 – 3.0 Lakh/Yr
Responsibilities:
Inspection of fine goods such as diamonds, gemstones, finished jewelry, etc.
Ability to check the quality of jewelry and obtain data from advanced gemological equipment
Documenting inspection results and entering gemological data into a computer database
Develop Standardized Production, Quality, And Customer-Service Standards
Identify Potential Risks Before They Become A Problem, Focusing On Root Cause Analysis And Preventive Action
Perform Internal And External Quality Audits And Compile Detailed Reports Of Findings
Build A Strong Team Through Coaching, Mentoring, Specific Training And Performance Evaluations
Functional Area: Manufacturing / Production / Quality
Number of Vacancies: 2
If you are looking for  jobs in  Gems & Jewellery shops/ showrooms or Surat online jobs, please subscribe and follow our page for Surat job alerts.